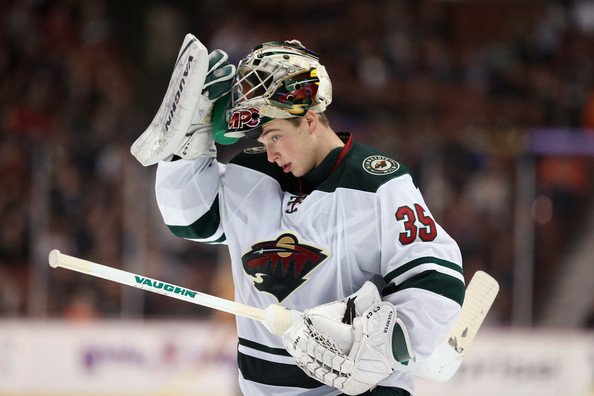 What the Minnesota Wild have done thus far this season has been nothing short of impressive as they lead the Western Conference with 69 points. According to the Elias Sports Bureau, this is the first time in franchise history the Wild lead the conference at the All-Star/Olympic break.
Key to this stunning revitalization has been the arrival of Bruce Boudreau and the stellar play of No. 1 netminder Devan Dubnyk. Boudreau is a bit of an enigma. He has never won a Stanley Cup, but in his 10 seasons as a head coach, he has led his teams to eight first-place finishes.
Dubnyk has been the top billing on a well-performing cast this season as he leads the NHL in save percentage (.936) and goals against average (1.88). He's the Vezina Trophy favorite and even kept his nerve in spectacular fashion during the league's new, goalie-crippling 3-on-3 All-Star format last weekend.
But make no mistake, the third pillar of the Wild's success this season is unequivocally one thing: depth. Both offensively and defensively the Wild's strength lies in numbers, not star power.
Zach Parise is currently tied for ninth on the team in goals with 8. Even though he's played in about 10 fewer games than his teammates, he's still only on pace for 16 goals total. Instead, eight members of the Wild have double-digit goal tallies.
This unit could be crippled by one thing: lackluster goaltending depth
On defense, in addition to the most established four (Ryan Suter, Jared Spurgeon, Jonas Brodin and Marco Scandella), Matt Dumba has become a trusted member of the blue line as he ranks third on the team in ice time. Christian Folin, who ranks lowest among the top-six defensemen in ice time, holds a sturdy plus-10 rating.
In essence, this group is a solid unit. But it's worth considering that this unit could be crippled by one thing: lackluster goaltending depth. And as any Wild fan worth their salt will know, we've seen this before.
Back in 2014, Minnesota found itself back amongst the postseason elite and was especially emboldened by being in the early stages of the Parise-Suter era. The Wild had managed to defeat the Avalanche in seven games to win its first postseason series in more than a decade.
Up next was Chicago, and though the Blackhawks had knocked Minnesota out the previous year, the mood was vaguely optimistic. This would all be undermined by a rash of goalie injuries that saw Darcy Kuemper and Ilya Bryzgalov thrust into an uncomfortable spotlight and eventually the Wild being bounced in six games.
Kuemper actually performed much more admirably than his Russian counterpart during those playoffs, finishing 3-1 compared to Bryzgalov's 3-6. But things have not progressed for Kuemper, then a promising young prospect, as many had hoped.
Throughout his career, the 26-year-old has never won more than 50 percent of his games played. Last season as Dubnyk's backup, Kuemper managed just six wins in 16 starts. This season, prior to Tuesday's game against Edmonton, he has won five of his 10 starts and is posting career-worsts across the board, with a save percentage of .901 and a goals against average of 3.28.
Not only is that not good enough, but it is shuddering to think how the franchise's potentially best-ever season is one untimely injury away from hinging on Kuemper. This leads me to believe that the usually deadline-busy Chuck Fletcher may consider adding a goalie this time around.
Other alternatives are in the minors, where Steve Michalek and Alex Stalock are splitting time and performing quite well. Stalock is the only one with NHL game experience under his belt. In fact, he has NHL playoff experience and put up decent numbers 2.05 (GAA), .929 (SV%) in 2014.
As the trade deadline comes and goes, it well tell us exactly how much confidence Fletcher and Boudreau have in the fledgling Kuemper.