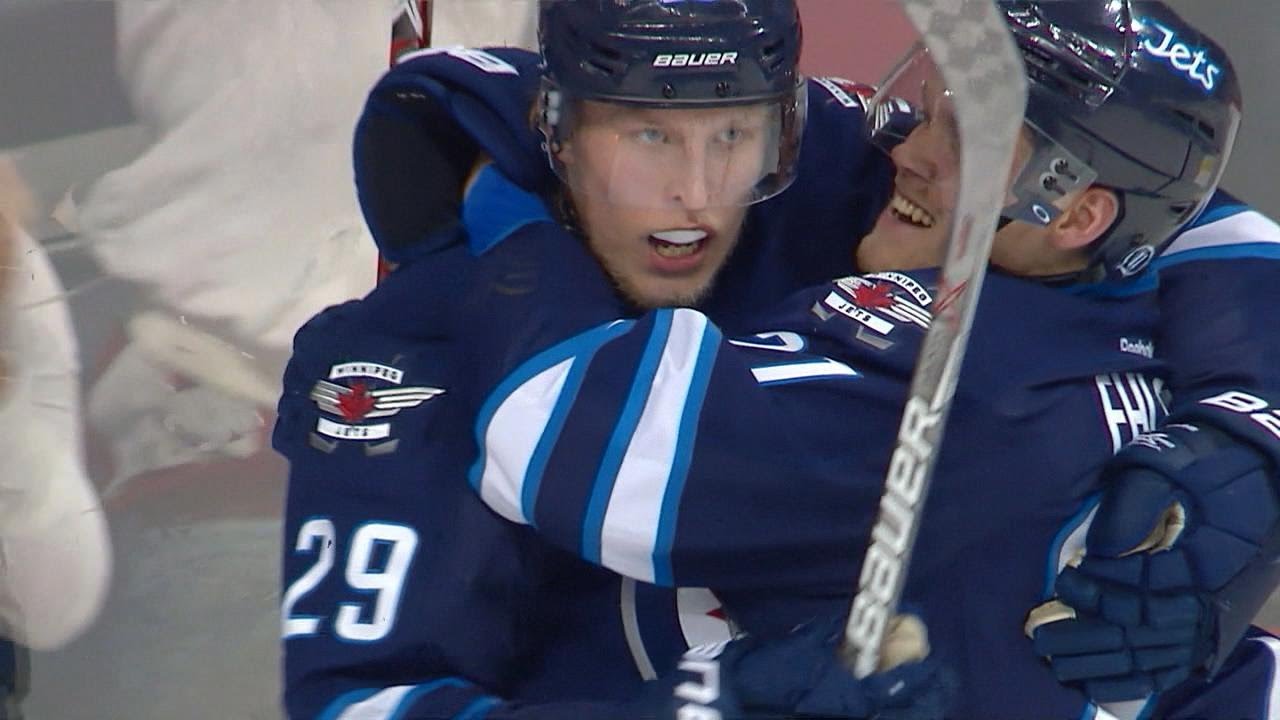 Winnipeg Jets
Head Coach: Paul Maurice (fifth season with WPG)
Arena: MTS Centre
2016-17 Record: 40-35-7, 87 points (fifth in Central Division)
2016-17 Record vs MIN: 1-4-0
Top Scorer: Mark Schiefele (32 goals-50 assists-82 points)
Top Goaltender: Connor Hellebuyck (26-19-4, 2.89 Goals Against Average, .907 Save Percentage, four shutouts)


2016-17 Recap:

With Ondrej Pavelec buried in the minors, all was looking up for the Jets as they were going young in the goaltending department, with Connor Hellebuyck and Michael Hutchinson getting the roster spots. But the Jets suffered in goal again, as neither goaltender was able to have a save percentage above .907 in the regular season. Winnipeg was one of the higher-scoring teams in the league last year -- sixth in NHL with 249 goals -- but it was just killed by goaltending woes once again. The Jets finished seven points out of a playoff spot, but their youth -- led by Patrik Laine -- has the future looking bright in Manitoba.

Offseason Losses: G Ondrej Pavelec, D Mark Stuart, and F Chris Thorburn

At long last, the Jets finally got Pavelec off the books. But as mentioned above, the Jets did not exactly flourish without his services last year. Other changes for the Jets include longtime players Mark Stuart and Chris Thorburn, both of whom played in the Jets' inaugural season back in Manitoba. None of the players here are seen as really key losses for the Jets, as their roster spots were opened up for young players on the rise -- or just a competent body in the case of Pavelec.

Offseason Additions: G Steve Mason, D Dmitry Kulikov, and F Matt Hendricks

With a track record of doing next to nothing in previous offseasons, all eyes were on general manager Kevin Cheveldayoff on how he would fix his goaltending problem. Well, he went to work on July 1, signing former Philadelphia goaltender Steve Mason to a two-year deal worth $8.2 million. Mason is not coming off a solid season with Philly -- .908 save percentage, 2.66 GAA -- but did have a decent run with the Flyers up until last year. If Mason can find something close to his old form, he would give the Jets a valuable boost in goal. Also inking a contract with Winnipeg on July 1 was defenseman Dmitry Kulikov, who signed a three-year deal worth $12.99 million. The Jets filled a hole on the roster by signing Kulikov, a left-handed shot defenseman, but paid a rather high price to get him.

Projected Lines (via dailyfaceoff):


Patrik Laine-Mark Scheifele-Blake Wheeler
Mathieu Perrault-Bryan Little-Nikolaj Ehlers
Kyle Connor-Adam Lowry-Joel Armia
Shawn Matthias-Nicolas Petan-Marko Dano




Josh Morrissey-Jacob Trouba
Dmitry Kulikov-Dustin Byfuglien
Tobias Enstrom-Tyler Myers




Steve Mason
Connor Hellebuyck


2017-18 Outlook:

Winnipeg might not be as strong on the back end as others, but they will be a force this season. The Jets will have firepower up front with the likes of Laine, Blake Wheeler (#oneofus), Mark Schiefele, and Ehlers scoring 60+ points again (especially considering the crackdowns on penalties this year). As mentioned above, Mason will be the key, and if he can be halfway decent the Jets will make a charge for just their second playoff appearance since returning to the league, especially considering how much of a crapshoot the Central Division will be. Paul Maurice figured to be a coach on the hot seat with a talented roster opening up 2017-18, but he weirdly got a new contract, eliminating that notion for the time being.


---
Never Miss an Episode of Giles & The Goalie!