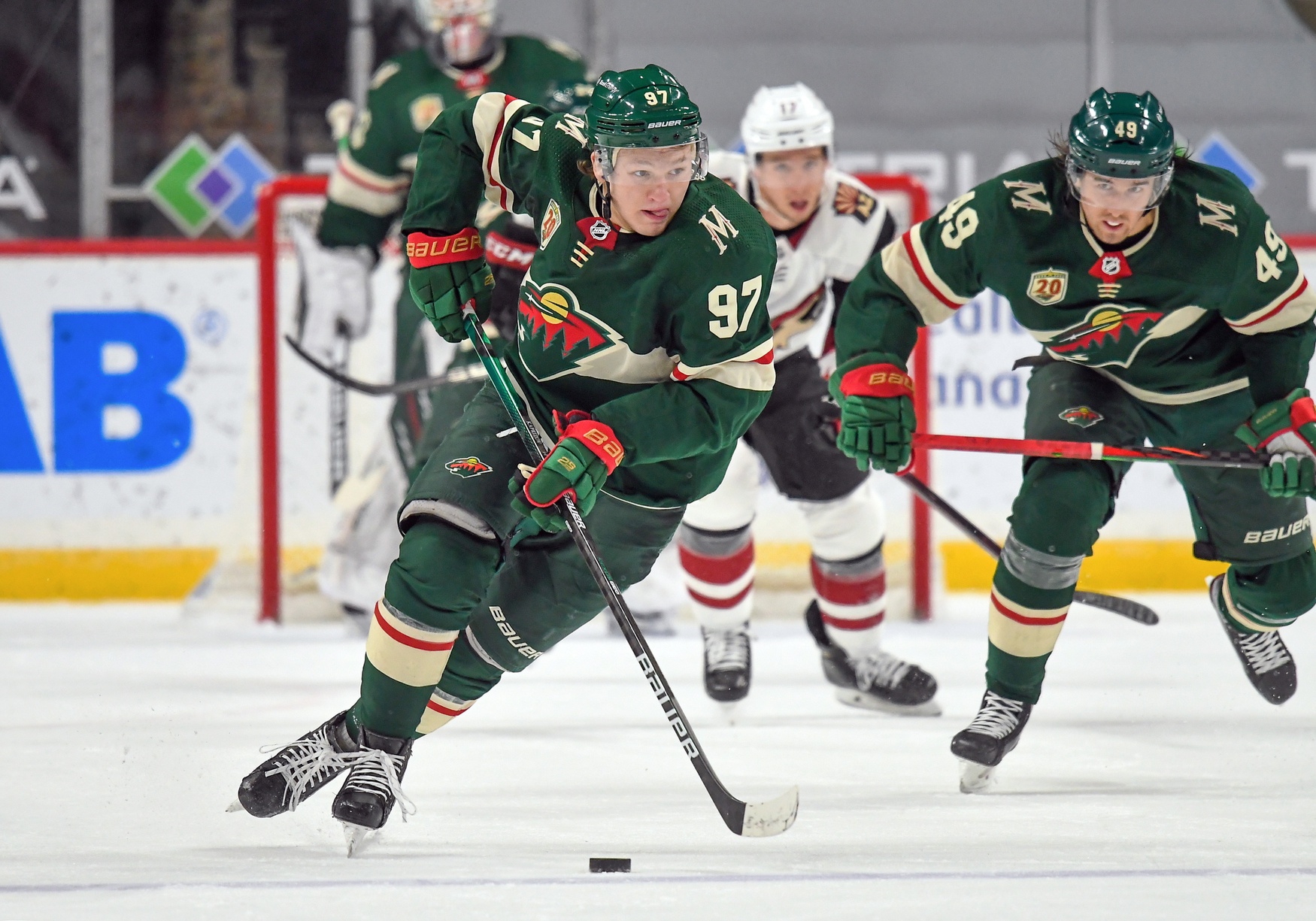 Is there anything Kirill Kaprizov cannot deliver on?
A year ago, 10K Rinks tried to determine what realistic expectations were for the KHL star in his rookie season. The bar was set at 62 points over an 82-game season — an enormously tall order for a first-year player, even one as accomplished as Kaprizov.
Through his first 26 games, Kaprizov is now on pace for 52 points — in 56 games, not 82.
He's blowing anything resembling reasonable expectations out of the water. Kaprizov is now on a track that signifies he's not merely good, but a superstar player, maybe even more. The list of players in recent history with higher points-per-game as rookies is staggering, per Stathead.
https://twitter.com/OhHiTony/status/1371889342352924673
That's four Hall of Fame slam-dunks at the top of the list, followed by MVP-caliber players in Mathew Barzal, Artemi Panarin, and Elias Pettersson. Paul Stastny may be the exception to the rule, having merely a very good career, but otherwise, that's lofty company.
Kaprizov may not even have to wait to get Hart Trophy buzz. Ryan Lambert of Elite Prospects put him fifth on his mid-season awards list in his newsletter. If Kaprizov's impact on the resurgent Wild maintains or grows throughout the year, others will join the Kaprizov Hart Trophy bandwagon.
It's not enough that Kaprizov could be the first skater in recent memory to get Hart consideration as a rookie. Apparently he can manifest new heights for himself just by speaking them into existence.
Two weeks ago, the Minnesota media fixated on their one pet peeve with Kaprizov: his shooting rate. Truth be told, his lack of willingness to shoot was exaggerated a touch. As we noted at the time, Kaprizov was more than willing to pull the trigger, but his shots-on-goal totals were depressed due to missing the net.
Nevertheless, Kaprizov went before the media, his father, and God to declare, "I'll try and shoot more."
He's kept at least one of his promises: Kaprizov has certainly shot more. What's not exactly clear is whether he had to actually try.
Almost instantly, Kaprizov went to being a strong-but-not-elite shot generator to one of the league's best. Prior to his vow, Kaprizov fired 11.7 unblocked shot attempts per game, 86th among NHL forwards. In the seven games since, that's at 17.2, seventh in the league. His accuracy issues have evaporated, as his 14.9 shots on goal per hour has him behind only Alex Ovechkin for the league lead in that time.
Take that in for a moment. Getting your shot off is in the NHL is incredibly hard to do. "Shoot more" has been told to basically every Wild player not named Zach Parise for the last decade. You can't just wake up and decide to become one of the elite shot generators in the league. If anyone could simply do that, surely someone other than Kevin Fiala would have posted those kind of numbers.
Except Kaprizov apparently just did. Not just that, but did so with no drawbacks. The increased volume hasn't diluted the quality of his shots — in fact, his shots have been more dangerous. His three assists and the increase of scoring with Kaprizov on the ice at 5-on-5 (from 3.4 to 3.7 goals per hour) suggests he hasn't abandoned his playmaking and continues to make the right plays.
Sure, we're dealing with a very small sample size here. But after all we've seen from Kaprizov thus far, is it really surprising that he can achieve this incredible feat?
It's reminiscent of Sidney Crosby, who famously spent his early career improving one aspect of his game every offseason. He'd work on his faceoffs, or defense, or net-front game, and would succeed wildly the next season.
If Kaprizov can instantly add this type of wrinkle to his game midway through his first season in North America, what else can he accomplish? He's already an offensive superstar, maybe a borderline MVP candidate. If he can improve other elements of his game nearly this easily, we might drop that "borderline" qualifier very soon.
Hat tip to Brett Marshall of Sound the Foghorn for inspiring this article. All stats from Evolving Hockey, unless otherwise stated.