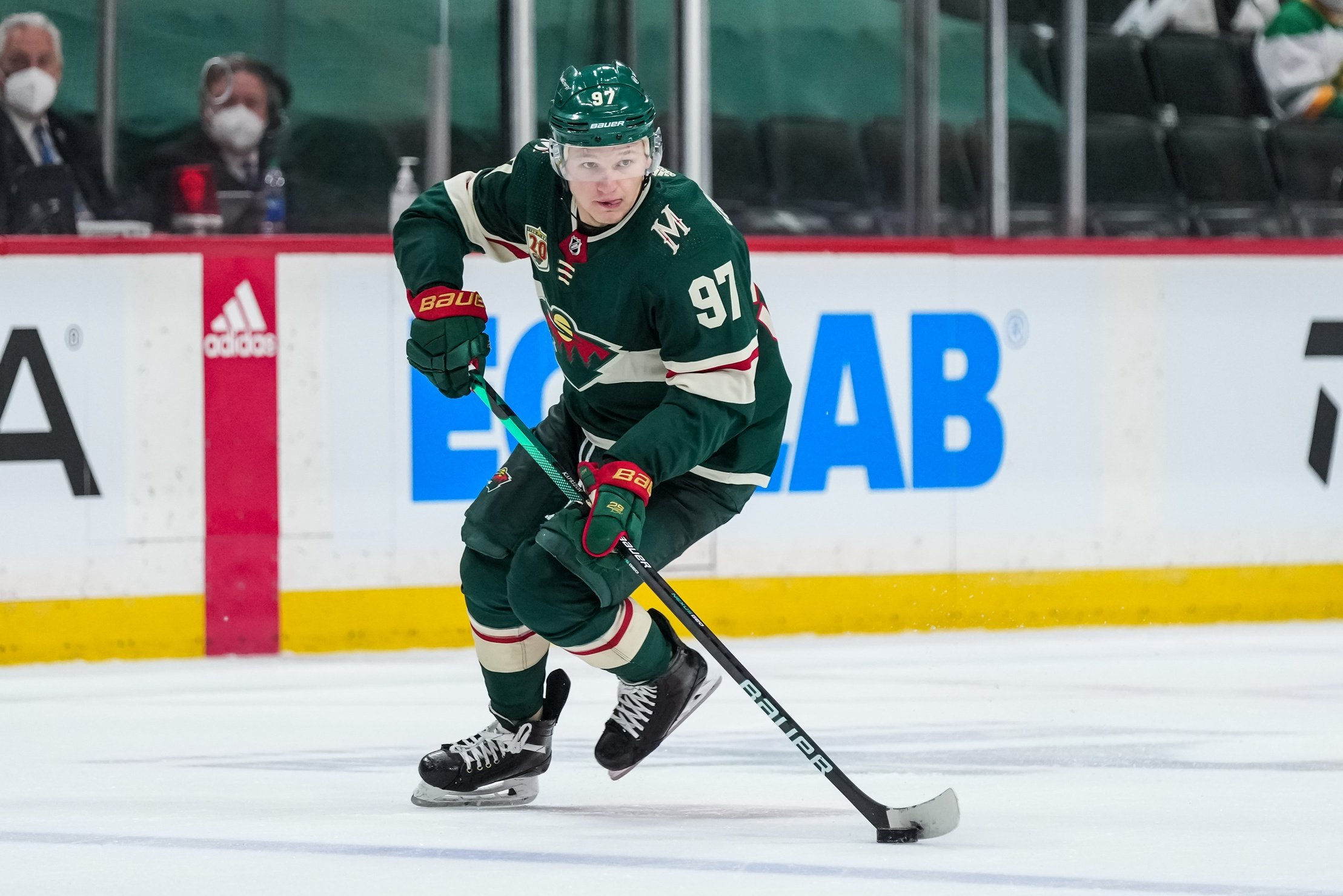 The Minnesota Wild were never going to easily be able to re-sign Kirill Kaprizov. Both sides desire different resolutions: The Wild want to lock up their star long-term, while Kaprizov is seeking a short-term deal in hopes of landing a big payday while he's still in his prime.
This is an unprecedented situation too, which has been another wrinkle in negotiations. While Kaprizov showed out last year and has broken KHL records -- he's the fastest player to reach 100 goals in league history -- he only has 55 games of NHL experience. His sensational rookie season, which included winning the Calder Trophy, hasn't played an entire 82-game season and was largely held in check during the playoffs.
The newest development in negotiations? Kaprizov has a tentative agreement with CSKA Moscow on a one-year deal that would be worth eight-figures. It will begin on Sept. 1 if a contract doesn't materialize with Minnesota before then. It's a rare case where the player has actually created leverage despite being a restricted free agent with no arbitration rights and unable to be offer-sheeted by another team.
There really isn't anything to be concerned about, but this does put more pressure on the Wild.
According to reports, he's already been offered around $9 million AAV over an eight-year term. That would make him the highest-paid player in franchise history. However, that deal would be a bargain. There's nothing wrong with a player trying to maximize his career earnings, especially someone who is already 24 years old.
The problem with that is Kaprizov and Artemi Panarin share the same agent, and his camp is likely trying to follow the model they went with, which is a concern from the Wild's perspective.
The most likely resolution is a four-year deal. That would bring him to age 28, lining him up to still get a massive contract. A four-year pact wouldn't be the worst scenario because that is when the buyouts of Zach Parise and Ryan Suter lower to just $1.66 million combined. The cap should hopefully be rising at that time too.
From the Wild's perspective, it certainly makes sense why they don't want to entertain a short-term deal. When the contract is up, Kaprizov would have the ability to test the free-agent market, sending the Wild right back into mediocrity if he leaves.
Keep in mind that Kaprizov has no ties here, and he would outperform that long-term offer from the Wild. It's completely fair that he doesn't want to commit his prime years without seeing Bill Guerin's vision being played out, especially as it pertains to the center situation.
Let's be honest; there's a chance Connor McDavid would go back and not sign that long-term extension with the Edmonton Oilers if he had to do it again. Edmonton hasn't been able to make any deep runs despite having the best player in the world. Plus, McDavid's contract is a bargain, and he would be paid even higher right now if he hadn't signed long-term.
Want another example? Look at star center Elias Pettersson, who is also a restricted free agent. He had some interesting comments in regards to their contract negotiations, "I want to stay there (with the Vancouver Canucks) now, but I also want to play for a team that's winning and has the chance to go far into the playoffs every year," he said. "I feel like we've got a chance to do that next year. If we have that chance when my next deal expires...I don't know. I just wanna play where there's a chance of winning."
This doesn't sound like a player who is sure he wants to commit to the Canucks long-term.
The point is that it's not common to see a young star willing to commit eight years. We saw that with the Toronto Maple Leafs and their RFA's Auston Matthews and Mitch Marner, who wanted top dollar yet weren't willing to sign eight-year deals. Another example is Sebastian Aho, who signed a lucrative five-year contract. The situations were different, but the same point still stands.
The difference between Brayden Point's team-friendly eight-year deal and a player like Kaprizov is that the Tampa Bay Lightning won back-to-back Stanley Cups and are poised to remain contenders going forward. Conversely, the Wild can't even produce a quality center for Kaprizov.
At some point, the Wild and Kaprizov are going to have to compromise. That's why it is so crucial for the Wild to make the necessary moves, like upgrading down the middle, in the next few years to make Kaprizov's decision to remain with the organization in the future a no-brainer.