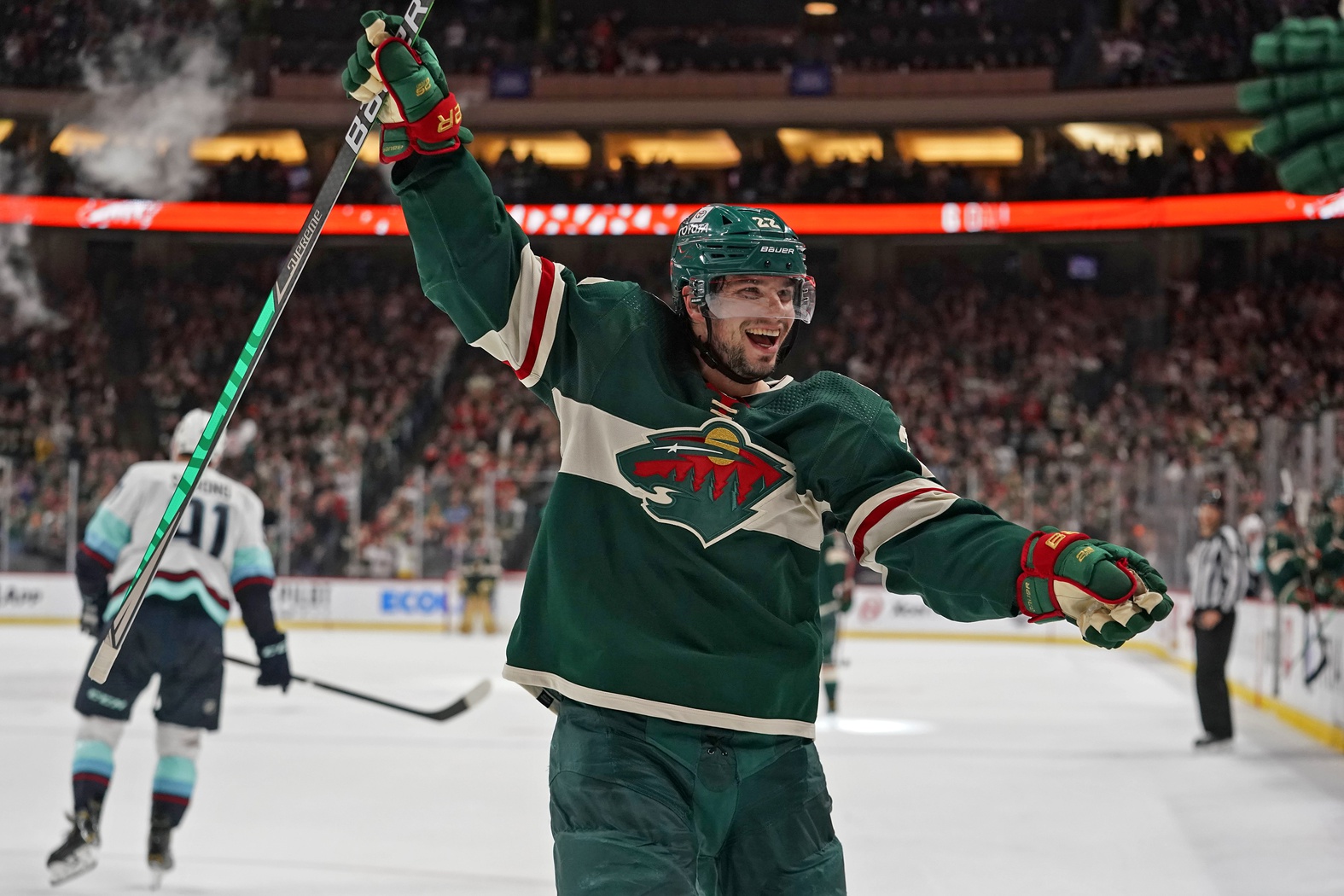 The Minnesota Wild have a franchise-record 50 wins, are a week away from the playoffs, and their superstar player just hit the 100-point mark. With a Hall of Fame goalie boosting their chances, the thing on every mind in the State of Hockey... isn't whether this team will make a serious run.
No, the Wild faithful have a much more pressing matter: Can the team afford to keep Kevin Fiala?
Fiala added another two-point night to continue the hottest streak of his career. He now has 10 goals and 23 points over his last 10 games. To put that in context: His legendary breakout over the last 18 games of the 2019-20 season saw him put up 26 points. As much of a star as he was then, this is a whole new level.
Fiala's now one of four players this season to put up 23 or more points in a 10-game stretch. Mitch Marner (Games 61-70) and Roman Josi (54-63) had 24 points in 10-game stretches, while Leon Draisaitl matched Fiala with 23 twice (1-10).
You want to know why Minnesota's been winning these last 10 games? Because Fiala's been scoring, and scoring in the biggest moments. 17 of Fiala's 23 points in that time have come when the score was within one. He's also been clutch late in games, with six points coming in the third period or overtime.
Fiala's streak is putting a dozen exclamation points on a season that was already very good. He set career-highs with 23 goals and 61 points through his first 69 games. The restricted free agent was already on his way to a massive payday.
But now? The price tag just went way up. Fiala has 33 goals and 84 points now, the second-most by a Wild player in a single season. Despite the salary cap hell that makes his re-signing nearly impossible, it's no wonder every fan is asking: How can the Wild afford to lose this guy?
Just maybe, though, the question should be: How can the Wild afford to not trade this guy?
Many folks reading this are still clinging to the dwindling hope a deal can get done. If you're one of them, please divorce yourself of the hope, if only for a moment.
Let's say you're Bill Guerin and you know your team will have a tough time competing under the upcoming cap crunch. Say you've made the decision that Fiala can't fit into your financial future. Because of this, you've operated under the assumption a trade is inevitable, and have prepared your team for that day.
Isn't what's happening now the exact outcome you'd want?
As a team trying to make one last run with Fiala, it's critical that he's peaking now. Not only is he keeping the Wild one step ahead of the St. Louis Blues for home ice, but he provides a deadly secondary scoring punch.
Yes, all that is great, but it also significantly boosts his trade value.
Let's say Fiala finished the season with 25 goals and 66 points. Obviously, that's a very good season. There would no doubt be teams interested in his services.
Still, how many teams would have Fiala as their No. 1 target this offseason? If they want a winger, why not wait for free agency and hope Johnny Gaudreau or Filip Forsberg slip from their teams' grasps? Could they pay less to get an older veteran like Max Pacioretty? Why get in a bidding war for Fiala if you can take a shot at similar young players like Nikolaj Ehlers or Brock Boeser?
Fiala's late surge gives him something that similar young players don't: Proof of concept. He's a superstar.
Let's stick with Ehlers and Boeser as comparables. Both are younger, skilled top-six wingers on non-payoff teams. Both hit 29 goals at a young age, but haven't turned in a superstar-caliber season yet. Ehlers' career-high is 64 points, and Boeser's topped out at 56.
Ehlers and Boeser are very productive and offer value beyond their point totals. But Ehlers is now 26, Boeser's 25, with lots of NHL time under their belt. Do you look at either guy and go, They're gonna be a point-per-game player, or They're going to score 40 goals? It's still possible, but it's much more likely that they are who they are.
Fiala turns 26 this summer, but he's still giving GMs something to dream on. He scored three goals in his first 27 games and still hit the 30-goal plateau. Could he hit 40 with better luck in the first third of the season? It's pretty easy to talk yourself into it. There's no need to imagine him as an 80-plus point guy, either. Just look at his Hockey Reference page.
Yes, there are a ton of reasons to not want to trade Fiala. It's not easy to find someone with his speed and skill. Are point-per-game forwards common? Heck no! Being in his mid-20s also means that Fiala has many productive years ahead of him.
But every reason to not trade him is also a reason his trade value would be high. Young, skilled players get traded in the NHL. It's very rare that they're moved after having career years, though.
For example, the Edmonton Oilers traded Taylor Hall for Adam Larsson. Part of the reason the return was so embarrassing was that their front office soured on Hall. He scored a respectable 65 points but didn't quite capture his 80-point heights from two years prior. With the team going nowhere, they sold low.
But when you sell high on a player? That's the stuff. A classic example was the Phil Kessel trade. No, not the one where the Pittsburgh Penguins bought low on Kessel after years of performing on struggling teams. The one where the Boston Bruins sold high and fleeced the Toronto Maple Leafs, despite the latter getting a superstar player.
The Bruins traded a 21-year-old Kessel after a 36-goal season where he chipped in 11 points in as many playoff games. The Bruins got a draft pick haul that they turned into Tyler Seguin and Dougie Hamilton. Hard to beat that!
There was definitely luck that went into getting Seguin, and to a lesser extent, Hamilton. Teams are also much more diligent about including lottery protections on traded picks, meaning falling backward into a second-overall pick won't ever happen again. Still, if Minnesota can cash Fiala in for a top-10 pick, and maybe a little extra something, that can go a long way toward easing the Wild through the next three years.
Minnesota definitely wasn't dreaming of a return like that three months ago.
Trading a player like Fiala is absolutely going to make everyone in the State of Hockey nauseous. There's no getting around that. Even with a good haul of prospects and picks, so much can go wrong.
Still, there are a lot worse ways to go about business in the NHL than sticking strictly to the philosophy of "Buy Low, Sell High." We saw it work for Minnesota when they acquired a skilled 22-year-old named "Kevin Fiala" at the precise moment his value was lowest.
Now, he's a fully-formed point-per-game game-breaker in his prime. He could certainly keep up his performance, or even improve next year. But even then, it doesn't change the fact that his value has never been higher. In a vacuum, of course, you'd rather keep a player like Fiala than trade him. But if Minnesota does do it? You've gotta admit, there's no better time to have to do so.