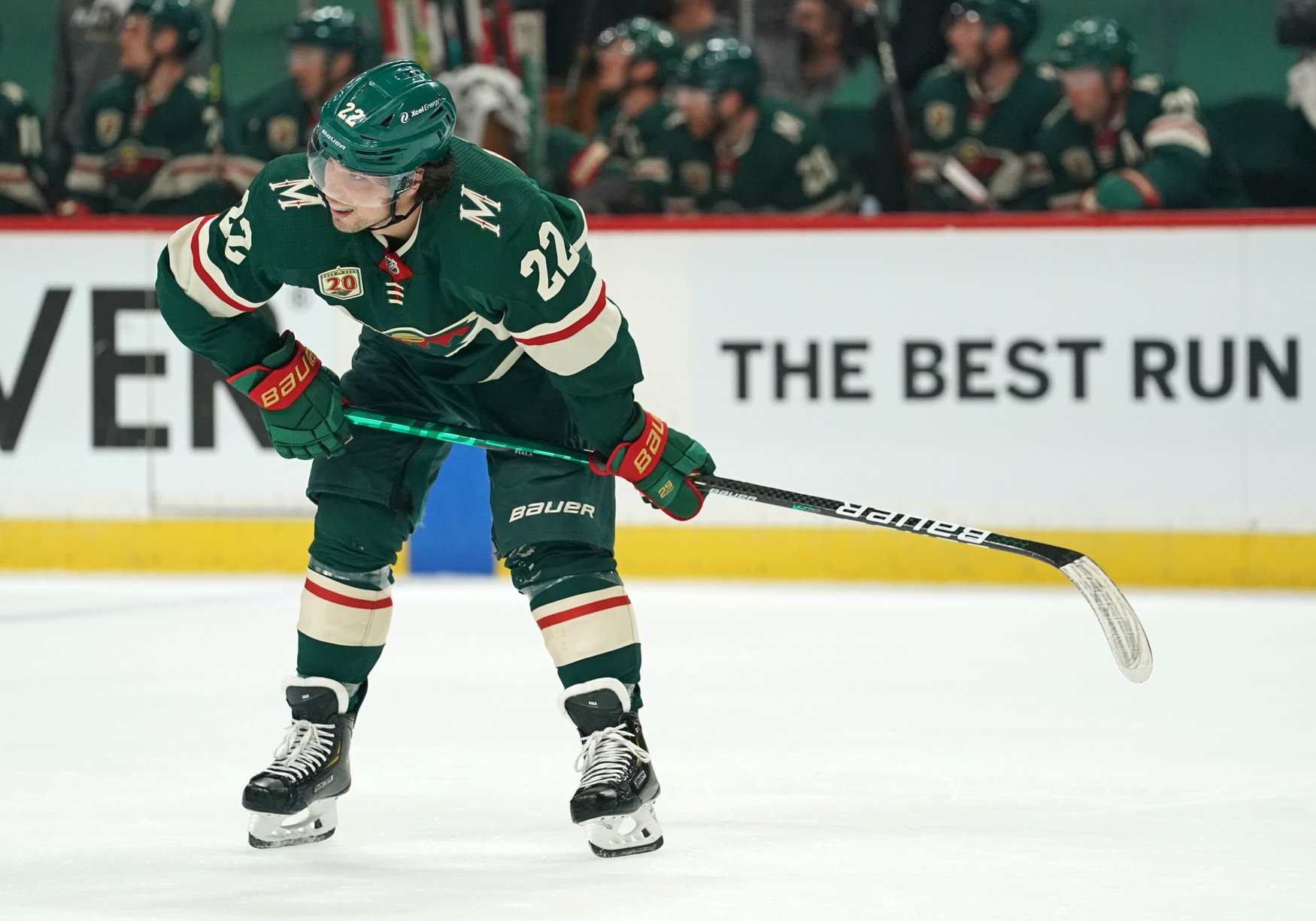 It's about time.
Minnesota Wild fans have gone through a lot to get to this point. One trip to the conference final, one true "game-breaking" player in team history, multiple wasted first-round draft picks, and first-round playoff exits. In all, the team has had little direction and given fans few opportunities to latch on to a long-term vision of hope.
The only proper instance of a real vision for hope was finally lowered into its grave this summer when they bought out Zach Parise and Ryan Suter four years before their mega contracts that were supposed to elevate the squad to a perennial powerhouse were up.
While the current vision is opaque, there is one in Minnesota yet again, and now Kirill Kaprizov and Kevin Fiala are the pillars of the team. They are tasked with keeping the Wild relevant and exciting right now, even if they are a bubble team. In the periphery of the vision is the new stable of reinforcements who look more poised than any recent prospect pool to have players who will make a significant impact in the NHL soon.
That includes Matt Boldy, taken in the first round in 2019, Calen Addison, acquired in the Jason Zucker trade, and the oft ballyhooed savior at center: Marco Rossi.
It's been widely noted that Rossi faced an extremely difficult situation in the last year, being held off the ice for nearly a year due to complications with COVID-19. Many were worried if his career would be halted indefinitely or that it would be a steep climb back to his previous level of competition. Fortunately for both Rossi and Wild fans, he shook off whatever rust he might have had, getting to rookie camp and training camp in superb shape, standing out among the entire field of prospects.
One benefit Rossi had was his rigorous physical fitness acumen. He is a noted gym rat who keeps his body in immaculate shape, and that shows when a 19-year-old is competing with older AHL players and seasoned NHL talent.
This progression leads to a bigger point for the Wild this coming season, and honestly, for the future of another player.
Fiala has been playing with players far below his talent level. He needs a solution at center and other teammates to support his efforts. While it's been well established that Kaprizov needs more talent around him, not much attention has been paid to Fiala's supporting cast.
Minnesota notably did nothing to address the center situation on the team, which has been an issue for years. Now it has been placed at the forefront because of the presence of a generational talent in Kaprizov. To be fair, the Wild have locked Joel Eriksson Ek in for another eight years. If his offensive breakout offensively last year is sustained for the duration of his contract, Minnesota has one middle-six option set. Ideally, he will slot into a second-line center role for his versatility.
Rossi's accelerated development and emergence in camp this fall have renewed hope that he might make the big club to start the year. Even if he doesn't make the roster right out of camp, he will have a chance at joining the roster midseason if he continues to play well.
This is excellent news for Fiala, who desperately needs some complementary talent surrounding him.
For Fiala, he is in the similar category of Kaprizov. Both are far and away the best offensive players on the roster. In terms of scoring chances created this past season, Fiala is in the same atmosphere as Kaprizov. However, no one on the roster was close, with most finishing in the worst quadrant in this handy graph created by Corey Sznadjer in his 2021 NHL Season Workbook. Although Fiala finished last season with 40 points in 50 games, he played alongside offensive black holes in Marcus Johansson, Victor Rask, and Nick Bonino.
According to Evolving-Hockey.com, Fiala played with six different groupings of linemates last season. Each of the two most productive lines were without each of the players listed above. Any combination of Rask, Johansson, and Bonino sank the group's production, garnered mainly by Fiala in the first place.
Rossi's skating would drastically improve Fiala's situation because of his playmaking skills and vision on the ice. Defensively, Fiala lags behind his offensive abilities. Rossi's skating and two-way sense down the ice will help make up for what Fiala lacks in that aspect of the game.
Even if Rossi makes the team and isn't on a line with Fiala, it helps push the next best center to a line with Fiala on it. Rossi on a line with Kaprizov? No problem, Eriksson Ek can slide down and work in the middle of Fiala and another winger. Even a Nick Bjugstad could adjust to working well with Fiala, albeit not entirely ideal.
Rossi's addition to this team opens up options for wingers that deserve better and have shown they can produce great numbers even without the best help. It's time they got it to see their full potential.