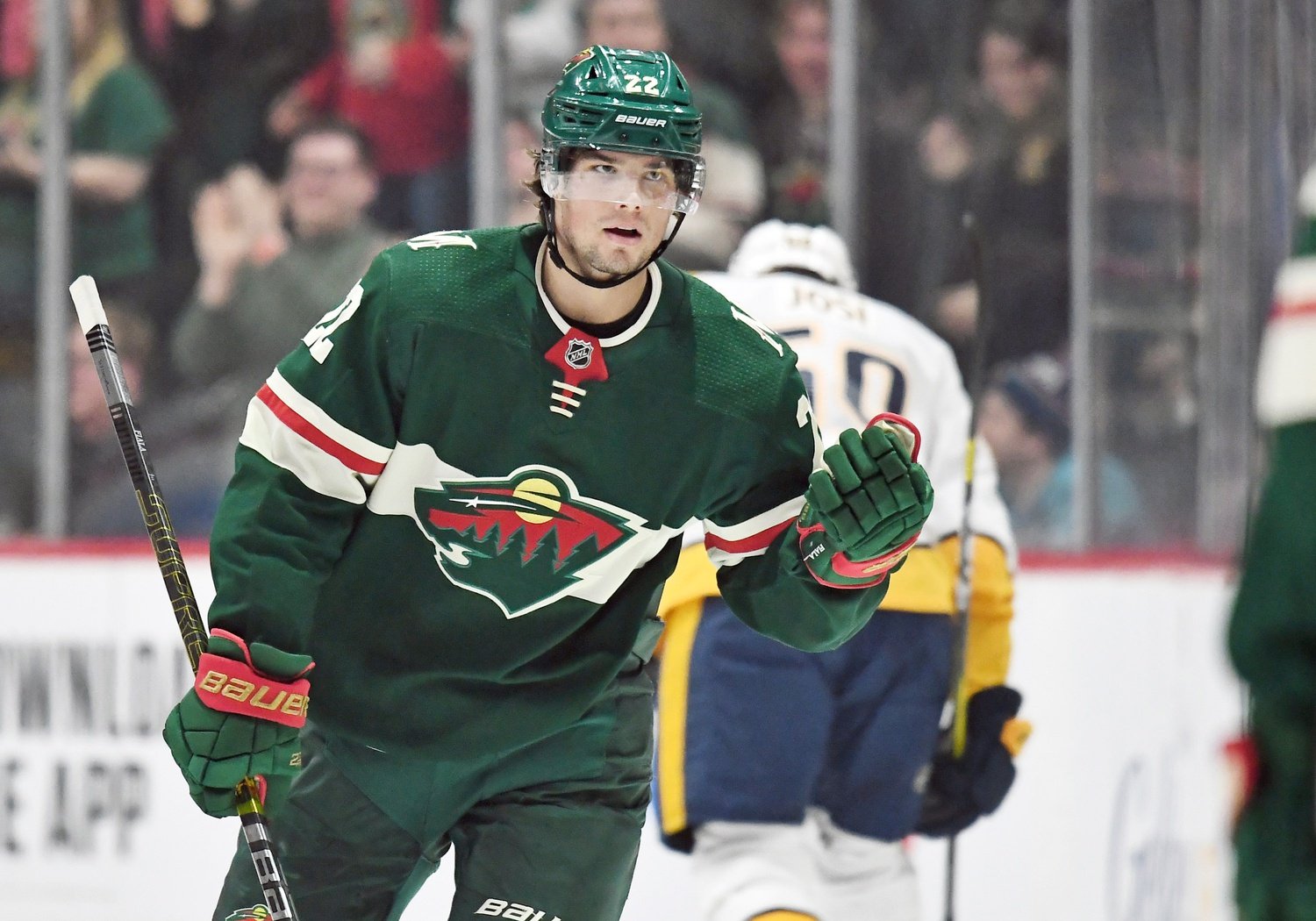 Minnesota Wild general manager Bill Guerin has to be tickled pink right now. He finally got his shot at a GM spot in the NHL. And by virtue of the other guy creating a hostile work environment, Guerin has lucked into a young, budding star in Kevin Fiala during his first season at the helm of the Wild. Guerin didn't scout Fiala, didn't draft him, and otherwise had no connection to the 23 year old Swiss-native. That didn't stop Guerin from calling his young stud, "spectacular."
When Fiala was named the NHL's First Star of the Week for the week ending on March 1st, Guerin went on local sports radio and raved about number 22 in Forest Green and Minnesota Wheat.
"I think what's happened here is that he's realizing how good he can be, and the impact that he can have on our team every night. There's some leadership involved in that too. When he performs like that and kind of takes a shift over or takes a period over and has a huge impact on the game, that's leadership. We just want him to keep going." That's where I want to start.
"He's realizing how good he can be." 
Fiala didn't get his work visa figured out in time after signing his two-year, $11 million deal and missed a good chunk of training camp. He didn't make his pre-season debut until the second-to-last game. The abbreviated camp bled into a brutal start for Fiala. He mustered just one point in eight games played for the month of October. 
As the calendar turned to November, Fiala notched points in three consecutive games. It took off from there. From November up until the season was suspended, Fiala compiled 53 points. His 3.63 points per 60 minutes during that time span ranks 11th in the league - better than Patrick Kane, Auston Matthews, and Sebastian Aho. That's pretty elite company. And it's been an emergence - a growth to this point. The slow start had many in the coaching staff and front office losing confidence. As Fiala's confidence grew, so did his on-ice performance. It's as if something clicked and he realized how to make plays and score to be great in this league. We've realized it too.
 "...the impact that he can have on our team every night."
Since Jacques Lemaire coached the Minnesota Wild, the team has largely maintained a dump 'n' chase system. Even as the talent pool has increased, Wild head coaches insisted that forwards get the puck deep and get on the forecheck. Outside of Mikael Granlund, no player has been as strong of a puck carrier than Fiala in the last decade. Look back at his draft year scouting report:
Kevin Fiala is an offensive forward with game-breaking potential. He is a respectable and shifty skater with quick legs and explosive acceleration. Fiala owns a slick skill-set with soft hands, good stickhandling and brilliant puck-control. . . . (by Rafik Soliman, January, 2014)  -
It's that "brilliant puck-control," that he's brought to this team. He will hold the puck for as long as it takes to make a play. It's made players like Zach Parise, a players whose game thrives on a dump 'n' chase and out-working their opponents on the wall, change how he plays without the puck. Instead, you see Parise going to the net and spending less time on the wall. The same for Ryan Suter. Suter looks for Fiala to run the offense through. With his ability control the play on his stick, he's made himself into a transforming weapon for the Wild.
 "There's some leadership involved in that too."
Fiala's rise from November was steady. But that didn't mean he was given full reign to do whatever he wanted. He was still stuck with roughly 14 minutes per game and a second line role. He was good at this point. From the start of the season until February 9th, he was scoring at a 2.86 points per 60 clip. It's a really good mark. Upper-echelon, even. The team was starting to build towards a stretch run to the playoffs.
Then on February 10th, fan favorite and reigning King Clancy Memorial Trophy winner Jason Zucker was traded to the Pittsburgh Penguins. Five days later Bruce Boudreau was dismissed as head coach. The moves by GM Bill Guerin said, "tank," but his lips said they were still pushing for the playoffs.
Fiala took his GM's words to heart.
From February 10th up until the suspension of play, Fiala was elevated in Zucker's vacated spot, and given almost 18 minutes per night and first power play duties. He notched an elite 4.55 points per 60. Seven of his 14 multipoint games this season came after the start of February. 
When his team needed someone to step up, he did in a big way. Leaders put their teams on their back. Fiala showed his leadership capabilities exactly when he needed to become the guy in the locker room and on the ice.
"We just want him to keep going."
At the beginning of the season, winning didn't come easy. The Wild had become stale. The roster was stale, and terms of immediate excitement, well that was a season away and in Russia. Fans began to lose interest. The sell-out streak was snapped after Minnesota's second home game of the season. Attendance numbers were no longer announced as the season went on. 
In February, media, teammates, and fans were all talking about Kevin Fiala. His plays dazzled on a nightly basis. People, especially those on the ice with him, expected him to score. Fiala turned the bane of the Minnesota Wild's existence - overtime - into a can't-blink spectacle. 
Kevin Fiala captured the imagination of Wild fans for what is both now, and in the future when Kirill Kaprizov and other prospects join the fun in Minnesota. When voting for Minnesota Wild team MVP, it only makes sense to pick Kevin Fiala.
Stats courtesy of Evolving-Hockey.com, and Hockey-Reference.com.