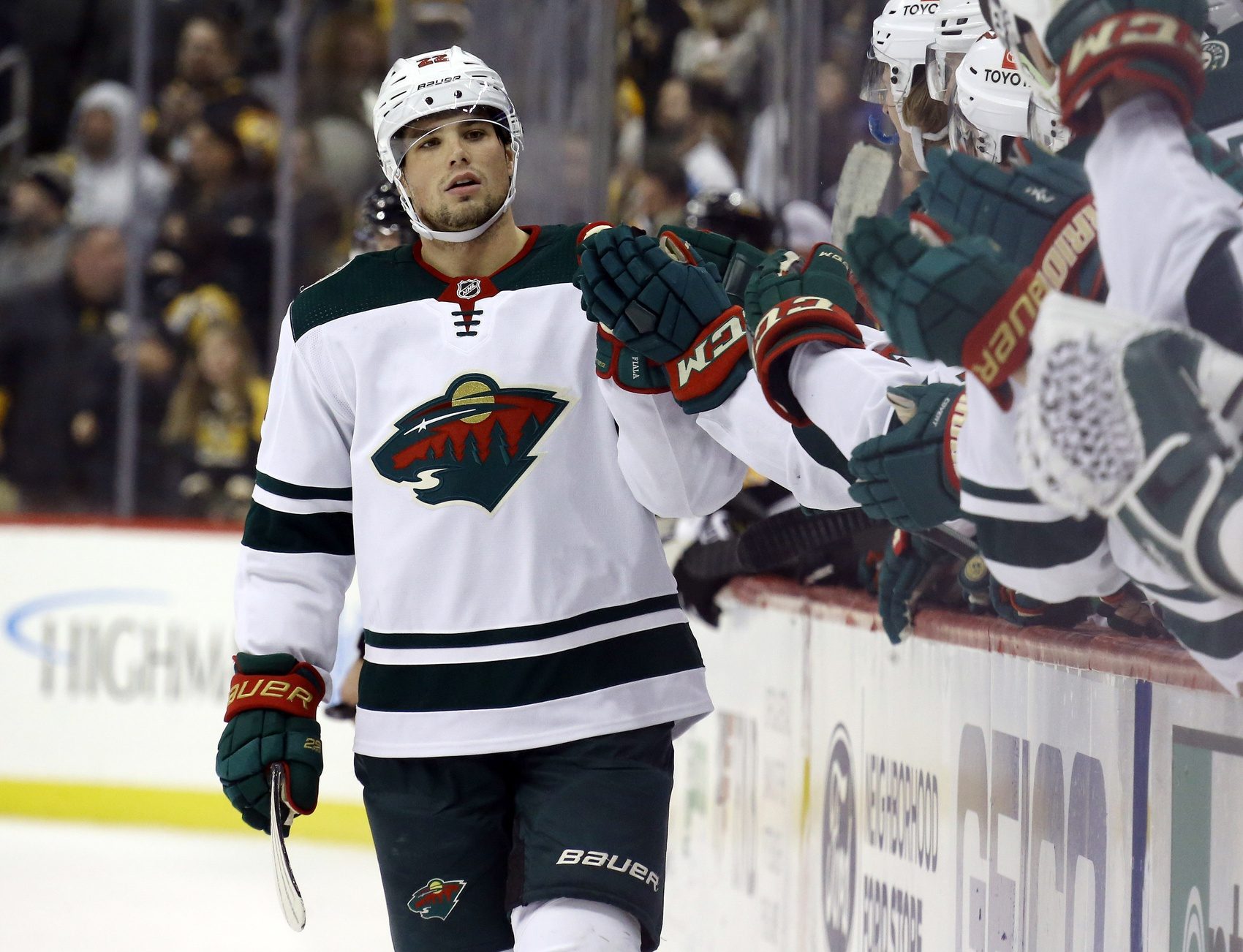 Kevin Fiala is an optical illusion. Two people can look at the same player and get wildly different impressions. One person can marvel at his other-worldly speed, elite transition ability, and highlight-reel goals. The other can walk away from him, left wanting more from a streaky player who makes frequent mistakes.
The Minnesota Wild made it clear which one they see this offseason. They rolled out the red carpet for Kirill Kaprizov, throwing big money at him after 55 games. Then they strong-armed Fiala, their other dynamic talent, into arbitration and a one-year $5.1 million deal.
What would it take for Minnesota to commit to Fiala? We got a few hints in an August press conference with general manager Bill Guerin. "He's gonna have to keep improving," he said. "He's had two good years for us, and he's going to have to continue to get better. Kevin's still young, too. He's still a young man, and there's lots of room for improvement in his game on a lot of different areas."
If you could boil down the critics' arguments into one word, it'd be immaturity. He allows frustration to creep into his game, and it manifests throughout his play. Fiala may take a bad penalty or try to do too much and turn the puck over. Or make a defensive lapse. Whether or not you believe these shortcomings prevent Fiala from being an incredibly rare and valuable player is irrelevant. It's evident the Wild believe they significantly decrease his value.
Like Kaprizov, Fiala is off to a slow start, punctuated by a 10-game goalless streak. He'll need to achieve higher than a 50-point pace to earn a commitment from Minnesota, but the good news is that Fiala is shoring up many of his most significant areas of weakness. Through 14 games, we've seen Fiala play a much more disciplined brand of hockey.
Let's start with penalties. A significant way Fiala's immaturity stole value from himself was his tendency to go to the penalty box needlessly. Whether it was because of a defensive lapse or frustration, he'd often make bone-headed plays that cost his team a man. In his first 133 games in Minnesota, he took 40 minor penalties, almost one every three games. That's quite a bit, especially for a player who doesn't play a physical brand of hockey. Not included in that number is a three-game suspension from a boarding major from last season.
Those bad penalties have all but disappeared this season. Fiala has just two minor penalties in 14 games. One was a questionable goalie interference call — not exactly the most consistently or well-called penalty in the game — and the other was for tripping. Cutting his penalty minutes in half is a good sign that he's keeping his cool during games.
Turnovers are a controversial topic when discussing players. The best players in the NHL are also often the league leaders in giveaways. They have the puck more and thus have more opportunities to give it away. With that said, turnovers have rankled Fiala's critics, and to be fair, he was one of the top-10 forwards in the league, recording 3.2 giveaways per hour.
Fiala also cut his turnovers in nearly half so far this season. He currently has 1.86 giveaways per hour at 5-on-5, which ranks outside the league's top-100 among forwards. Again, whether or not you think it matters is irrelevant. Coach Dean Evason and the Wild clearly notice and are annoyed by these giveaways and Fiala's bringing them down to a perfectly manageable level.
He's even been putting together a stronger defensive performance this year. When Fiala's on the ice, the Wild allow just 1.98 expected goals per hour at 5-on-5, which is fifth among Minnesota's 12 forwards. Compare that to last year, when only Mats Zuccarello and Marcus Johansson allowed more scoring chances.
It helps that he's skated with defensive stalwarts Joel Eriksson Ek and Frederick Gaudreau, but Fiala has to commit for that line to get results. Instead of being a slight liability, he's worked himself into a fine defender so far.

That stuff doesn't matter much for his long-term outlook for the Wild if he can't keep the points rolling in, too. Luckily, that should be on the upswing soon. For one, Fiala hasn't stopped shooting. He's still averaging over three shots per game and is focusing less on the perimeter and more on getting to the net. That, combined with his shooting talent, almost certainly means he won't be shooting under 5% for much longer.
And ironically, his slow start gave him the perfect chance to display his growth and maturity. In overtime against the Ottawa Senators on Nov. 2, Fiala muscled his way into the offensive zone with control of the puck. He had a golden opportunity to win the game, snap his then-eight game goalless streak, and boost his numbers for next summer's contract talks.
Instead, Fiala put a perfect tape-to-tape pass to Kaprizov, who one-timed it for his first goal of the season. It was the right play as a strategy — goalies struggle with cross-ice passes — but it was also the right thing to do as a teammate. As badly as Fiala had to have wanted that goal, Kaprizov needed it more, and he acted accordingly.
Fiala needs to heat up, and history suggests he will do that soon. Even then, it's time for his critics to take notice of his improved maturity and overall game. No one should ignore the strides Fiala's making in his discipline and willingness to play within the Wild's team concept. He's finally playing the way Minnesota wished he would when they spurned him for a long-term deal last summer.