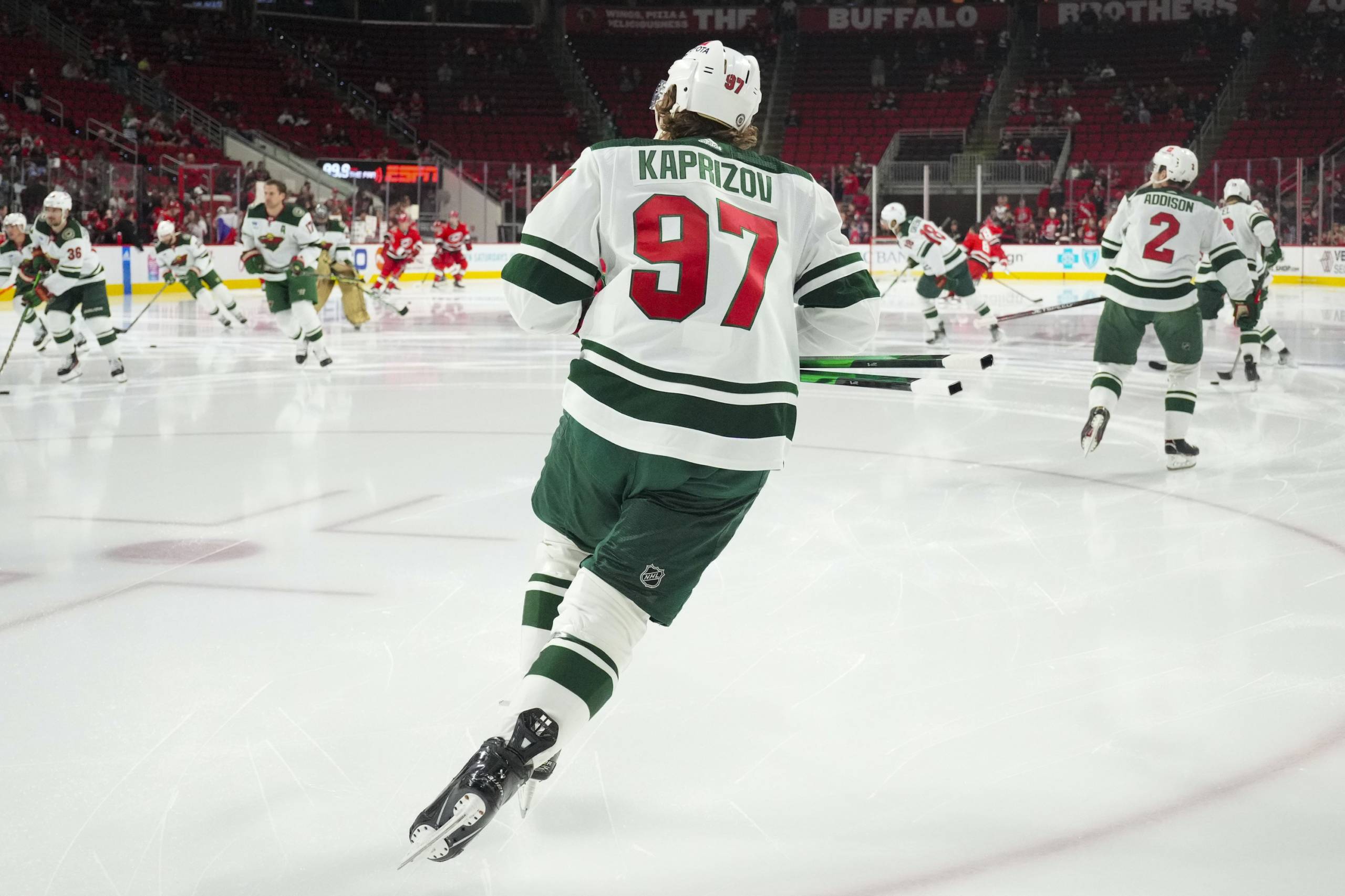 Minnesota Wild All-Star Kirill Kaprizov is the team's leading point scorer, playmaker, and overall best player. He's the most exciting player the Wild have ever put on the ice, and he's on his way to breaking numerous records for the Wild. So what else is left for the winger to accomplish with Minnesota? How about cementing himself as part of the leadership group?
With alternate captains Marcus Foligno and Matt Dumba ill and a healthy scratch, respectively, last Saturday against the Florida Panthers, the Wild needed to put "As" on two sweaters. Joel Eriksson Ek has become third in line for those duties, so he was a no-brainer. But after that? The Wild chose Kirill Kaprizov for the job.
Friday's game against the Panthers was the first time Kaprizov wore a letter in the regular season. The Wild has other suitors for the "A": Eriksson Ek, Jonas Brodin, Mats Zuccarello, and even veteran Alex Goligoski all have the experience and ability to be great leaders.
However, the coaches chose to give Kaprizov the role of alternate captain for the night. This just shows how much the organization appreciates the player and person that Kaprizov is. He may be only 25 years old, but it's clear how much the younger players look up to him. His creativity and work ethic on the ice is second to none.
Kaprizov is also just a fun guy. He's always smiling and seems to have a bubbly personality that exudes happiness. Hockey is, after all, a game. Players are supposed to have fun, and Kaprizov looks like he has the time of his life every time he is on the ice.
The way he sets the tone for the club makes him deserving of the "A." What he has done for the Wild is something no one else has done before. He does his best to help Minnesota win every night. His creativity and productivity on the ice just demand respect. The Wild have never had a player of his caliber, so it's an obvious choice to add him to the leadership group.
Forward Marcus Foligno says that Kaprizov has "The work ethic of a fourth liner and the attitude of a captain." That's pretty high praise coming from one of Minnesota's current alternate captains and one that comes from a family where his father (Mike, Buffalo Sabres) and brother (Nick, Columbus Blue Jackets) also sported the captain's "C" for their teams. So when he says that Kaprizov is the engine of the team, there's no one more qualified to make that assessment.
"When he's winning puck battles, guys just get lifted on the bench and compete more," Foligno continued. "If your best player is doing that every night, all the guys, myself included, will be lifted from it. It's who he is. He's a guy that will be a superstar for a long, long time."
Kaprizov clearly holds high standards for himself and has earned his teammates' respect. He has become the guy that is looked at to score in the big moments, and so far in his career, he's done just that. He scored 47 goals last year and has 27 so far this season. Teammates are bound to respect someone who scores like that.
Matt Boldy says Kaprizov is a superstar and one of the best players in the league for a reason. "He's our best player, he controls everything for us. A lot of it comes from a lot of hard work."
Kaprizov and Zuccarello are often seen on the ice long after practice is over, just working on anything he can improve on. It's things like that that teammates see and appreciate.
With Dumba likely leaving the Wild soon, either via trade or free agency, that leaves an alternate captaincy up for grabs. Eriksson Ek will probably fill in that slot. But when Foligno's contract is up in the 2024-25 season, another "A" will become available if he chooses free agency or is traded, and Kaprizov is perfect for the job.
Having a leadership group of Jared Spurgeon, Joel Eriksson Ek, and Kirill Kaprizov would give the Wild a different vibe. Dumba and Foligno are excellent in their roles but are very different players, and their leadership styles will probably differ.
Dumba and Foligno are leaders who stand up for their teammates and get the crowd going when needed. They can throw hits and lead by example.
Eriksson Ek and Kaprizov might be more on the quiet side, but still deserving of the role in their own ways. They have the skill and work ethic that any young prospect, teammate, or even kid in the stands should want to look up to.
Kaprizov will have a good chance to become captain of the Wild if he chooses to spend his career (or most of it) in Minnesota. Having an idol like Alex Ovechkin, a guy who has stayed with the Washington Capitals his entire NHL career and will almost certainly retire in Washington, it's possible that Kirill might want to do the same thing. With how well he's played for the Wild so far, I'm sure no one would have a problem with that.
Although the leadership group might not be changing anytime soon, Kaprizov has shown that he is perfect for the role of alternate captain, and maybe eventually captain, whenever it may become available. He's an all-around great player; his teammates love him, and he's stepping up and finding new ways to lead his team.