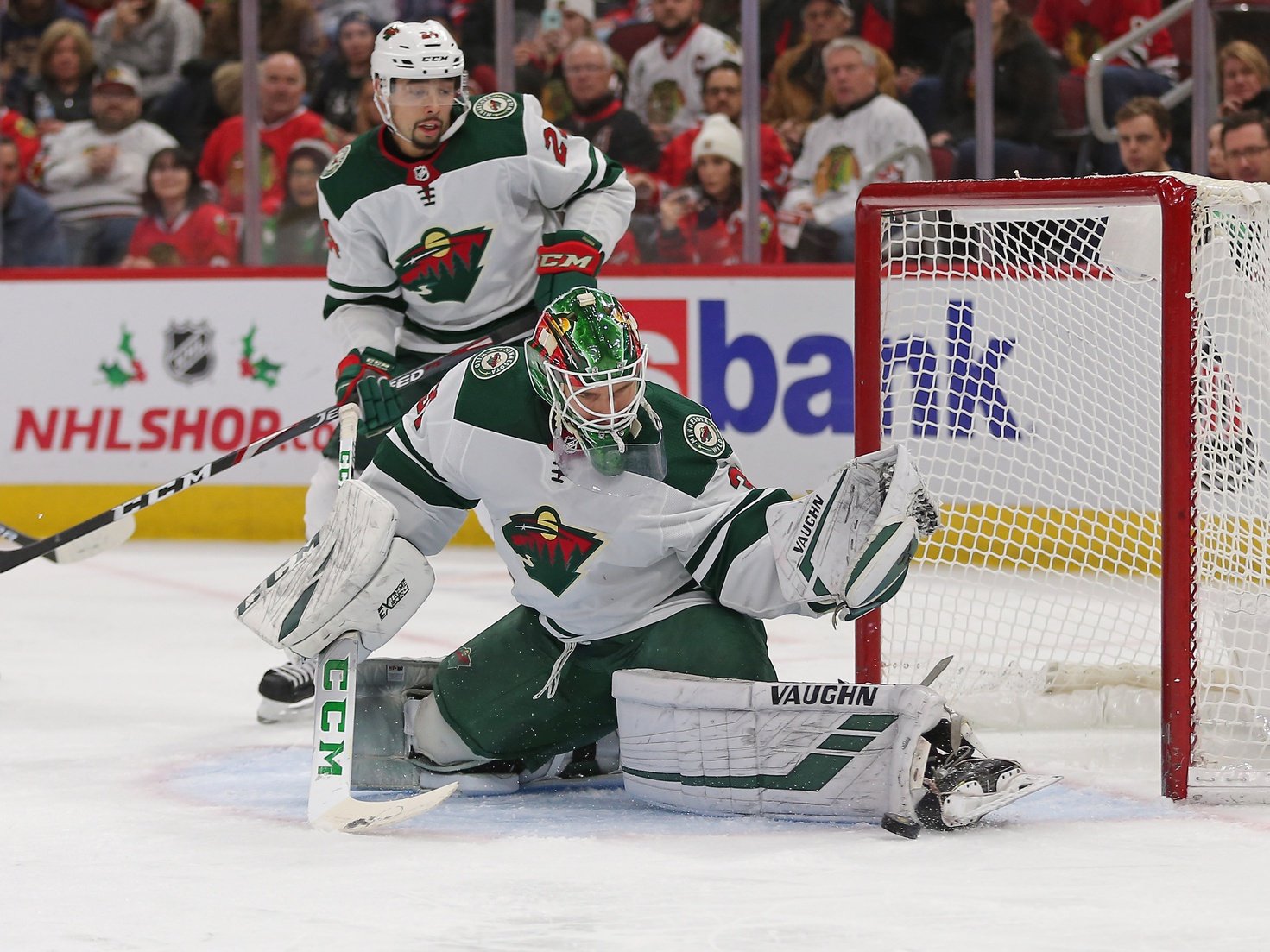 It's almost Kaapo Kahkonen's time. A fourth-round pick out of Finland in 2014, Kahkonen has slowly worked his way into a becoming legit prospect for the Minnesota Wild.
His first major step was at the 2016 World Junior Championships. He came off the bench and went 4-0 to lead Finland to Gold. He then established himself as Liiga's best goalie, leading the league with 56 games and posting a terrific .922 save percentage. Kahkonen was just 21.
Kahkonen arrived in North America the following year, playing 39 games for the Iowa Wild. The team enjoyed success, but Kahkonen lost the starting job he grabbed earlier in the year.
Those struggles turned into dominance in his sophomore season. Kahkonen had an astonishing 25-5-6 record and was fourth with a .927 save percentage, winning the AHL's Goalie of the Year. He even had a five-game stint for Minnesota where his .913 outperformed Alex Stalock (.910) and Devan Dubnyk (.890).
Despite all this, he's ranked ninth in our Top-10 Prospects list. Why's that?
The Ghosts of Goalie Prospects Past haunted the Blue Ribbon Panel at 10K Rinks, forcing Kahkonen down the list. Too many goalie prospects have come through the Wild system, only to never become the Wild's solution in net. If Kahkonen wants to find success in the organization, he'll have to vanquish those ghosts.
Matt Hackett's specter is the first to haunt Kahkonen. When Hackett was 21, he looked like Minnesota's Goalie of the Future. He had a .916 save percentage in 90 AHL games over two seasons and came up big for the Wild in a cup of coffee in December 2011. He looked like he was on the fast track.
The next year, Hackett was out of the organization. Hackett struggled in the minors and was sent to Buffalo as part of the Jason Pominville trade. He got 13 games with the Sabres, getting absolutely shelled and was out of the NHL by age 25.
What happened?
Hackett got squeezed out of Minnesota. The Wild had their starting options solidified ahead of him, and a young upstart overtook him in the organization. Going to a tanking Buffalo team gave him no support, and a fatal flaw with rebound control doomed him.
It's no guarantee that Kahkonen is safe from the same fate. Cam Talbot got a three-year deal to start for Minnesota, and Stalock has two years remaining on his deal. General manager Bill Guerin could move Stalock, but if both Talbot and Stalock perform well Kahkonen could get frozen out of the NHL next year.
Meanwhile, Filip Lindberg and Hunter Jones are developing behind Kahkonen in the NCAA and OHL, respectively. At 21 and 20, they're young to take the job now but will turn pro sooner or later.
If Kahkonen can't find an NHL opportunity next year, he may find himself with a limited time to seize the Wild crease.
Kahkonen's next visitor is Darcy Kuemper's ghost, the man who would beat out Hackett. Kuemper had a great run of success initially, posting a .922 save percentage in his first 32 starts. The league would seemingly catch up to him, and things went downhill from there.
Kuemper was particularly prone to looking solid in a game, then letting one bad goal snowball into much more. He lost his starting job to Dubnyk, who never relinquished the net, allowing Kuemper to get just 34 starts in two-and-a-half years before the Wild moved on.
Kuemper signed with the Los Angeles Kings and worked with goalie coach Bill Ranford, who helped Kuemper clean up mechanical issues and give him new strategies to succeed. Today, Kuemper is a Vezina candidate for the Arizona Coyotes.
The lesson here is that Kahkonen won't be a finished product when he makes the NHL. Shooters adjust to goalies, and only the goalies who can make counter-adjustments will thrive. Goalie coach Frederic Chabot (who coached Kahkonen in Iowa) will have to continue to hit the right buttons with Kahkonen.
Despite Kahkonen's success, scouts still see flaws in his game that could be exploited. Cat Silverman of EP Rinkside points to his slow transitions into and out of the butterfly position and odd use of his glove as potential red flags. Whether he's 2016 Kuemper or 2020 Kuemper will depend on whether the Wild can help Kahkonen work around his issues.
The last spirit to descend upon Kahkonen is the most horrifying of all. Josh Harding had two successful years in Iowa before becoming the Wild's backup behind workhorse Niklas Backstrom. Once he was ready to take a bigger role, everything fell apart.
Harding tore his ACL in the 2010-11 preseason, costing him an entire year. He managed to come back the next year and showed talent, posting a .917 in 30 starts. That positive trajectory came to a halt when Harding was diagnosed with multiple sclerosis in 2012, limiting him to just five games.
At age 29, Harding got 26 starts and dazzled in spite of it all, leading the league with a .933 save percentage. Then symptom flare-ups forced the end of his career.
That's what's scary about Harding's story. He did everything right, he developed well, and he was able to perform at a high level. Through no fault of his own, none of that mattered. Harding is an extreme case -- multiple sclerosis is rare -- but injuries that ruin a goalie's career aren't. Modern goaltending puts a lot of stress on the hips and knees, and if those give out, they can derail even Hall of Fame talents. Concussions are always a risk, as well.
To find success in the NHL, you have to seize your opportunities, you have to make physical and mental adjustments, and you have to be lucky enough to be healthy. While Kahkonen has performed both at Liiga and the AHL, he's got a long road ahead of him to prove he can be an NHL starter and not just another goalie ghost haunting the State of Hockey.
This is part of a series ranking the Minnesota Wild's Top-10 Prospects. Kahkonen placed at #9. #10 was Ryan O'Rourke.