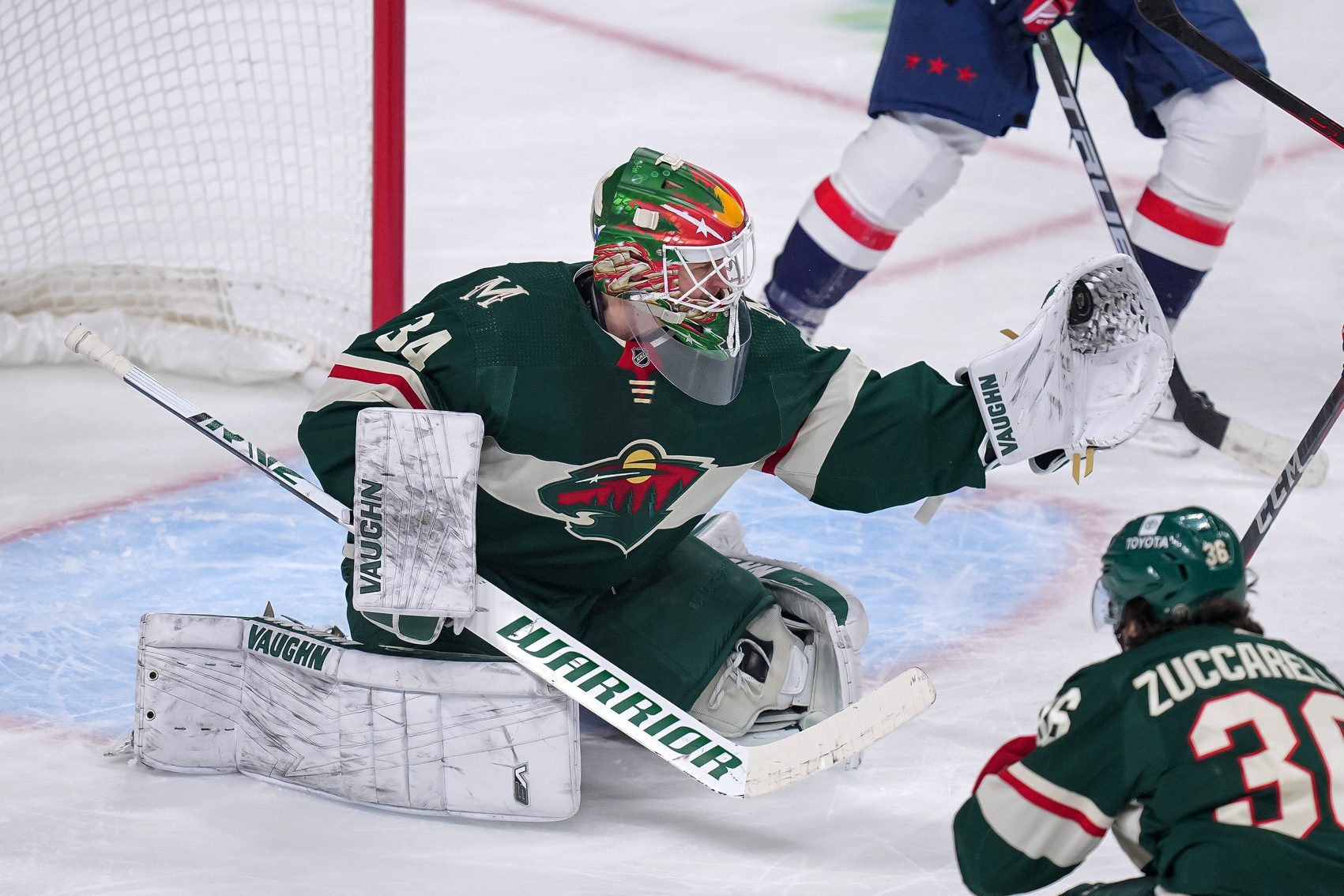 Since Cam Talbot's arrival two years ago, the Minnesota Wild have largely depended on him in the net. Part of it is the team trusts Talbot's track record as a starting goalie. However, it's also the byproduct of Kaapo Kahkonen's inconsistency ever since he made the leap to the NHL. That's why the Wild chose to expose him to the Seattle Kraken despite the lack of organizational depth at goalie. It's also why newly-named GM Bill Guerin attempted to acquire Tristan Jarry from the Pittsburgh Penguins. Further, scouts question whether he has the potential to be a starter in the NHL.
It's well-documented, but it appears Kahkonen has finally found his game this season with Talbot struggling. While Talbot was selected as one of the Central's two All-Star goalies, joining Kirill Kaprizov in the 2022 NHL All-Star Game, he simply wasn't deserving of it. It was fueled by his 15 wins this season rather than his actual play. It's skeptical that he beat out the Winnipeg Jets' Connor Hellebuyck, who has been one of the league's best goalies this season, too.
Talbot has allowed 7.51 goals above expected based on shot quality, 5th worst in the league among goaltenders who have played a minimum of 15 games. His .909 save percentage doesn't stand out positively, either. That's why there needs to be a discussion about Minnesota's goaltending situation because there's a real argument that the tandem should split games moving forward.
This may be just another strong stretch of hockey for Kahkonen, 25, considering he displayed flashes of brilliance last season. He naturally got recognition in his rookie season because he finished with 16 wins. That led to a few Calder votes, too. Kahkonen's Calder love was questionable, though, given he finished with a .902 save percentage and allowed over 15 goals above expected, the fourth-worst rate in the league.
However, Kahkonen's game has visibly been different this season. His rebound control and puck tracking — especially glove side where he has struggled in the past —have been much more efficient. Likewise, Kahkonen has been much better with his overall movement and position. The numbers agree with this progression, too.
In 12 appearances, Kahkonen has a .918 save percentage. The young goaltender has also saved 2.1 goals above expected. His last seven starts have been incredible, saving 5.2 goals above expected. Obviously, this is a small sample size, but that's an elite rate for a goaltender. Kahkonen's numbers have vastly improved, and his age likely is the reason why there has to be more patient with him as he continues to develop and get NHL games under his belt.
The surprising element of this potential development is that Minnesota's defense has slightly been worse this season due to all the injuries the team has sustained during the season so far. That has led to the team giving up a significant number of rush attempts. Kahkonen has faced a league-high 3.19 rush attempts per 60 among goalies who have played at least 10 games.
Simply put, Kahkonen has been much better this season despite not playing a ton early. He has excelled in his role, especially when the Wild lost Talbot to injury in the Winter Classic.
It's worth noting that goalies are generally inconsistent, and often defy expectations — good or bad. Still, wouldn't be unheard of for a goalie to unexpectedly become an NHL starter. Darcy Kuemper spent parts of five seasons with the Wild, but he came up short of proving that he had the potential to be a No. 1 goalie in the NHL. Now Kuemper is one of the better goalies in the league. Kahkonen and Kuemper are not the same player, but it still proves the point. Expect the unexpected when it comes to goalies.
It will be interesting to see what happens with Kahkonen. He could potentially form a solid tandem with top goaltending prospect Jesper Wallstedt in a few years after Talbot's departure in the 2023-24 offseason. For now, his job is to cement himself as a valuable netminder who the Wild can depend on. Perhaps he will prove the doubters wrong by establishing himself as a quality NHL starter.
All data via Evolving-Hockey, Natural Stat Trick, and Hockey-Reference