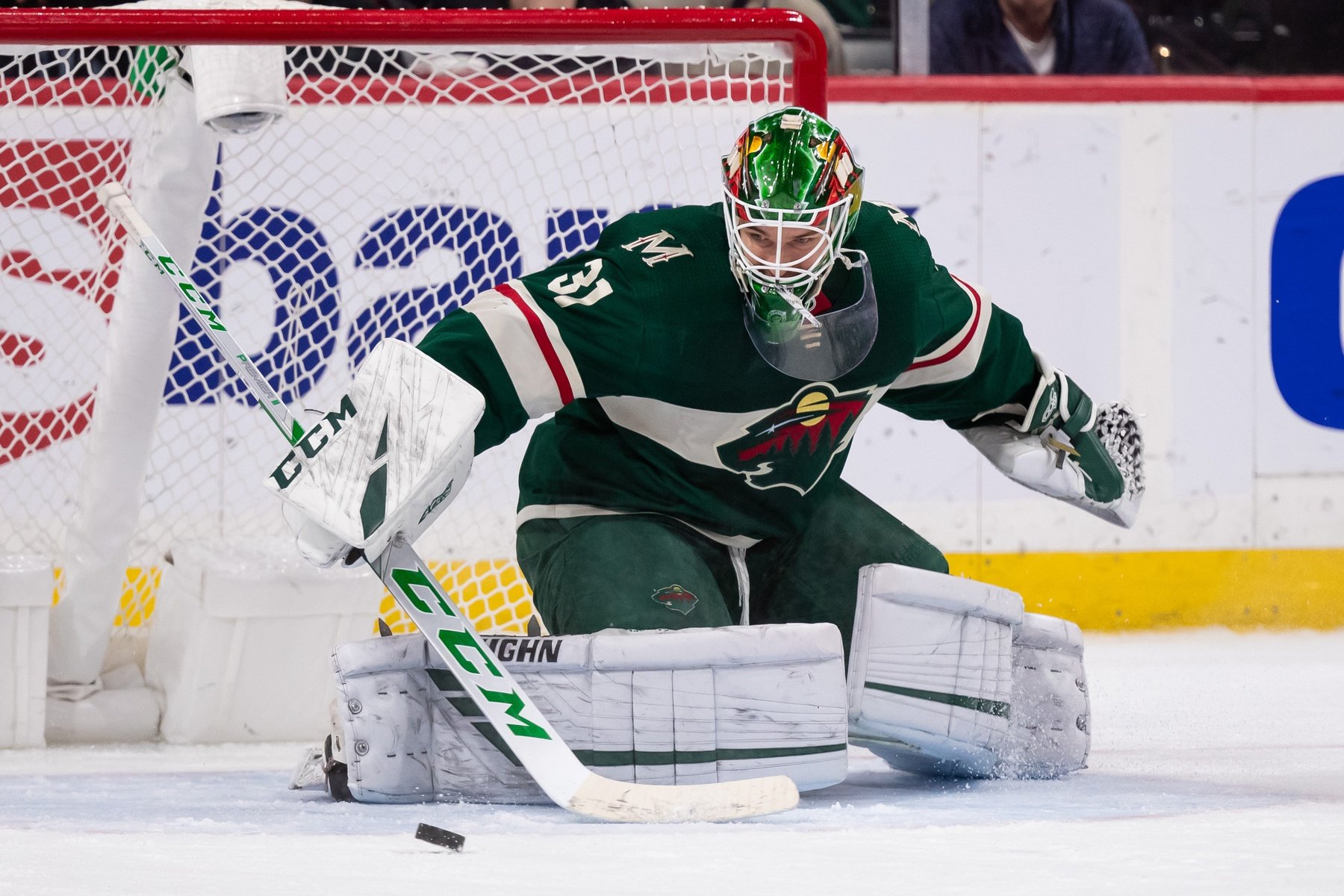 Prior to the 2019 entry draft, the Minnesota Wild had a relatively barren pool of goaltending prospects. In that draft then-general manager Paul Fenton snagged two goaltenders over their eight picks to begin the process of perhaps one day providing the Wild a future NHL goaltender.
The NHL season may still be presently in limbo, but most other leagues have finished up for the season. With that said, let's check-in and see how the Minnesota Wild goaltending prospects fared in 2019-20.
[caption id=attachment_65740" align="alignnone" width="1544]

via eliteprospects.com[/caption]
There was uncertainty around Kaapo Kahkonen's game heading into 2019-20, but he was handed the number one job in Iowa and did not disappoint. Kahkonen had an AHL-best 25 wins, fourth-best save percentage (.927), and league-leading seven shutouts while helping Iowa hold the second-best record in the AHL prior to the pause. Kahkonen was also called up to Minnesota when Devan Dubnyk was absent from the team, and started five games to kick off his NHL career.
With Minnesota needing to make some kind of change for the goaltending position for 2020-21, Kahkonen's play this past season certainly put him in the discussion to be a part of the Minnesota roster permanently.
Mat Robson
After signing with the Wild in March of 2019, Robson began his first full season of professional hockey this year as the backup in Iowa to Kahkonen. However once Kahkonen went up to Minnesota in December, Robson took on more of a starting role in Iowa and eventually started in 26 games during the AHL season.
To finish out the season, Robson went 11-10-5 with a 2.97 GAA and .901 save percentage with one shutout. His best stretch of the season came right at the end where he started Iowa's final three games of the season and stopped 89 out of 96 shots while winning two out of those three games. If Kahkonen moves up to Minnesota next year, Robson could very well become the started in Iowa next season.
Hunter Jones
One of those two goaltender selections in the 2019 draft was second-round pick (59th overall) Hunter Jones, who just completed his third season with the Petersborough Petes of the Ontario Hockey League. Jones was considered one of the top goaltenders in the draft, and Fenton could not wait to get his guy, trading up for the six-foot four-inch goaltender.
Jones put up solid numbers for the Petes in 2019-20 including 31 wins (4th best in OHL), .913 save percentage (5th best in OHL), and four shutouts (tied for 2nd best in OHL). The 19-year-old signed his entry-level contract with Minnesota on March 29 but don't expect him in the big leagues anytime soon. You will most likely see Jones return to Petersborough for the 2020-21 season.
Filip Lindberg
The second goaltender taken by Minnesota in 2019 came in their final pick, when they took Finnish goaltender Filip Lindberg with the 199th overall selection. Lindberg has spent the past two seasons in the NCAA with UMass Amherst, starting 17 and 18 games respectively for the Minutemen.
Lindberg's .927 save percentage this past season was 14th best in the NCAA, and fourth among sophomore goaltenders. He also notched two shutouts, bringing his NCAA career total up to six. Lindberg will undoubtedly be back with UMass next season where he will look to build on an already solid start to his college hockey career.
http://zonecoverage.com/wp-content/uploads/2016/05/itunes.jpghttp://zonecoverage.com/wp-content/uploads/2017/05/Podcast-header-Image-City-1.jpg