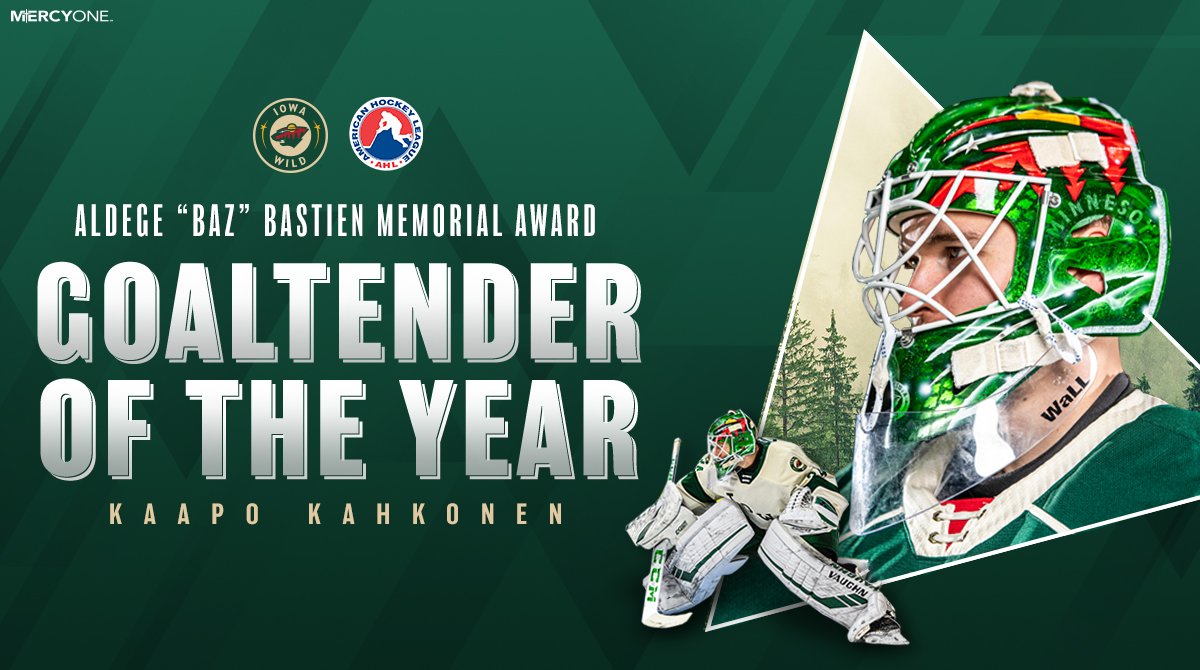 Kaapo Kahkonen sits in his native Finland waiting for a resolution to the possibility of returning to North America amid the NHL's Return to Play plan. But while the 23-year-old goaltender remains in his home country and staying in game shape, the accolades for his 2019-20 season certainly have started to pile up.
Last Wednesday, Kahkonen was named to the AHL's first all-star team along with two of his teammates - Sam Anas and Brennan Menell. On Tuesday, Kahkonen was officially named the 2019-20 Aldege "Baz" Bastien Memorial Award winner, signifying the AHL's top goaltender of the season.
In his award-winning 2019-20 season, Minnesota's fourth-round pick in 2014 registered a league-best 25 wins (25-6-3 record), a .927 save percentage, and league-leading seven shutouts. This was the second consecutive season Kahkonen led the AHL in shutouts, becoming the first goaltender since Martin Biron (1997-99) to do so.
Kahkonen's best play came right at the end of the season, before the league paused and eventually canceled, where he went 10-1-1, with a .961 save percentage, and five shutouts.
On a conference call with reporters this past Friday, Kahkonen was able to reflect on just how fun the winning times were this season by saying, "I probably never played a season with a team that won that many games in the regular season even though it ended before it should have. It's way more fun to win games, especially in the regular season when it's a long period of games."
This was Kahkonen's second season in North America, most of which has been spent in Des Moines with Minnesota's AHL affiliate. After his first season where he played in 39 games and only had a .908 save percentage, there was much room for improvement in the Finish goaltender's game, and improve he did.
The key to that success? Just being more comfortable off the ice.
"A lot of things are [not really different in] the game for coming over for the first time," Kahkonen said, when comparing play in North America and Finland. "From renting an apartment to whatever [else] in a different language you don't speak. You can imagine how different that will be and you do that once then the next year you come back and those things are much easier for you."
Kahkonen proved that his ease of transition from Year 1 to Year 2 off ice translated into better results on the ice. But also helping Kahkonen was the great team in front of him, which made him feel all the more comfortable between the pipes.
"You play a bit, you get to know [the] guys and staff and it's much easier to come in and play your second or third year and contribute and know what it's all about."
Early season success for Kahkonen got him a call up to the NHL in mid-November when Devan Dubnyk left Minnesota to tend to personal matters. With Dubnyk out for nearly a month, Kahkonen was able to get his first career start in the NHL -- one of five this season.
That first start? A Minnesota 3-2 win over New Jersey where Kahkonen made 32 saves and became the first Wild goaltender to win his debut since Matt Hackett did in 2011.
Then Wild head coach Bruce Boudreau told the media after the game on Kahkonen's play, "He was outstanding with his rebound control, outstanding with just moving the puck. Nothing seemed to faze him."
Kahkonen started four more times for Minnesota, going 2-1-1 while stopping 125 of 138 shots faced. Kahkonen credited Minnesota goaltenders Alex Stalock and Dubnyk for making him feel comfortable as possible while having his brief NHL stint. "Both of the guys up in Minny - Stalock and Dubnyk -- are good guys and they helped me along the way. They were really supportive of when I got the call-up, and they made it that much easier and better for me."
After his start on December 15 against Chicago, Kahkonen was sent back to Iowa where he remained until the AHL season was prematurely ended on March 13. But after that return to the minors, Kahkonen's play really took off.
Now that the AHL season has ended, Kahkonen awaits the NHL's work on trying to return to play this summer. With a very strong likelihood of expanded rosters, Kahkonen is likely to be on the call-up list for Minnesota and is continuing to work out in the event he gets that call.
No gyms -- like other places of business or social gatherings -- are open presently in Finland, so Kahkonen has taken to home workouts to keep his body in shape. "I have a bike here that I've been [using] and set of weights. Whatever you have to [do] just keep in shape and conditioning."
With the NHL taking one small step closer towards coming back this summer this past week, you can surely bet that Kahkonen has intensified those workouts for when the phone rings.
"Whenever that day comes that we might continue playing or be part of the Wild in Minnesota this summer you just try and do your best then to keep yourself in shape to be as ready as possible for that to happen."
While Minnesota's best goaltending prospect waits for a chance to potentially join the Wild's roster this summer, his season in Iowa was one for the record books. Should he eventually go on to bigger and better things, you can certainly look back and point to this season and him finding his comfort zone.
http://zonecoverage.com/wp-content/uploads/2016/05/itunes.jpghttp://zonecoverage.com/wp-content/uploads/2017/05/Podcast-header-Image-City-1.jpg