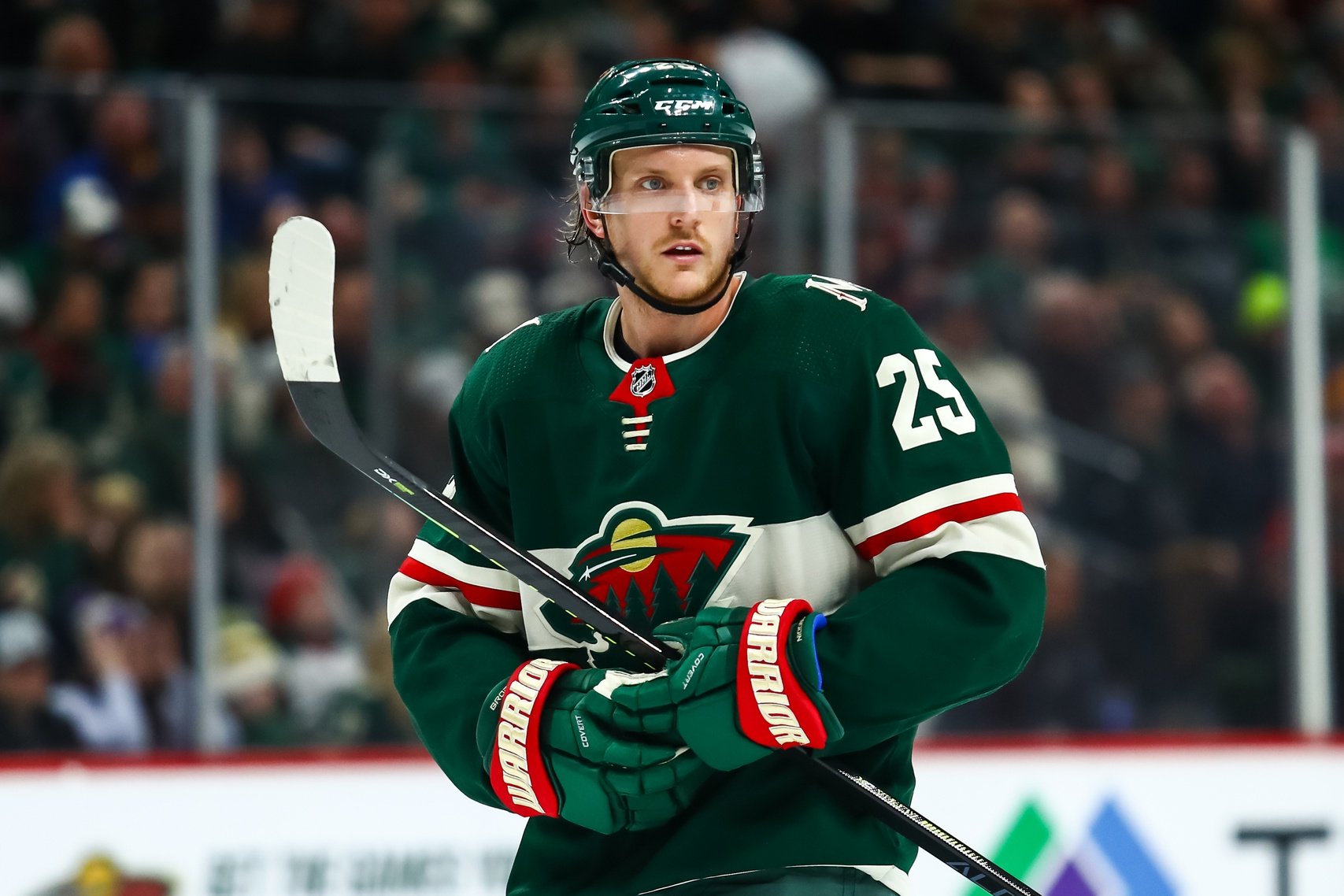 Minnesota Wild general manager Bill Guerin spent the first year on the job mostly in evaluation mode. February's Jason Zucker trade aside, this year was about Guerin trying to figure out what worked and what didn't. The Wild showed their new GM they weren't good enough after getting bounced from the playoffs by Vancouver, and now we're seeing Guerin enter a more aggressive mode.
The center depth needs help? No problem, Guerin swung a low-risk trade for Nick Bjugstad that could provide size and shooting down the middle. But Guerin's stamp on the team isn't only defined by who he's bringing in, who he chooses to keep also plays a huge part in his vision. And on Tuesday, Guerin identified Jonas Brodin as being part of Minnesota's future.
Brodin signed a seven-year, $42 million extension that keeps him in a Wild uniform through his age-34 season. This solves a big problem for Guerin, as Brodin was one year from hitting unrestricted free agency. His departure would leave a huge hole in the left side of Minnesota's blue line, and his elite defense would be missed.
Regardless of how one regards Brodin's contract in a vacuum, it will have ripple effects far beyond Brodin. In choosing to lock in Brodin long-term, Guerin knocked down the first domino that will set off a year of tough decisions.
There's no reason to think that Guerin is ready to call it an offseason. He's been vocal about the need for changes on the team, specifically their need to get a Number One Center. With few palatable free agent options, that center has to come through the draft or via trade.
But to give, you've got to get, and Minnesota has quite a few first-pairing defensemen on their team. Most pundits believe that either Brodin or Dumba would have to move in any center trade, it would just be a matter of which one.
After Tuesday, we know for sure that it won't be Brodin, who carries a no-move clause until 2025.
What happens to Dumba now? Guerin's answer to that question will shape how Minnesota conducts their offseason.
Both trading and keeping Dumba carries downside. It's true that Dumba, a 26-year-old right-shot defenseman with 20-goal potential, should fetch a good return. Does that still hold true after last season, though? Dumba struggled coming off the season-ending pectoral surgery he had in 2018-19 and carries a $6 million cap hit in a world where the salary cap isn't going up anytime soon. Can Guerin get full value for Dumba under those circumstances?
Then there's the impact on Minnesota's blue line depth. Dumba's their best offensive defenseman, and when healthy, is a lethal weapon on the power play. Prospect Calen Addison could theoretically take Dumba's place on the roster, but he's far from guaranteed to ever get to Dumba's caliber, let alone next season.
Keeping Dumba has its own complications. For one, Guerin would have to dip into futures to trade for any center. Then there's the matter of keeping Dumba's $6 million on the books, which affects…
Next Season's Extensions
Cap management isn't easy on a good day. Now with coronavirus eating into the league's revenues, it's gone from tough to impossible.
Brodin's extension increases the stress on the Wild's salary cap outlook. Minnesota has eight players under contract for the 2021-22 season, who collectively have a $45.4 million cap hit. That's more than half the (likely) $81.5 million spoken for, with 15 more roster spots to fill.
There's more big money deals on the way, too. Kevin Fiala is due for a new deal next offseason, and he'll command a big raise. Evolving Hockey projects his next contract to carry a $6.1 million cap hit, and that's without factoring in the potential for Fiala building on his breakout season.
Kirill Kaprizov's entry level contract will expire as well, necessitating a new contract for him as well. It's hard to say what Kaprizov could command next year, given his lack of NHL experience. If Kaprizov finds any success, you can bet it won't be cheap. Kaprizov's history with the KHL gives him a lot of leverage in a negotiation like this.
Let's say the best-case scenario is a combined $11 million cap hit. That leaves Minnesota with $25.1 million to fill 10 spots. Solving the Wild's issues at center and goalie could easily eat up another $10 million.
That's a pretty tight cap situation. At that point, could the Wild afford to bring back Marcus Foligno, who will likely want a raise after out-performing his four-year, $11.5 million deal? What happens when Joel Eriksson Ek needs a raise next season? Will Guerin be forced to rush his prospects to the NHL just to fill roster spots on the cheap? It's a tough tightrope to walk.
Expansion Draft
Brodin's signing will make a big impact on Minnesota's strategy for next year's Expansion Draft. Like Vegas did back in 2016, the Seattle Kraken will get to pluck a player off Minnesota's roster. The Wild were especially vulnerable in 2016, when former GM Chuck Fletcher gave Alex Tuch away in order to protect Brodin, Dumba and a stable of young forwards.
At the moment, it looks like Minnesota won't face such a difficult position. Though, Brodin being on board (with a no-move clause, making him automatically protected) could present a tough situation for Guerin next season.
If the Wild keep Dumba through next year, they'll have to protect him or risk losing him for nothing. With Brodin, Jared Spurgeon and Ryan Suter all having no-move clauses, Minnesota can't protect seven forwards without exposing Dumba.
Their only other option would be to protect eight skaters, which would allow Guerin to safeguard all of his top-4 defensemen. With NMCs protecting Zach Parise and Mats Zuccarello, that leaves just two skaters to protect.
Fiala will surely be protected, and with Kaprizov exempt from the draft, the Wild would be able to protect one more player. Right now, the safe bet is Eriksson Ek, who has emerged as a great defensive center.
A million things could complicate matters. If the Wild acquire a center, they'll have to leave Eriksson Ek to be taken for free. If a player like Jordan Greenway or Luke Kunin breaks out, they may immediately have to expose them. It's hard to see a scenario where Minnesota wouldn't want to keep Brodin, but he does limit their flexibility nonetheless.
Is the Competitive Window Now?
Minnesota spent much of the season looking mediocre and ended it being handled easily by a good-but-not-great Canucks team. Guerin could have looked at that, seen that his team was getting older and had few solutions for key positions and decided to take a patient approach focusing on adding future assets.
Reading the tea leaves, that doesn't look to be the case. Brodin's extension is the clearest signal yet as to what Guerin wants to do with his team. And that looks to be much closer to (admittedly more competent) Paul Fenton-style "tweaks" than anything resembling a rebuild.
Make no mistake, Brodin might be in Minnesota for the next eight seasons, but Guerin didn't sign him to win in 2027. This was a move to win in the very near future.
The Wild are now locked into Brodin (27) for the next eight years, Spurgeon (31 in November) for the next seven and Suter (36 in January) for the next five. That looks fine this year, but what happens by Year 3 of Brodin's new deal, when half the defense is over 30?
The massive contract to Brodin puts a clock on the Wild's competitive window. Guerin clearly (and rightfully) valued Brodin and Spurgeon, but now he's got to push the right buttons for this team to compete before they enter the decline phases of their careers.
It's a tough task. The Wild aren't close to Stanley Cup contenders. Their needs at center and goalie are extremely difficult to address via the trade market. The salary cap is going to get very tight, very quickly.
Then consider that Minnesota's past two GMs both tried and failed to elevate the Wild to contention without a rebuild.
Signing Brodin was easy. Dealing with the fallout won't be.