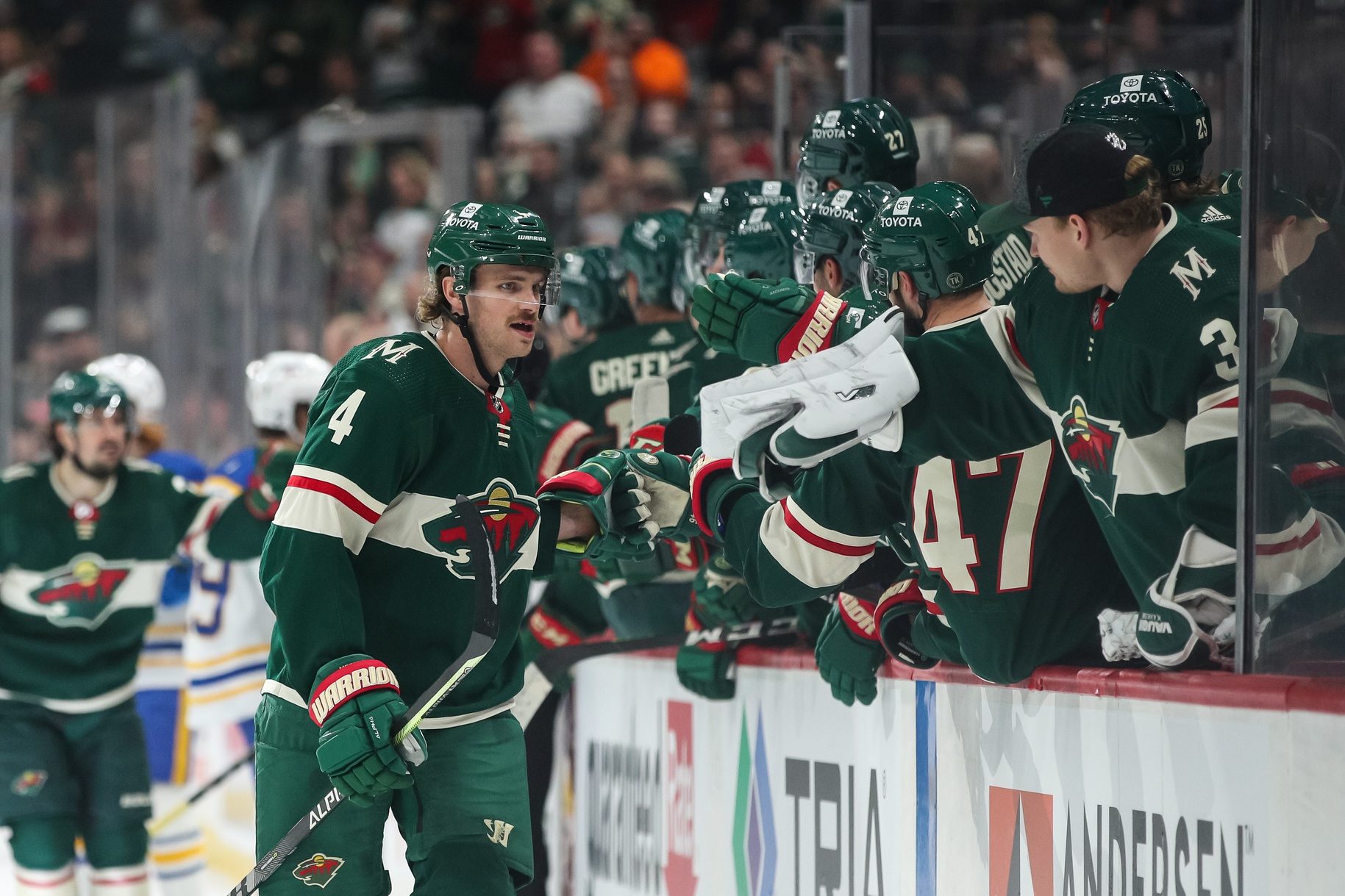 The buyout penalties from Zach Parise and Ryan Suter will start to squeeze the Minnesota Wild this summer. That's why the organization began preparing for it early by signing players such as Dmitry Kulikov and Frederick Gaudreau to cheap multi-year deals in free agency. More significantly, the team locked up Ryan Hartman and Marcus Foligno to three-year contracts, and both are rewarding the organization with incredible offensive seasons.
The latest development of preparation was the three-year contract extension handed to defenseman Jon Merrill this week. The deal comes with a slight raise, Merrill will be getting paid $1.2 million annually, and it comes with roster security. Not a bad deal, but the term carries some risk considering he turns 30 next month. If Merrill suddenly emerges as a replacement-level defenseman who watches most games from the press box, Bill Guerin will have regrets.
The extension doesn't come as a surprise because Merrill and Kulikov have formed a formidable defensive pair this year. When healthy, the Wild's third pair has a 58 percent expected goals rate — the 16th best rate among defensive pairings in the league. Additionally, the duo has tallied 24 points, and it's not even the midway point of the season yet.
The organization didn't commit to Merrill during their cap-strapped years to throw him in the press box. A seventh defenseman typically isn't paid more than the league minimum. But by solidifying himself on the third pair, Merrill's extension will affect the Wild's defensive core.
One of the most significant ripple effects of this extension is how it affects Calen Addison. He's the best defensive prospect in the organization's system and is soon poised to become a full-time NHLer. Addison, 21, should make the team next season, but the Wild might want him to get more seasoning in the AHL.
If that's the case, it would have made more sense to re-sign Merrill to a one-year deal. That's why Merrill's extension could hint at more considerable defensive changes shortly. There's still a good chance Addison makes the transition to the NHL next season.
Addison hasn't been perfect in the six games he's played this season, but it's clear he can handle an NHL job. While he's been limited to only one point in six contests, his on-ice numbers are fantastic. The Wild have controlled 68 percent of the expected goal share at 5-on-5 and have outscored the opposition 4-1 with Addison on the ice at even strength.
When the Wild got Addison as the central piece in return for Jason Zucker, many scouting reports pegged him as a future top-four defenseman with the potential to quarterback a power play. In his time with the Wild, it's easy to see why. Sure, he makes mistakes, but every player has miscues. Considering he's a rookie with only nine NHL games under his belt over the past two seasons, the effective two-way game he's developed is quite impressive given that he's about to turn 22.
It's an open secret that the Wild signed Alex Goligoski for $5 million with the intention of re-signing him for another year. And surprisingly, Goligoski, 36, has been a really good fit alongside Jared Spurgeon. Considering he's been productive, it doesn't seem likely that he will depart in the offseason. Plus, it looks like Goligoski would be amenable to a hometown discount. Things can change, though, so it's not guaranteed that he signs for one more year. 
Spurgeon and Jonas Brodin, the Wild's two best defensemen, hold no-move clauses and aren't going anywhere. Likewise, Kulikov is signed through next season and has been better than most imagined. It's hard to believe the Wild would move him after extending his defensive partner.
That leaves us with Matt Dumba. The 27-year-old right-shot defenseman has been in trade rumors for a few years. However, he was named an alternate captain with Foligno in the offseason. Despite that, he still seems like the odd man out, given there's a good chance the Wild won't be able to afford him when his contract is up. Furthermore, Addison is also a right-shot and would be a more inexpensive option on the second pair.
Could this all hint that the Wild will move Dumba this summer?
Sure, that's certainly a possibility. It would leave a glaring hole on the right side, so the Wild would need to be confident that Addison can immediately step in and master the role.
In the end, Merrill's extension could mean nothing, and it's simply a cost-cutting move to forego any overpriced defenseman in free agency. Who knows? The Wild could just be swallowing the minor cap hit, knowing that Addison will jump in at some point. However, if this is the case, it sure doesn't make Guerin and Co. look good. There's no reason to give three years to a defenseman on the wrong side of 30 to block a top, NHL-ready prospect. On the other hand, this could hint that significant defensive changes are coming as the Wild brace for the upcoming cap problems.
All Data Via Evolving-Hockey, Natural Stat Trick and Hockey-Reference