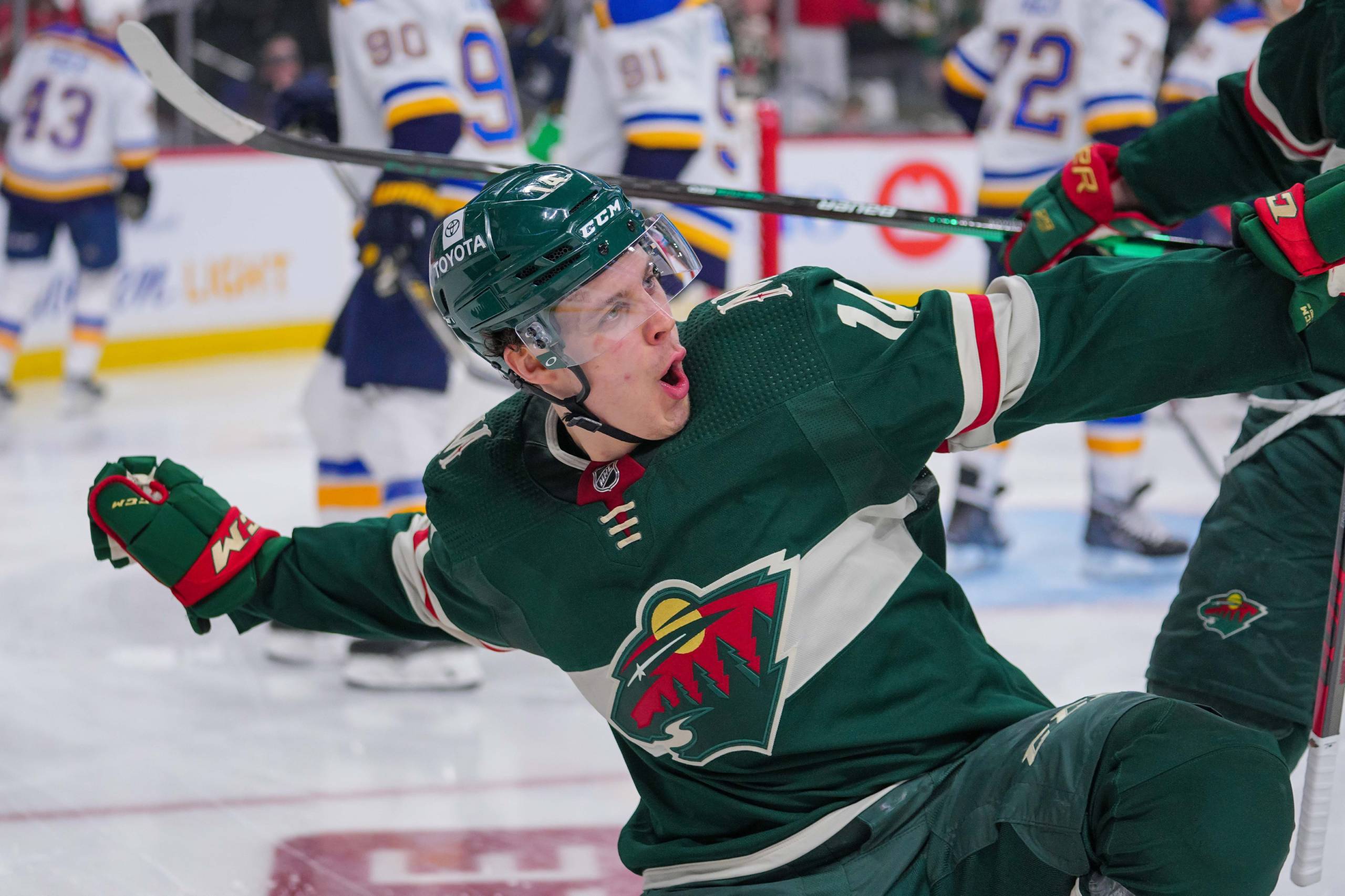 It's an old adage in sports that the team with the best player in a playoff series will probably win. It makes sense. There are two kinds of first-round series in the Stanley Cup playoffs. One is like the Colorado Avalanche and Nashville Predators: a star-studded team going against one that barely has the right to be there. Then there are those like the Minnesota Wild and St. Louis Blues, two evenly matched teams where the best player can swing the balance.
Most pundits gave the Wild the edge in their predictions, despite St. Louis' regular-season dominance, because they had the best player. And after Wednesday night's much-needed 6-2 showing, Minnesota has a chance to prove them right.
In a sense, anyway. Kirill Kaprizov, the franchise's first 100-point player, was supposed to be that guy. With three (or four, or five) games left, he may still be. He's already notched a hat trick. But the reason Minnesota took their first win against the Blues this year and head to St. Louis with a tied series isn't Kaprizov. It's their most clutch player over the past two postseasons.
That player is Joel Eriksson Ek.
After the Blues shut down Minnesota running the Jake Allen playbook — get an early lead and collapse around a hot goalie — Eriksson Ek was the player to do what the 2017 Wild couldn't. He found a soft patch of ice through the defense, took a great pass from Jordan Greenway, and punched the hot goalie in the mouth.
Maybe it was a bad break for St. Louis — literally, as Robert Bortuzzo's stick snapped in half — but past Wild teams never seemed to capitalize on breaks like that. So don't mistake that for a stroke of luck, because that's what happens when you play Eriksson Ek hockey. "You can't say that everything is luck," the Swedish center said after the game. "It's about being on the inside, and being on the right side of guys, and getting to those loose pucks."
That happened and, suddenly, a Wild team that got blanked on 37 shots in Game 1, then blanked through half a period, had life. The Wild scored on four of their next nine shots, which included Eriksson Ek picking up another goal and assist. Up 4-0 just 21 minutes in the game, Minnesota enjoyed the luxury St. Louis had in Game 1. They were able to pick their spots to attack and focus on walling off anyone wearing blue from Marc-Andre Fleury.
So when Kaprizov deposited his third goal into an empty net, it was fitting that only a fraction of the hats that would accompany the franchise's first postseason hat trick would hit the ice.
You see, they were already thrown off to salute Eriksson Ek's brilliant game.
An offside Marcus Foligno ultimately robbed Eriksson Ek of the accomplishment, but the point (or rather, three of his points) still stands: His dominant performance fueled the Wild.
If you're surprised, you're not paying attention, says coach Dean Evason. "It's not that impressive, it's just routine," he said glowingly after Game 2. "It's literally routine for him. Maybe some nights he scores a couple more goals … but he does exactly the same thing every single night. If you play Eriksson Ek, you'd better be ready to play, because his work ethic is always on point."
The commitment Eriksson Ek shows getting to the net, even in the hardest part of the year, is why he's been as reliable as anyone on the team over the past two postseasons. His six points in nine games are tied with Kaprizov for most on the team. Just as importantly, every point has been in a clutch situation.
Tonight, Eriksson Ek had the opening goal, assisted on the game-winner for Kaprizov, and scored an important insurance goal. Last season, he broke a scoreless tie in overtime to lift Minnesota in Game 1 over the Vegas Golden Knights.
In Game 3, he scored a goal to lift the Wild up 2-0 and had a third waived off due to borderline goaltender interference — ironically, again from Foligno. The experienced Knights went on to overwhelm the Wild, but the goal was huge in the moment. So was an assist on a Zach Parise goal to tie Game 7 at 1-1, a game where they lost defensive cornerstone Jonas Brodin in the opening minutes.
Minnesota lost the series, but Eriksson Ek gave them a fighting chance and has now scored four of the Wild's 17 goals their past two postseasons.
Mind you, he did all this while dealing with injuries he told The Athletic's Michael Russo took two months to recover from.
"I don't want to disclose anything, but he's [played hurt] all year," Evason said. "Every hockey player plays through some bumps and bruises, but the way he plays the game, he's busted up a lot, but you wouldn't know it."
Injuries haven't stopped Eriksson Ek from scoring in crucial situations. Neither has the task of defending St. Louis' best players. The Blues' top line of Pavel Buchnevich, Robert Thomas, and Vladimir Tarasenko collectively scored 84 goals this season. At 5-on-5, they out-scored opponents 33-19, while controlling a commanding 57.2% of the expected goal share at 5-on-5 as a trio.
Eriksson Ek, Foligno, and Greenway made them a non-factor through two games. Eriksson Ek's played about nine 5-on-5 minutes against each of them, controlling around 80% of the expected goal share against each of them, according to Natural Stat Trick. Their only two points came down 4-0, then 4-1. One was against Eriksson Ek, but on the penalty kill. The other was at 5-on-5, with Eriksson Ek safely behind the bench.
Kaprizov's skill will always electrify the Xcel Energy Center, but Wednesday night was yet another example of how Eriksson Ek is just as crucial to the team's success. His path from a top-tier shutdown center to reliable goal-scorer over the past two years is remarkable, and he's only getting better as his responsibilities grow. He's on the top power play, top penalty kill, plays shutdown minutes, and is on the ice in must-score situations.
Now he's adding one more line to his extensive resumé: playoff performer. Thanks to his effort and talents, the State of Hockey once again has hope for a deep playoff run.