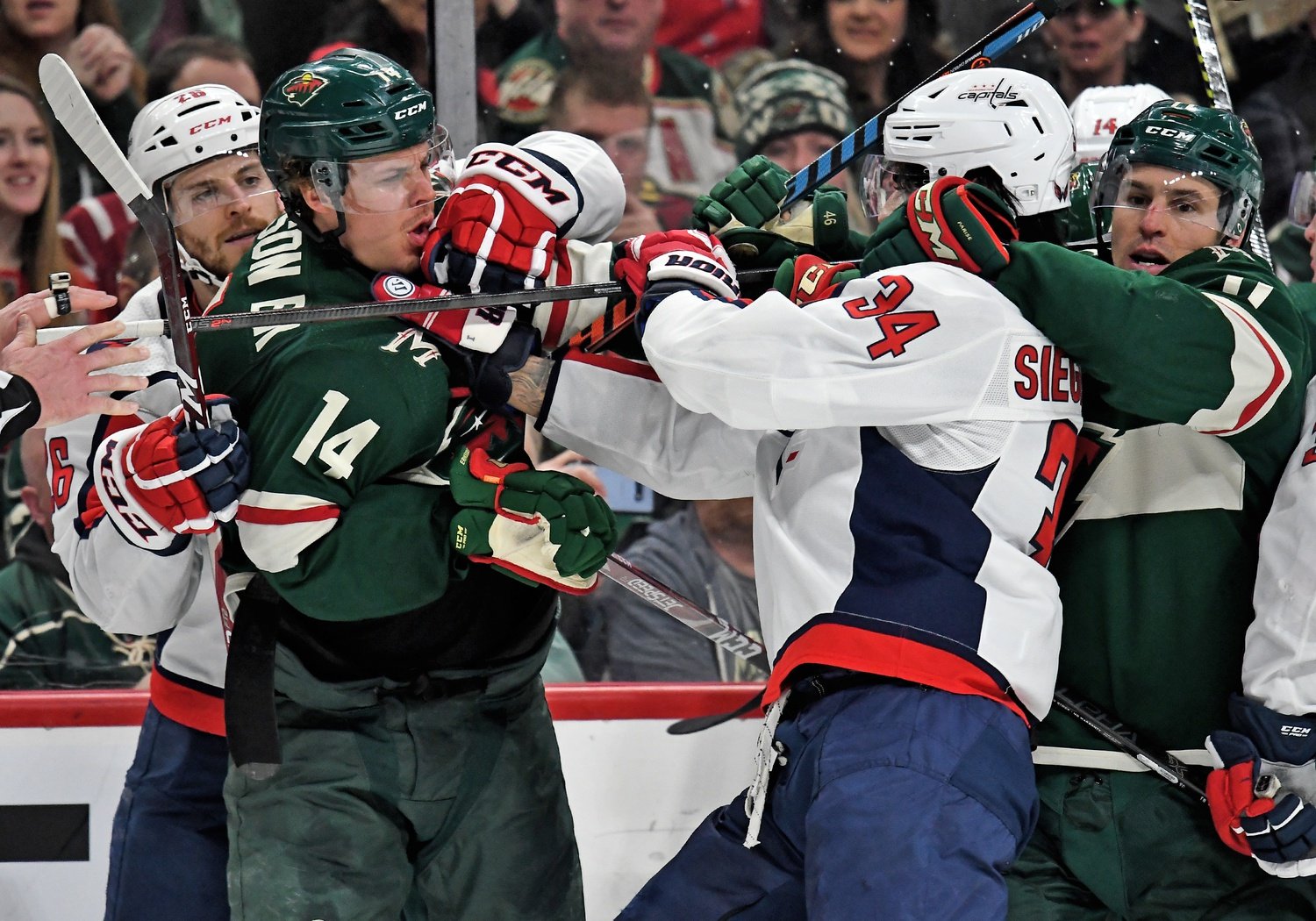 Through seven games, Joel Eriksson Ek has arguably been the best player on the Minnesota Wild. He's continued to bring his elite defense, but it's his newfound offense that's getting him the State of Hockey's attention. Currently, he leads the team with four goals, and his six points tie him with Jordan Greenway and Kirill Kaprizov.
Six points in seven games is quite good, but it hardly constitutes setting the world on fire. So why are fans so excited by Eriksson Ek's start, clamoring for him to move up in the lineup?
Part of it is necessity. Minnesota entered this season without any real center depth and found themselves icing Victor Rask in crunch time on Tuesday's loss to the Los Angeles Kings. A center showing some offense — any offense — will catch the eyes of the Team of 18,001.
https://twitter.com/OhHiTony/status/1354265762735804418
The other, perhaps more important factor, is that his surge is coming at a very intriguing time. It was reasonable to observe Eriksson Ek's career, with 24 goals in 210 games, and assume "he is what he is." Yet, he turns 24 on Friday and has a track record of scoring goals in lower levels of hockey. You can dream after his performance so far.
Eriksson Ek will have one question to answer the remainder of this season: Is this a real breakout or a mere hot streak?
Fool Me Once…
The first thing that has to be said about Eriksson Ek's play this season is that we're dealing with a small sample. A player who scores a half-point per game doesn't score exactly one point once every two games. Scoring can be very random and happen in spurts, potentially tricking you into believing a player is better than they are.
Especially when they're young.
If you saw, say, Marcus Foligno put up 13 points in the first 14 games of his career, you may have come away believing you witnessed the birth of a superstar. Or if you'd seen Charlie Coyle's eight-goal-in-12-game outburst in early 2016. What can look like a player taking The Leap is often a flash in the pan.
Eriksson Ek has even had a similar before, in his rookie year. He scored two goals and five points in his first four NHL games, including this highlight-reel goal.
Did it mean anything? No, definitely not. So how can we tell whether this performance is for real? A good start is to look for differences between now and before this season. If Eriksson Ek's underlying numbers look similar to years past, that's a sign that he's just riding a hot shooting percentage.
So far, there's a pronounced change to his game: He's shooting. A lot. Up until this season, Eriksson Ek shot just 352 times in his 210 career games or 1.68 times per game. He's almost doubled that rate with 22 shots through seven games.
It's not just that he's shooting more, though. Eriksson Ek came back this offseason looking like one particular Wild great.
Attack Like Zach
It sounds hyperbolic, but Eriksson Ek's play has been reminiscent of Zach Parise. Parise is known for his tenacity around the crease, of course. He can't score pretty goals at this point in his career, but he can still muck it up around the net and have his stick find a loose puck for a garbage goal.
Eriksson Ek realized this offseason that he's not gonna score the way Kevin Fiala does from distance. He can't. Just six of the 28 goals he's scored in his career have come from more than 20 feet from the net. Instead of resigning himself to a career of single-digit goal totals, however, he adapted his game.
Check out his 5-on-5 shot chart from last year (left) and compare it with these past seven games (right):

13 of Eriksson Ek's 24 shot attempts (54%) are within that magic 20-foot radius of the net. That's way up from last year's 37%. He's further increasing his chances of scoring by finding rebounds, a skill he seems to have gained this offseason. According to Natural Stat Trick, he had just 13 rebounds all of last year (in 62 games) and now has seven through seven games.
Doing what Zach Parise does isn't complicated, but it's not easy. To be able to thrive in the chaos of the crease and have the hand-eye coordination to find rebounds and the strength to jam them in takes an unbelievable amount of skill. Eriksson Ek is showing he's got it.
Can He Keep It Up?
All of that combines into Eriksson Ek being one of the most dangerous players at 5-on-5 this season. His 1.64 expected goals per hour ranks fourth among 326 forwards with 40-plus minutes, behind only Andrew Copp, Mikko Rantanen, and Evgeny Kuznetsov.
It's a big improvement from the 0.65 expected goals per hour he put up over his first 210 games. While that incredible rate is probably not sustainable, can he average a fairly elite 1.0 rate the rest of the way?
If he does that, maintains his 12:43 of 5-on-5 ice time per night, and his newfound shot selection allows him to finish in line with his expected goals, he figures to add 10 more 5-on-5 goals over his last 49 games. Add that to the four he has now, and that's 14 over 56 games or an 82-game pace of 21.
That's a lofty height, and one Eriksson Ek might not reach even if he takes a leap this season. But it's possible. He's managed to re-make his game and excel despite playing a checking line role. If his six minutes with Kaprizov are any indication, a full breakout for Eriksson Ek is well within possibility.
He's not only transformed his game so far, but he's done it without sacrificing his defensive value. What happens if he starts pairing his Selke-level defense with a net-front game that has him capable of scoring 20 goals a year?
Let's hope the Wild get to find out.
All data is from Evolving Hockey unless otherwise stated.