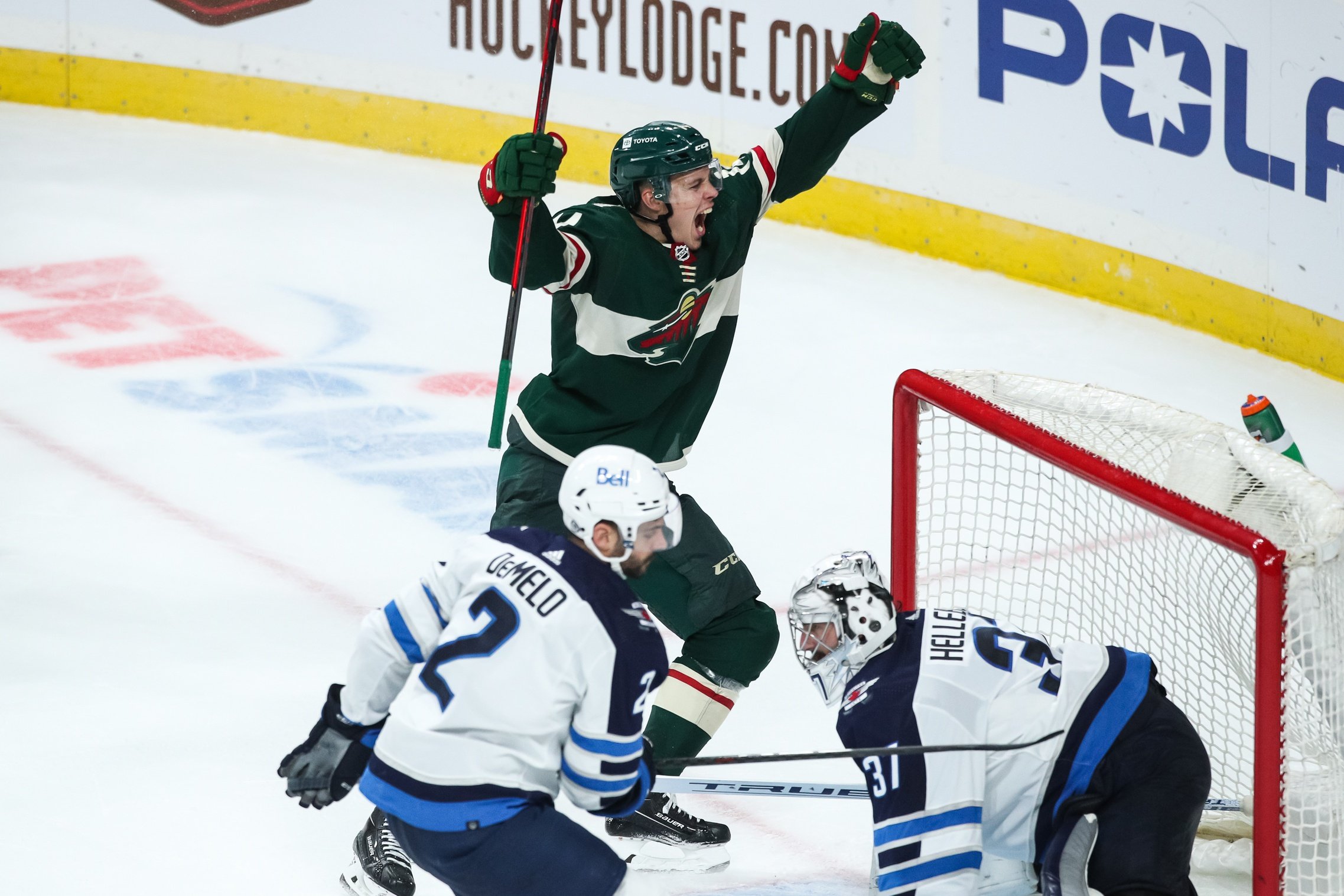 If you made a movie about Joel Eriksson Ek, his hat trick would've been the storybook ending. The Minnesota Wild drafted him in 2014 as the heir apparent to Mikko Koivu, the best center in franchise history. Those were pretty big skates to fill, and for a while, it looked like Eriksson Ek could do it -- but only on one end of the ice.
By now, we all know his progression to young NHLer, to budding elite defensive center, to finally adding scoring to his arsenal last year. The dramatic question was, who was Eriksson Ek, really? Was he meant to be just an elite defensive ace, or could he become that Koivu-type player he was drafted to be?
Tuesday night was just one game, sure, but it should have removed all doubts in Eriksson Ek's ability to thrive in a top-line role. Everything came together for him. He scored three clutch goals, including the game-tying goal and overtime winner. Those goals came off career-highs of seven shots on goal on 10 attempts. He did this all while retaining his usual defensive dominance, outshooting Winnipeg Jets 7-3 at 5-on-5 play.
There's long been reason to think that Eriksson Ek could have a Sean Couturier-style breakout if he were on a line with skilled players. It took just three games alongside Kirill Kaprizov and Mats Zuccarello to see the results. Not only did Eriksson Ek notch the hat trick, but he already has 12 shots in his three games. He had only two three-game stretches where he compiled 12 shots or more shots last season. His new linemates are having very little trouble finding him right now.
Not only are Kaprizov and Zuccarello making him better offensively, but Eriksson Ek is also making them better. For all of the chemistry the Kaprizov-Zuccarello connection displayed, they controlled just 52.3% of the expected goal share at 5-on-5. Above-average, but not great. Their heat map from last year shows they were a lot less dangerous than their talent would indicate.

Again, solid, but not dominant and heavily reliant on shooting for high percentages to generate goals. That's not how Eriksson Ek works. Yes, his line with Jordan Greenway and Marcus Foligno also had very high shooting percentages. They also got a ton of scoring chances, thanks in large part to Eriksson Ek constantly crashing the crease and creating net-front havoc.
Now let's look at what's happened now that Eriksson Ek's quantity AND quality approach meets Kaprizov and Zuccarello's wizardry.

Whoa! That's a lot of red in front of the net and in the slot! The immediate effect of Eriksson Ek's arrival that line is obvious, undeniable, and likely to get even better with time. This is a wild thought to entertain because they're pretty great now. They're currently controlling a whopping 68.3% of expected goals at 5-on-5, tilting the ice even more than Eriksson Ek's line from last year.
If they can keep anything like this up, we'll be talking about this line being the best in hockey soon.
We're working with small sample sizes, for sure. Make no mistake, though; these small sample sizes are part of a much larger pattern. Eriksson Ek was an elite defensive forward from his first full season and spent the last two seasons becoming a great play driver. It's no shock that he would thrive, even without Foligno. The hat trick also shows that Eriksson Ek's scoring chance wasn't just a one-off fluke, either. He's both getting a ton of chances around the net and been able to finish.
He's even throwing some new wrinkles into his game in the season's early goings. One of them is playing on the rush. Eriksson Ek tends to generate his offense wearing down opponents in the offensive zone and working for loose pucks. It's how he scored his first two goals on Tuesday.
Then in overtime, you see Eriksson Ek keeping up with speedsters Kaprizov and Kevin Fiala, perfectly supporting the rush. That's not your typical goal from him.
That wasn't even the first time he had a great scoring chance off the rush that game. He supported a Zuccarello entry in the first period, blew past two defenders, and almost beat Connor Hellebuyck. The old Eriksson Ek didn't have the confidence to even think about trying something like that. Now he's taking advantage of his rush-happy linemates and adding some weapons to his arsenal.
Another new development is scoring on the power play. Eriksson Ek entered the season on Minnesota's top unit, despite having one goal in 93 career power-play minutes. He already has two goals in 10 minutes on the man advantage, a good sign that he can grow into the role. And while his tying goal wasn't technically a power-play tally, it did come on a 6-on-5 empty-net situation. Finding his scoring touch there should greatly help Minnesota, who struggled to find consistency at center on the power play last year.
Most importantly, he's adding on these offensive elements to his game without losing sight of what made him great to begin with. Eriksson Ek is the same brilliant, responsible defender he's always been. He's generating offense without sacrificing his overall game and continues to be challenging to play against. He's the same, except more dangerous. Therefore, Eriksson Ek is even more of a nightmare to line up against than before.
Luckily for the Wild, this isn't the end of Eriksson Ek's story. Not even close. Minnesota has him under contract for eight seasons, and the Wild's new top line is clicking. With Ryan Hartman proving successful in Eriksson Ek's old spot on the shutdown line, there's no reason to shake up the new status quo. If these first three games are a glimpse into Eriksson Ek's future, he'll be the No. 1 Center Minnesota envisioned in 2014 for a long time.
All data via Evolving-Hockey unless otherwise stated.