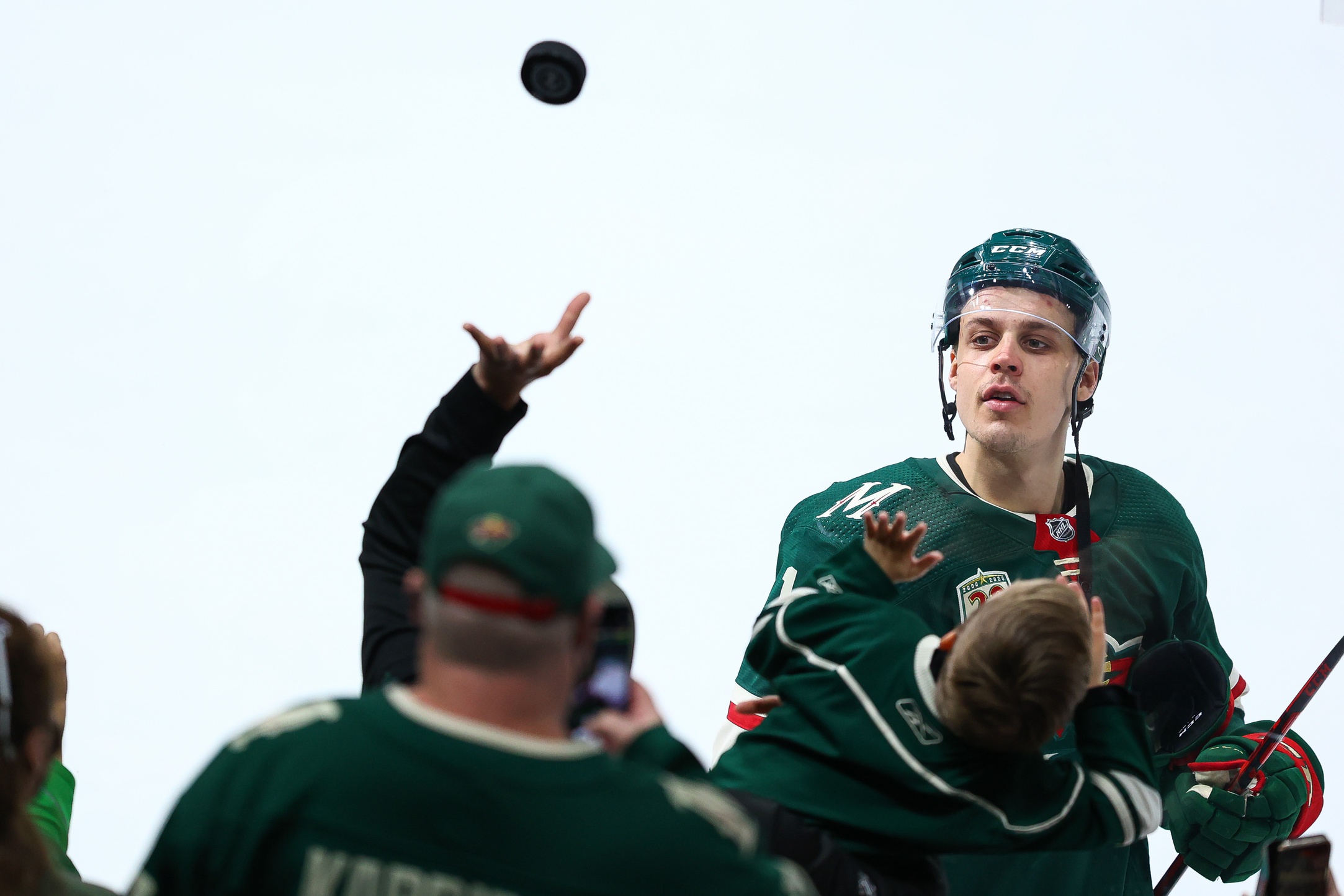 The Minnesota Wild shouldn't regret taking Joel Eriksson Ek over Brock Boeser in the first round of the 2015 NHL Entry Draft. Boeser had an immediate impact with the Vancouver Canucks, and it has taken time for Eriksson Ek to develop, but the patience has paid off this season. It has taken time for the defensively sound center to activate his offensive game and become one of the league's best two-way centers, filling an immediate need for a team that could use better play up the middle.
Eriksson Ek showed us that he's a playoff performer. He was one of the Wild's best forwards, making a substantial impact in the series. Technically speaking, he beat Marc-Andre Fleury four times, but two of the goals were disallowed -- crushing for the forward who put everything on the line in the postseason. The Wild don't have a long list of players who have driven winning in recent playoff history, making Eriksson Ek's success a vital part of the future. He should be in Bill Guerin's blueprint that tries to transform the Wild from a playoff team to a Stanley Cup contender.
When Eriksson Ek was on the ice in the playoffs, the Wild controlled nearly 50% of shot attempts despite being heavily outshot and 54% of expected goals -- both of which were the second-highest mark among forwards. The Wild controlled an astonishing 63% of high-danger chances and 54% of the scoring chances with him on the ice. Eriksson Ek's 1.9 individual expected goals were only bettered by Kevin Fiala's 2.0.
The Wild would not have accomplished what they did this season without the emergence of Eriksson Ek. His defensive game isn't new, of course, but he drove the offense on a team that needed more of that from its centers. He was the Wild's only bonafide top-six center this season, making his impact essential.
Eriksson Ek's defense didn't lapse as his offensive game grew. Minnesota is one of the best defensive teams in the league because of their defensemen, which arguably is the best corps in the league. But defensive forwards like Eriksson Ek are vital in maintaining the defensive standards the Wild have established since entering the league.
But don't let Eriksson Ek's defensive reputation sully what he did offensively this season. He scored a career-high 19 goals and 30 points in the pandemic-shortened season while averaging over 17 minutes a game. Eriksson Ek's 1.37 goals-per-60 at 5-on-5 is the eighth-highest among forwards in the league, and he ranked second this season on the Wild with 17.75 individual expected goals, only behind rookie sensation Kirill Kaprizov.
Despite playing in a 56-game season, his 1.11 individual expected goals-per-60 ranked 49th among forwards league-wide. Most impressive? Eriksson Ek ranked fourth in RAPM expected goals per hour, behind only the likes of Connor McDavid, Carter Verhaeghe, and Auston Matthews. Regularized adjusted plus-minus is a type of analysis that isolates a player's contributions and can be explained here.
His strong offensive results come primarily from 5-on-5 because of his deployment. He played just 63 minutes on the power play this season, sixth-highest among Wild forwards. Players like Nick Bonino and Victor Rask got significantly more ice time, likely hampering Minnesota's ability to score with the man advantage.
Dean Evason's deployment of Eriksson Ek suggests that he doesn't see him as more than an elite shutdown center. Eriksson Ek deserves more time on the power play. He is approaching legitimate first-line center territory, and his offensive production in terms of points would increase significantly if he were given an elevated role.
He primarily anchored the GREEF line, meaning his most frequent linemates were Jordan Greenway and Marcus Foligno. While this line was highly effective, especially in the postseason, Eriksson Ek needed to play alongside Kirill Kaprizov or Kevin Fiala to maximize all three players' potential.
His role as a defensive stalwart is nothing new. He is once again having a strong season defensively, launching himself into the conversation for the Selke Trophy, which is awarded to the league's best defensive forward. According to PuckIQ, Eriksson Ek has played 25.9% of his ice time against "elite competition" -- meaning he was playing against the league's best players -- the second-highest on the team. He has done an exceptional job handling his difficult defensive assignments, especially in a season where he has excelled offensively. He is a staple on the penalty kill, too, and a huge reason why the Wild have a penalty kill that is one of the best in the league.
Eriksson Ek allowed 1.89 expected goals against per 60, which ranks 49th among forwards, with his 22.7 scoring chances against per 60 barely trailing behind. Furthermore, his 7.24 high-danger chances allowed per 60 is the sixth-best in the league, displaying how sound defensively he really is for the Wild.
Eriksson Ek's 4.8 wins above replacement from 2018-21 ranks 51st among all NHL forwards. It is higher than players like Patrick Kane, Tyler Seguin, Max Pacioretty, Mathew Barzal, Evgeni Malkin, Taylor Hall. It puts his impact and value in perspective and shows how effective he has been for the Wild. However, wins above replacement isn't a perfect metric, and player evaluation should never be judged based on one metric, but it is still a valuable asset at our disposal nonetheless.
Eriksson Ek's phenomenal season has questioned whether the Wild needs to acquire a top-six center this offseason. The free-agent market is thin outside of Phillip Danault, whose skill set is redundant with Eriksson Ek's. Assuming Marco Rossi is healthy for next season, the Wild could opt to see what those two could do as a one-two punch rather than spending money and assets this offseason to get stronger up the middle.
Signing a top-six center to a lengthy contract makes little sense because it will create a logjam down the middle as soon as next season. Neither Eriksson Ek nor Rossi should be utilized outside a top-six role in the future, meaning that the Wild shouldn't acquire a top-six center unless it is a franchise cornerstone like Jack Eichel. It also doesn't mean that they should ignore the centers in the draft. They already have some legitimate center prospects but could avoid the dearth of center talent they have now by drafting well in the near future.
According to Evolving-Hockey, Eriksson Ek will likely receive a three-year extension worth an annual average value of $3.67 million. This would absolutely be a steal and would be very important in the current cap environment. It will be interesting to see whether the Wild decide to sign the young center to a bridge deal rather than a long-term extension this offseason.
Critics will point to his below-average faceoff ability, a 45.6% career average, but it doesn't matter that much when he possesses an elite two-way game. Eriksson Ek is no longer just a third-line shutdown center. There is no evidence he can't remain strong defensively while having a larger role offensively.
There is no doubt that Eriksson Ek will be an integral piece for the future, barring any unforeseen trade. His elite two-way presence will not go unnoticed because he's an important part of a defensive-oriented team like the Wild. It seemed like Eriksson Ek would always be the player Minnesota chose before Brock Boeser. This year he emerged as a vital part of a center-starved team and put concerns over passing on Boeser to rest.
All Data Via Evolving-Hockey, Natural Stat Trick, PuckIQ & Hockey-Reference.