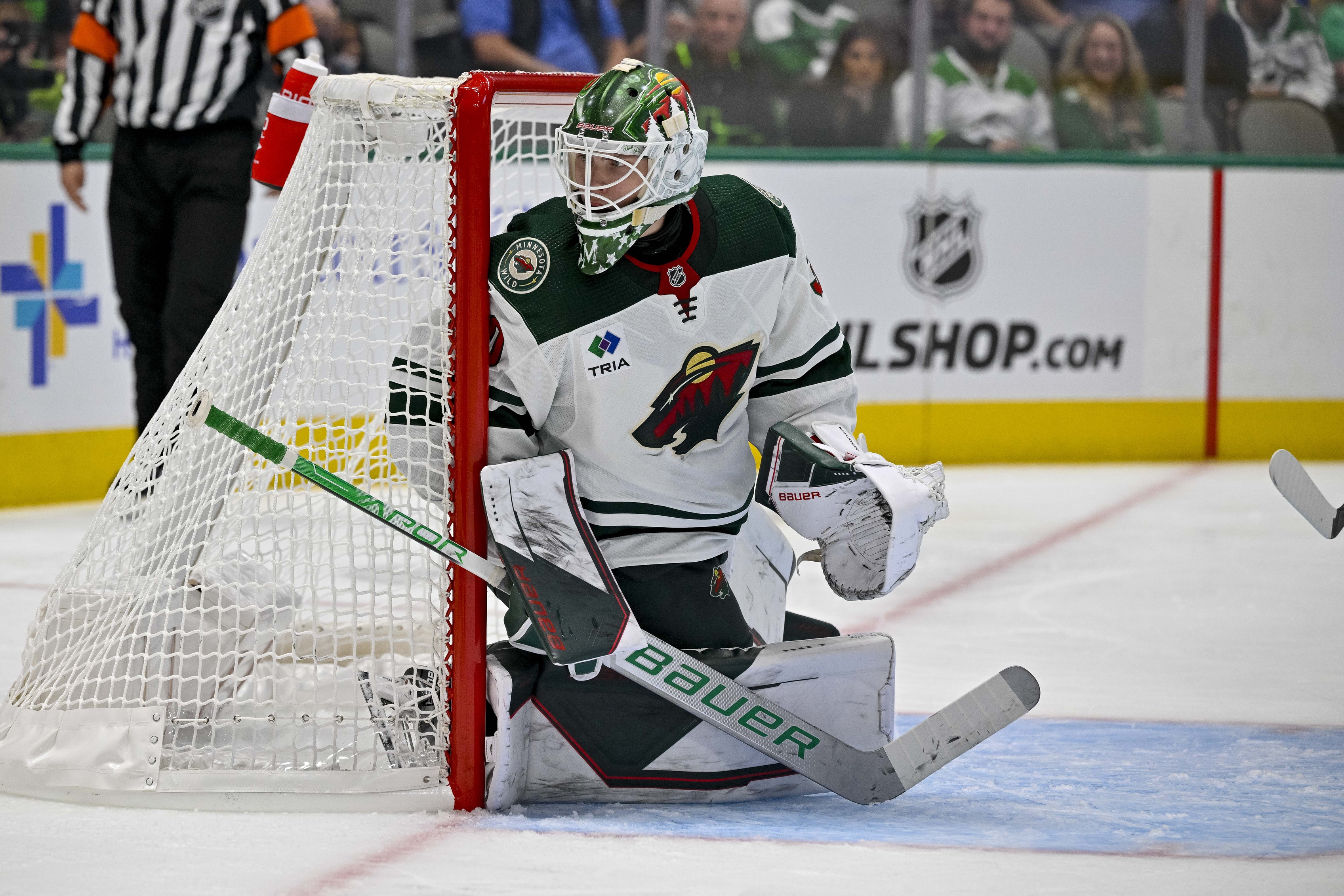 Image courtesy of © Jerome Miron-USA TODAY Sports
Expectations were high in Jesper Wallstedt's first season in North America. The prized prospect and future of the Minnesota Wild's crease had lofty expectations to meet. The North American game is much different than that of Sweden's leagues. He was only 19 when he suited up and played in his first game with the Iowa Wild. 
Wallstedt had a solid season in Iowa. He split time with Zane McIntyre, the other Iowa netminder. Still, he finished fourth among AHL rookies and 14th overall in the league in goals against average (GAA) with 2.68. He had a .908 save percentage in 38 games, putting him 23rd among qualified goaltenders in the AHL last year. He also had an 18-15-5 record with a shutout. 
However, things didn't start well for Wallstedt. It took him a bit before he played to the standard he had set for himself in Sweden. In the 2021-22 season, Playing for Luleå HF of the SHL, he recorded a 1.98 GAA and a .918 save percentage. Those are great numbers for a then 18-19-year-old goalie. 
After the first few months in Iowa, he began to settle into being the player he was for the rest of the season. He won AHL goaltender of the month in January, around the same time that he played in the AHL all-star game. He relished all these opportunities and took everything that came at him, good or bad, with a positive attitude. 
Wallstedt was inconsistent. That's all a part of getting used to the game on this side of the world. He was also only 20 years old during most of the year. It's rare for a young goalie to find success in the AHL. 
Most goalies don't turn pro for at least two or three years after teams draft them, then it probably takes almost five to reach the NHL. Wallstedt was already playing pro in Sweden and turned pro in North America one year after the Wild drafted him. 
Despite playing well in the regular season, Wallstedt looked green in the playoffs. He only got in two games and lost both. He had a goals-against average over 3.00 and a save percentage below .900. Those are disappointing numbers for what was a disappointing playoff run overall for the Iowa Wild. The Iowa Wild only played two games as they lost to the Rockford IceHogs in a best-of-three series. 
After the season, Wallstedt was named to the AHL top prospect team. The year was not perfect, but he played substantial minutes and performed substantially well. He met or even succeeded in most people's expectations of him. 
Oh yeah, he also did this:
Confidence and swagger have always been a part of his game. But he's also known for his calm demeanor and infectious personality in the locker room. He's gotten used to the lifestyle and the environment of hockey in North America. 
The Swedish Meatwall did not disappoint at an international level either. Wallstedt took care of business in the World Championships and other international games for Sweden. He did not lose a single game at the World Championships, posting a 0.67 GAA and a .947 save percentage. That's incredible work for a young netminder. 
Minnesota has Wallstedt signed through the 2024-25 season. That will outlast Marc-Andre Fleury and likely Filip Gustavsson's new contract. 
Wallstedt will play in Iowa again next year. Iowa also has McIntyre under contract for next season. But instead of splitting games, I'd imagine Wallstedt is in the net for most of them. I'd guess the Wild will want to get him used to more pro hockey so that he could be ready to contribute in the NHL after the following season. 
The Wild don't have any other goalie prospects who are close to making the NHL. Hunter Jones is another one of their goalie prospects, but he's 22 and has barely scratched the surface of AHL minutes, playing in 29 games over three years. The former second-round pick isn't in Minnesota's immediate plans. 
You should assume that this is Fleury's last year in Minnesota because he has to be close to retiring. The soon-to-be Hall of Famer will serve as the backup to Gustavsson in his age-39 season. Gustavsson will receive a maximum of a two-year deal if an arbiter makes the decision and they can't reach an agreement before the arbitration hearing, leaving the door open for Wallstedt to play in the NHL as soon as after next season. Wallstedt may even get a look if the Wild need an injury replacement, but they have to be careful with his development. 
The idea for the Wild to dump Gustavsson and roll with Wallstedt and Fleury would not be good for Wallstedt or the Wild. Rushing a highly-touted goalie prospect before he is ready usually does not work out well in the long term. Just ask Carter Hart and the Philadelphia Flyers. Hart was once touted in the same breath as Wallstedt is now in terms of a prospect, and he debuted too early. Now his stats have suffered at the NHL level. Most goalies don't debut until they are 23 - 25 and won't reach their prime until around 27. 
Wild management has stated that they don't want to rush him to the big-league club. They want him to take his time to develop down in Iowa. As long as Gus and Fleury can hold down the net in the NHL, there is no need for Wallstedt to come up and play minutes for the Minnesota Wild. Let him keep growing and developing so there can be a smooth transition when the time comes.
Expectations were high, pressure was high, and Jesper Wallstedt delivered. He scored, he saved, and he's well on his way to becoming the steady masked man the Wild fans have fancied for years. 
All stats and data via Elite Prospects and CapFriendly unless otherwise noted. 
5