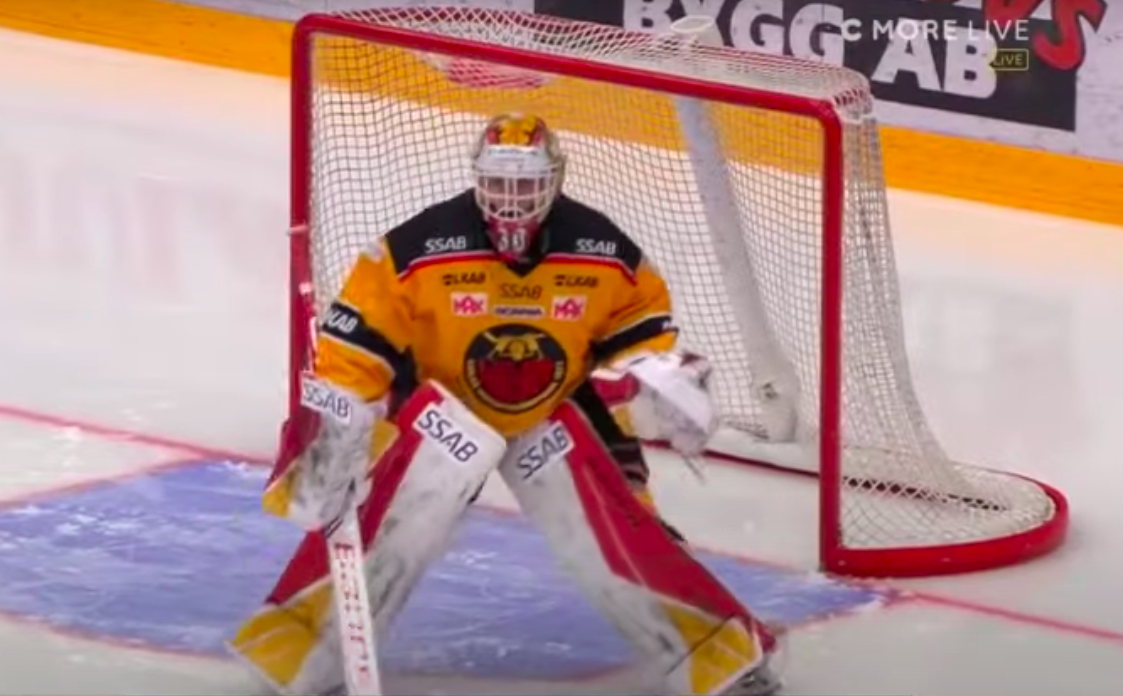 There are myriad ways to follow Minnesota Wild prospects. You can track their stats, read all about them, and see clips on Twitter and YouTube. There's no substitute for actually watching them in action, though. The World Junior Championships are two weeks away, and they've been a coming-out party to many Wild prospects in recent years.
Fans paying attention may have heard about the Russian kid who was tracking to set all kinds of records in the KHL. But Kirill Kaprizov Mania didn't take off until the 2017 WJC, when he scored a tournament-leading nine goals. They also found out that Joel Eriksson Ek wasn't solely a defensive center when he scored six goals of his own. Last year's tournament was when Matt Boldy announced his status as a top prospect to the State of Hockey. If not for myocarditis-related fatigue, Marco Rossi would've certainly done the same.
This year, all eyes in Minnesota will be on the Team Sweden's Jesper Wallstedt. The Wild's newest goalie prospect follows Spencer Knight and Yaroslav Askarov in the latest of a line of big-time goalie prospects. There was even buzz that Wallstedt could be the first Top-10 goalie since Carey Price in 2005. Instead, he fell to 20th overall, where head scout Judd Brackett convinced Bill Guerin to trade up two spots to land Wallstedt.
Goalies are the most important position on the ice. A good one can steal games, and a bad one can hamstring an otherwise winning team. So why is it a rarity to draft goalies like Wallstedt, Knight, and Askarov the exception high? Because they're notoriously difficult to identify at age-18 and their development is typically a long process. So to pick a goalie in the first round, much less trade up for one, you've got to be confident they can be the guy.
The good news for Minnesota is that their gamble is looking very smart early on. Wallstedt turned heads by playing 22 games in the Swedish Hockey League last year as a draft-eligible prospect. It's impressive in itself, as no one that young had ever done it before. But take his age out of the equation, and his .908 save percentage was about average for his league. That's not the case this year.
Wallstedt is sporting a .918 save percentage through 16 games, which is sixth in the SHL. Luleå Hockey's defense is stellar, allowing Wallstedt only to see about 23 shots per game. But as Wild fans who watched late-period Niklas Backstrom and Devan Dubnyk know, great defense isn't always enough. A goalie has to take full advantage of a reduced workload, and Wallstadt is. He's surrendered two goals or fewer in 13 of his 16 games, and hasn't been pulled in any game. That's a remarkable level of consistency for a 19-year-old facing one of Europe's top leagues.
In succeeding this much at a young age, Wallstedt finds himself again with no precedent. According to Elite Prospects, no one has ever played 15 SHL games in their Draft+1 season with a higher save percentage than Wallstedt. Jacob Markstrom, admittedly a close second with a .917, eventually became a reliable workhorse goalie. For a Wild team that's never had that sort of long-term stability in net, they'd surely take that outcome.
And if we're judging based on history, Wallstedt's upside is probably higher than that. HockeyProspecting.com, run by Byron Bader, tracks the development curves of every major prospect of the last 40 years and levels out their different leagues on an even playing field. From there, he can judge prospects in different situations head-to-head based on statistical performance. Wallstedt stacks up nicely against the 700 or so goalies in Bader's database.
Bader revealed the Top-8 on Twitter, consisting of Askarov, Ilya Bryzgalov, Dominik Hasek, Milan Hnilicka, Jan Bednar, Andrei Vasilevskiy, Kari Lehtonen, and Frederik Andersen. Askarov and Bednar are 2020 draftees, so we can leave them out of the picture for now. We pretty much know the outcomes for the rest.
Of those remaining six, only Hnilicka failed to play 200 NHL games. Hasek wound up becoming the best goalie of all time. Vasilevskiy is only 27 but already has 200 wins, a .920 career save percentage, and Vezina and Conn Smythe Trophy wins. Andersen has 411 games with an above-average .916 save percentage for his career. Lehtonen and Bryzgalov were closer to average, posting .912s over their careers, but played 649 and 465 NHL games, respectively.
Wallstedt's hype isn't just due to a statistical model, either. The Athletic scout Scott Wheeler said of him in August, "he swallows the first shot so that he doesn't have to make a ton of second saves, his movement is compact, he tracks through layers incredibly well to find pucks, and he reads opposing shooters beautifully so that he's rarely beat cleanly."
A lot can happen to young, developing goaltenders that can derail their paths to the NHL, but, historically, Wallstedt seems like a safe bet. It appears that the baseline expectation for a reasonable outcome should be Lehtonen or a less funny Bryzgalov. And, of course, the upside is sky-high, as Wallstedt's spot on the development curve is ahead of many great goalies.
So the rich get richer. A Wild organization with stud prospects at almost every position got a goalie to match the likes of Kaprizov, Boldy, Rossi, and Calen Addison. Richer still is the Wild fan watching the World Junior Championships, who'll get to see yet another star prospect, and perhaps their Goalie Of The Future, in just two weeks.