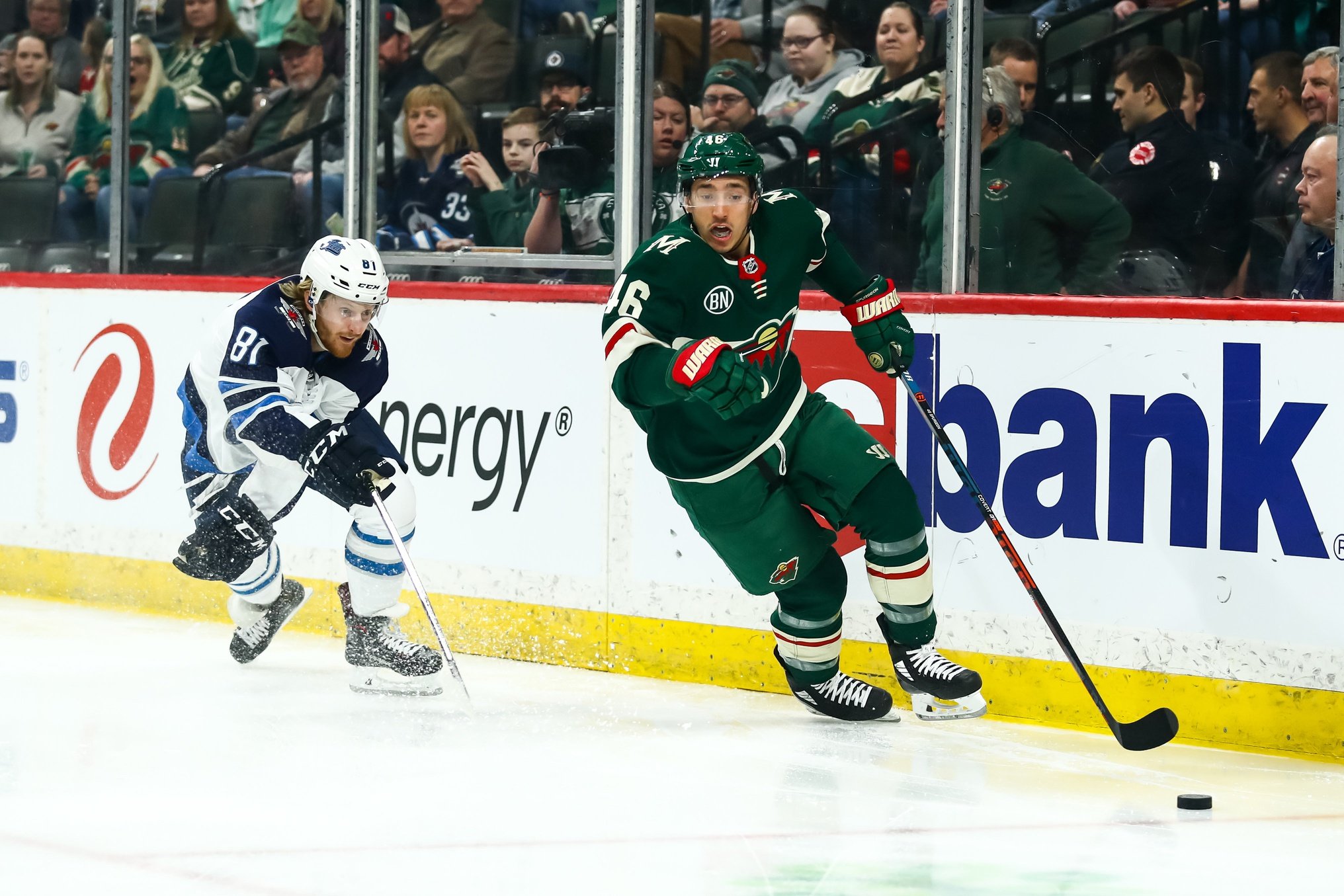 Exactly how does a former sixth-round draft pick, New York Islander cast-off and a complete shot in the dark get rewarded with the highest cap hit in Wild franchise history?
For Jared Spurgeon, it's been constantly performing under the radar that has been rewarded with brand new seven-year, $53 million contract extension. The NHL is a game that has been constantly been one that's getting bigger, faster and stronger. So when a diminutive defenseman like Spurgeon comes along, he often becomes overlooked. His overall points don't jump off the page at you like a Brent Burns, Erik Karlsson or a P.K. Subban at first glance.
It takes one to dig deeper into Spurgeon's play to really appreciate just how good he is for the Minnesota Wild.
One of the first complaints about Spurgeon is his size. He's listed at 5-foot-8, and that's pretty generous. Though Spurgeon is more of an opportunist when it comes to physicality on the ice, it's not a detriment to his game. Among all defensemen with at least 3,500 minutes of 5-on-5 ice time since 2016-17, Spurgeon ranks No. 1 in scoring chances against per 60 according to NaturalStatTrick.com.
Plainly put, Spurgeon is the best defenseman in the league at limiting the opposition's chances to score.
That's no easy feat either.
[caption id=attachment_55391" align="aligncenter" width="800]

(Mandatory Credit: Jerome Miron, USA Today Sports)[/caption]
Bruce Boudreau's system is notorious for giving up the low-danger shots, but stifling the high-danger chances. Spurgeon's skating ability and smart decision-making allows him to break up those plays near the net, skate the puck to safety and get the puck down the ice for his forwards to take over on offense.
Size, for Spurgeon, hasn't seemed to be an issue. He out-paces his teammates, and ranks near the top half of the league in defensive metrics, all while being 5-foot-8(ish).
"Great, he's solid on defense," you might say. "But what about that makes him worth $7.575 million per season?"
Spurgeon isn't just a shutdown defender like Jonas Brodin, Nick Seeler, or Jake Muzzin. He puts up points as well.
He's likely never going to surpass other star defensemen like Karlsson, Subban or even a healthy Matt Dumba in terms of goals and assists. However, he does put up respectable numbers. Nowhere was his versatility shown more than last season when Dumba was forced to answer to "The Code" twice and was injured for the rest of the season.
Spurgeon and Brodin formed formidable shutdown second pairing that took on more of a defensive burden. This allowed Ryan Suter and Dumba to be more offensive. Dumba quickly shot out to the league lead in goals by a defenseman at the time of his injury. Spurgeon was elevated to the top pairing with Suter. He had a grand total of four goals at the time of Dumba's injury, then went on to score 10 more to finish the season with 14 and 46 points altogether.
When his team needed him to be an offensive threat, he stepped his game up and filled the void nicely.
[caption id=attachment_55389" align="aligncenter" width="800]

(Mandatory Credit: Stephen R. Sylvanie, USA Today Sports)[/caption]
Some folks might like Spurgeon as a player, but might hate the length of the contract. Seven years will pay him until he's 37. If it's one thing this Wild club needs to avoid, it's locking in players long term past their age-30 season. Zuccarello was the case in free agency this past summer. The Parise and Suter contracts continue to be Exhibit A, and aging core along with Eric Staal and Mikko Koivu aren't helping the team get younger and faster.
There's a reason there is so much scar tissue for fans built upon 35-plus contracts. Hell, 30 and up long term deals.
The good thing about Spurgeon is that his game isn't solely dependent on one thing. He's not blazing fast, so if he lost a step it's not as though he'd suddenly become a dud out there. He's already so adept at avoiding hits, that suddenly having to learn that skill is a non-issue. His game is all about his keen sense of awareness and anticipation. This was apparent from the moment he entered the league, and it's something we should reasonably expect into the future.
https://twitter.com/OhHiTony/status/1172999011210604554
His goals above replacement has been nothing but consistent. That consistency has remained even as his deployments have become more defensive-heavy, and his average time on ice has risen. Being signed until age 37 might scare some folks, but there has been nothing about his play that would show that he has any real dropoff coming soon.
There is also a positive for the way his contract was structured as well. If Spurgeon should retire before the end of his deal, the cap recapture penalty will remain within the $500,000 to $1.5 million range, thus making the penalty a bit more palpable.
Finally, what some are missing in regards to Spurgeon's large payday is that the NHL TV deal with NBC will be up in 2021-22. The rumors are that the NHL will open it up to more than just NBC, hopefully creating a large influx of TV revenue. It's not going to be like NBA type money, but it will raise the overall hockey-related revenue, and the salary cap should rise.
Add in the Seattle expansion, and his $7.575 million cap hit becomes all the more doable for a team that has a strong top four and has invested big-time money in keeping it intact.