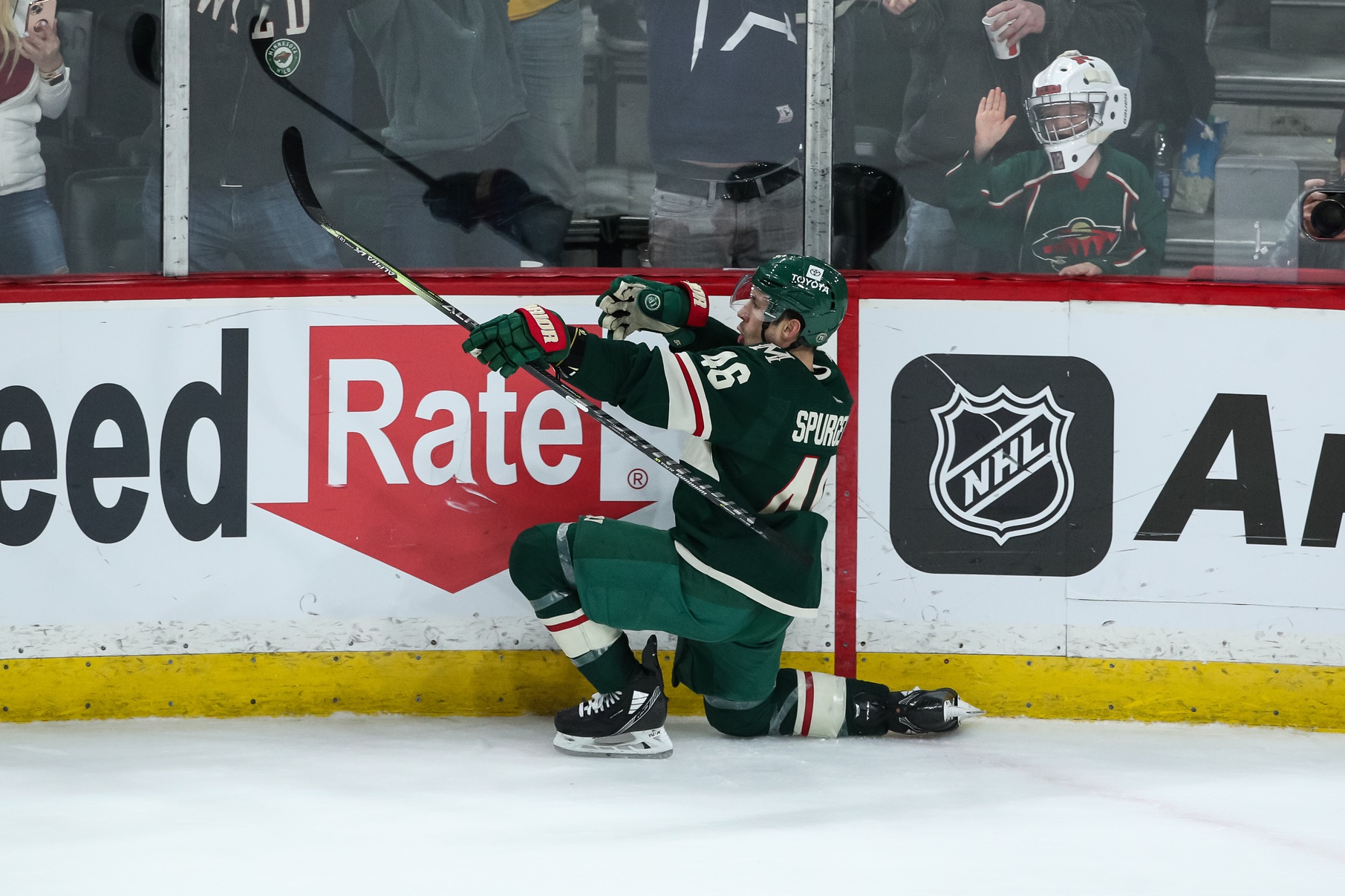 If you know anything about NHL aging curves, you might have looked at Jared Spurgeon's 2020-21 season and said, "Uh-oh." Thanks to hard work by the hockey analytics community, we know that defensemen peak in performance much earlier than previously thought. While most hockey people believed defensemen peaked in their late 20s, a defenseman's peak is much closer to 24. They tend to dip slightly after that, then are in danger of falling hard in their 30s.
Spurgeon probably had his worst season in over half a decade at age 31. His partnership with Ryan Suter showed signs of slowing, controlling (an admittedly still very good) 54.9% of the expected goals share, their worst season together. But the pair weren't pushing the offense like they used to. They used to generate about 2.50 expected goals per hour, but they dipped to 2.29 last year, sitting at league average.
It's unwise to judge defensemen by individual point totals, but the Wild count on Spurgeon's offensive skills. He showed signs of slipping in that category last year. From the 2017-18 to 2019-20 seasons, Spurgeon averaged 1.09 points per hour at 5-on-5. That ranked 22nd among defensemen with 2000-plus minutes in that span. Last year, that 5-on-5 scoring dropped to a pedestrian 0.75, ranking 93rd among 171 defensemen with 500-plus minutes.
Now, this decline was relative. There's no denying Spurgeon was a good, top-four caliber defenseman last year. The problem was that the Wild bet on Spurgeon to remain elite deep into his 30s with a 7-year, $53 million contract. Any dip in play in Year 1 of it would've been concerning.
Luckily for Minnesota, Spurgeon's put any whispers of his decline to bed this season. Now 32, the Wild's new captain is arguably having his best season ever.
Spurgeon's on-ice impact didn't just rebound from very good to great this year. It's all the way back to elite, right with the best players in the game. He controls 59.1% of the expected goal share at 5-on-5 this year. Among all defenders with 500-plus minutes, that's fourth in the league, right behind Timothy Liljegren, Charlie McAvoy, and McAvoy's partner Matt Grzelcyk. He's generating 2.7 expected goals per hour, a career-high, while ranking third among defensemen in limiting expected goals against (1.87).
In terms of actual goals, he's even better. Spurgeon has out-scored his opponents at 5-on-5 by a whopping 50-24 margin. Only Tony DeAngelo has a higher percentage of the goal share than Spurgeon's 67.6%. Not Cale Makar, not Aaron Ekblad, and not Roman Josi.
Better yet, Spurgeon is no bystander when it comes to the offense, picking up assists by osmosis while talented forwards do their thing. Minnesota has focused a lot of their offense around Spurgeon, and he's rewarded them by being one of the best defensemen at generating scoring chances at 5-on-5. Thanks to Corey Sznajder's tracking data, we can see his impact in not just his shooting but his playmaking as well.

Spurgeon sits almost all alone in that top-right quadrant, solidifying himself as an elite dual-threat. He's third in the NHL among 500-minute defensemen with 2.85 scoring chances per hour while also assisting on another two scoring chances. Ekblad, Thomas Chabot, and Erik Karlsson join Spurgeon and Brandon Montour in that general area of the chart.
So it's no surprise that Spurgeon is racking up points like never before. He's tied for 17th among defensemen with 1.30 points per hour at 5-on-5. That's just behind Karlsson and Adam Fox and just ahead of Drew Doughty and John Carlson. All four of those guys have Norris Trophies on their resumes. Thanks to a strong season on the power play, Spurgeon's also riding a career-high 1.89 points per hour in all situations. His previous career-high? 1.48 points per hour. For the first time in his career, his point rate is top-15 among NHL defensemen (12th).
The only argument anyone can really make about this not being Spurgeon's best season is injuries. He sat out all but four games from Nov. 20 to Jan. 22 with a lower-body injury. It was a disappointing development for the captain, who'd been very durable the previous three seasons, playing 198 of a possible 207 games. Still, Minnesota was more than able to stay afloat. He's certainly healthy entering the stretch run for the playoffs.
Even then, he's made up for lost time. His value in 56 games matches or exceeds even the NHL's elite defensemen. According to Evolving Hockey's Expected Wins Above Replacement model (which they consider a better measurement for defensemen than their standard Wins Above Replacement), Spurgeon ranks 7th in the entire NHL as being worth 3 wins to the Wild. The only players with more xWAR are Makar, Victor Hedman, Ekblad, Fox, Devon Toews, and Dmitry Orlov.
How long can this elite play last from Spurgeon? Aging curves have exceptions, and a quick scan of the best age-34-and-up defensemen shows that there are players who put up elite results late into their 30s. Nicklas Lidstrom and Zdeno Chara are obviously Hall of Fame outliers, freakishly good players whose success can't be repeated. But players like Brian Campbell, Brian Rafalski, Kimmo Timonen, and Dan Boyle all were capable of putting up 2 xWAR seasons or higher until the age-36 to 39 range. Spurgeon certainly matches their offensive, puck-moving style. Perhaps that skill set ages well?
We'll have to see going forward. However things unfold from here, though, Spurgeon is hitting his career's peak right as Minnesota needs it most. The Wild have a deep team with superstar offensive talents and a Hall of Fame goaltender who's played out of his mind in the last several postseasons. Both Spurgeon and the Wild have never been better as they begin a Stanley Cup chase in 11 games.
All stats courtesy of Evolving Hockey unless otherwise noted.