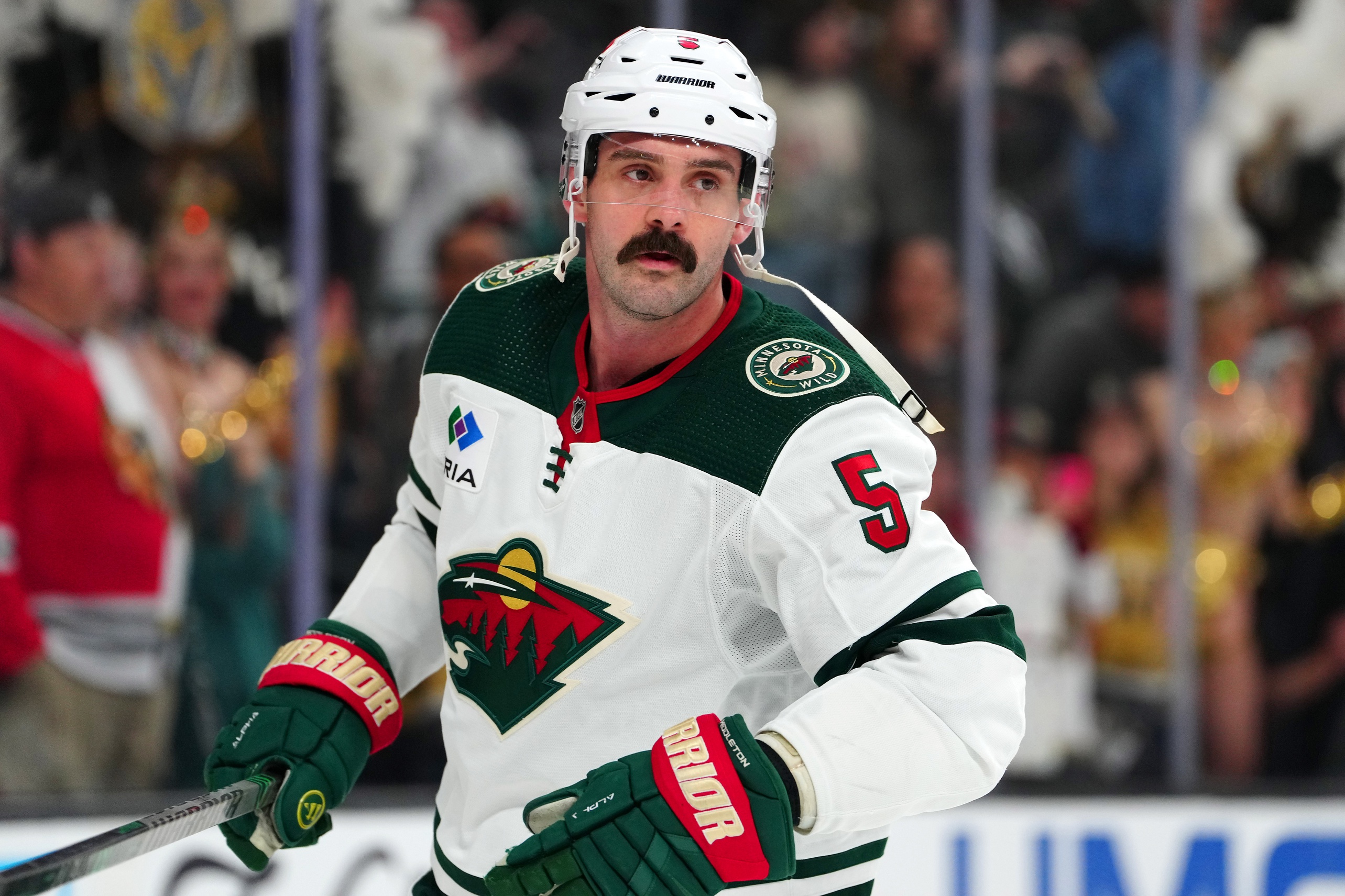 Image courtesy of © Stephen R. Sylvanie - USA TODAY Sports
Jake Middleton is the epitome of a blue-collar hockey player. He used to put in full-time hours working construction during off-seasons and the COVID pause. He's worked just as hard to get where he's at in the hockey world and works hard to stay there. And if it's up to Minnesota Wild fans, the lovable, hard-working defenseman will be playing here for a long time to come.
The Los Angeles Kings took Middleton with the last pick in the 2014 Draft, but they never offered him a contract. He was draft-eligible once again in 2016, but nobody took him. The San Jose Sharks offered him a tryout, and Middleton ended up with an AHL deal, which turned into an entry-level contract the following year. He toiled for years in the AHL with the San Jose Barracuda, occasionally getting a call-up to the Sharks for a game here or there.
However, it wasn't until the 2021-22 season that Middleton earned himself a spot in the opening night lineup. Playing next to Erik Karlsson, Middleton still had to fight for ice time on a team with a blue line jammed with talent. Middleton was not exactly the go-to defenseman on a defensive corps boasting Karlsson, Brent Burns, and others. 
Fast-forward to the 2022 trade deadline, and Middleton journeyed to the Minnesota Wild in a trade for Kaapo Kahkonen and a 2022 5th-round draft pick. Brought in to beef up the blue line, the hard-working defenseman ended up on a top pairing with Jared Spurgeon. A bit of an Odd Couple pairing, Spurgeon and Middleton complement each other's style. Spurgeon likes to activate and get into the offensive zone, while Middleton is a stay-at-home, blue-collar defenseman.
After showing his ability to pair with Spurgeon, the Wild signed Middleton to his first "big" NHL contract. After making the league minimum ($750k), Middleton signed for a three-year deal with an AAV at $2.4 million. Since then, he's settled into the area, buying a Minneapolis townhouse. "In California, I was making Nat (Middleton's wife) live in 430 square feet," he told The Athletic, "because that's basically all I could afford. It's nice to have a home now."
Perhaps that is part of why Middleton has seemed to embrace being a Minnesotan. Living here in the offseason, Middleton has been exploring his new neighborhood and state. In the July 25 episode of the Worst Seats in the House podcast, Middleton regaled a live audience about his adventures exploring the city with Nat on bicycle. He spoke knowledgeably about the local restaurant scene, making it clear that he's immersed himself in Minneapolis. (For those interested in Middleton's favorites, he shouts out The 1029 Bar, Maison Margaux, and Young Joni.)
For the second season in a row, Middleton is a regular player in Da Beauty League, a summer hockey league college and professional players use to raise money for charity. Middleton uses it as a chance to play more offensively than he does during the regular NHL season. He even had a good tip-in goal last week. In the same Worst Seats in the House podcast, Middleton talks about how cool it is to see how popular hockey is in Minnesota, even when far away from the winter.
Middleton is even starting to learn a little bit about Minnesota's geography. In a funny short video, the Bardown Beauties challenged Middleton to name as many Minnesota lakes as he could. After only coming up with a handful last year, Middleton doubled that number this year.
That video is also a great example of how personable Middleton can be. Sometimes in interviews, Middleton seems like a regular Joe (or Jake, as it were) off the street who just happens to be able to play hockey at an elite level. Always ready for a joke, amplified by his distinctive chuckle, Middleton seems like a dream companion for a fun chat over coffee.
With a fantastic work ethic, a good sense of humor, great hockey skills, and a chuckle that can make anyone tee-hee along with him, Middleton embodies many of the traits that Minnesotans love in their hockey players. And it appears that as much as Wild fans want him to stick around, Middleton would like the very same thing.
5