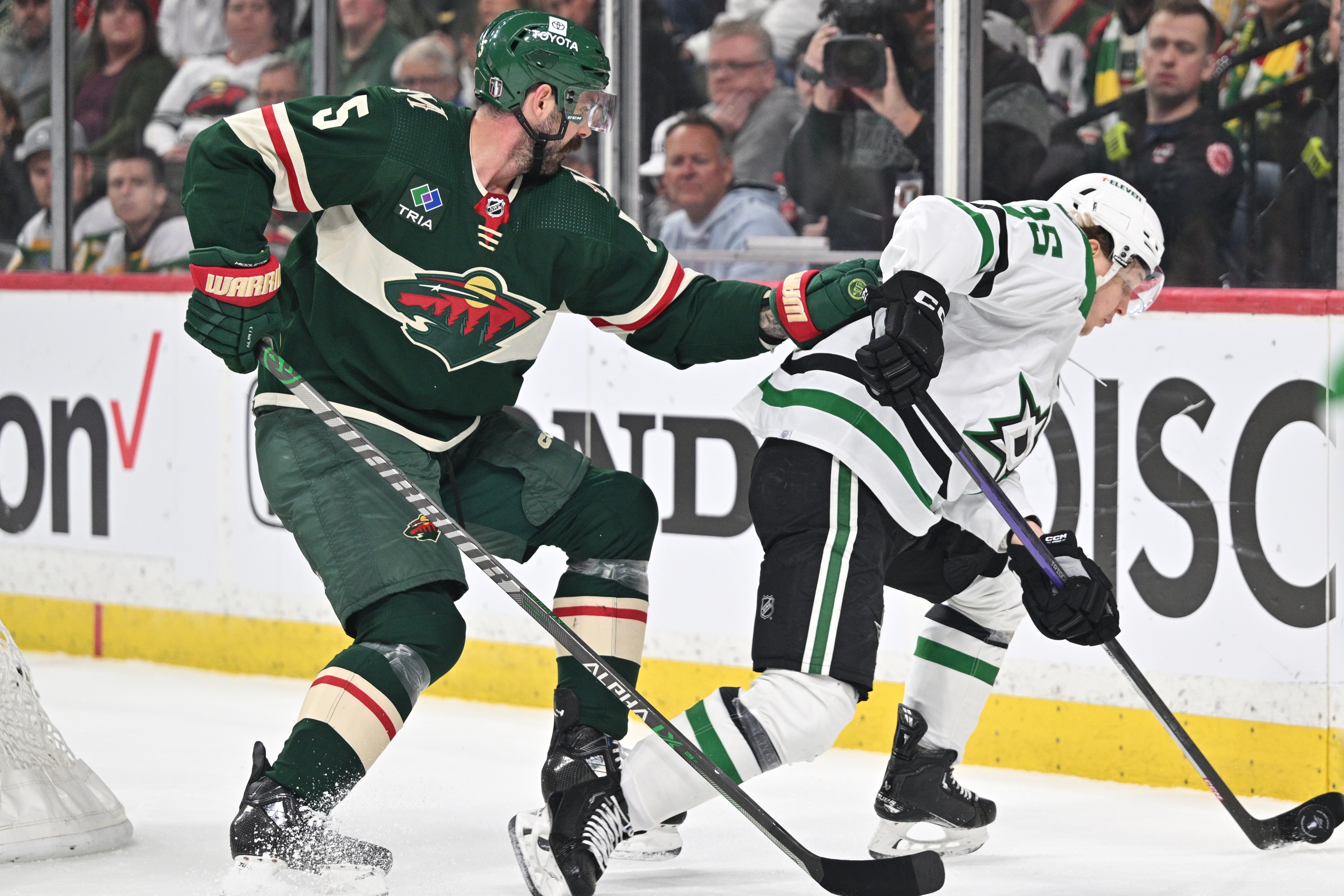 Image courtesy of Jeffrey Becker-USA Today Sports
Jake Middleton is one of the coolest players to ever suit up in the Minnesota Wild's forest green. On top of his play on the ice, his aura is captivating. His mustache is well-known throughout the State of Hockey as well as the Duke Cannon marketing department. Among professional hockey players, Middleton's humble roots are increasingly rare.
He wears that identity on his sleeve. Middleton is still an avid motorcyclist and near-nudist who parades around the locker room in a jockstrap because he "runs hot." While playing in the AHL for the San Jose Barracudas, he scraped by on a $50,000 salary by sleeping on a mattress in his teammates' dining room. In a league of ever-increasing salaries, he's proud simply to be a millionaire.
He is the most interesting man in the locker room. 
Middleton's ethos carries onto the ice, in the blurry realm between player identity and on-ice results. He's a throwback, embracing the physicality of the corner boards and smiling toothlessly through blocked shots. He's listed at 6'3", 220 pounds, built like a strong safety on ice skates. 
Paired with defense partner Jared Spurgeon, their brand of cover-2 makes up one of the best shutdown pairings in the league. Spurgeon is an elite puck-mover, great at playing keep-away via smooth puck retrieval in his own zone. A hard-nosed partner unlocks Spurgeon's offensive talents including skating up in the rush and a deceptive shot. 
Of the 111 defensive pairs with 300-plus 5-on-5 minutes in the 2022-23 season, Middleton and Spurgeon rank 13th in expected goals (xG) against per hour, according to Money Puck. Overall, they take 53.5% of the xG share, tops on the Wild. Middleton's Thunder and Spurgeon's Lightning matched up against Minnesota's toughest opponents and killed penalties left and right, but they got the better of them in spite of that. 
This chemistry was evident immediately after the Wild acquired Middleton at the 2021-22 trade deadline. It's the reason that general manager Bill Guerin extended for three years at $2.45 million, committing to Middleton through his age-29 season. 
Despite their excellence, the team has to consider the possibility of splitting them up this year. Minnesota's defense corps is in a state of flux that this organization hasn't dealt with in years. Matt Dumba is almost certainly gone, opening the right defense spot next to Jonas Brodin for the first time since Dumba's pectoral injury back in 2018-19.
The candidates for that spot include Spurgeon, rookie Brock Faber, black sheep Calen Addison, and whatever free agent Minnesota can afford amidst their dire salary cap situation. This poses a serious decision to the Wild coaching staff this season. If they leave Middleton with Spurgeon, who replaces Dumba? And if Spurgeon joins Brodin, how can Middleton remain effective as a role player? 
It's a poor idea to saddle Brodin with Addison. On top of being an excellent defensive defenseman, a reliable puck-mover, and one of the world's best skaters, Dean Evason loves putting him in the toughest matchups. Brodin is an excellent teammate who would happily take on a mentorship role, but he's more valuable as an eraser. He simply can't do that if alongside Addison's leaky defense. Meanwhile, Spurgeon and Middleton may not have the skating ability to usurp Brodin's pairing as the shutdown unit. 
However, if Faber jumps to the top four next to Brodin, it's possible that he can allow Brodin to maintain his shutdown role. Faber was one of the best defensive defensemen in the NCAA in 2022-23, but the Wild heavily sheltered him from the Dallas Stars' most dangerous weapons in the playoffs. Furthermore, Faber and Brodin are so selfless that they may leave some meat on the bone offensively. Faber's goal last year was to improve his offensive game, and Brodin will need to shoulder more puck-carrying responsibilities without Dumba on his right side. Putting them together could hamper both of these goals, leaving the Wild defense corps without much puck-moving bite outside of Spurgeon. 
The only remaining possibility, barring outside help, is to explore splitting Spurgeon and Middleton. That would allow the team to keep Brodin in the same role and load up their top pairing with their best two defensemen for as many tough minutes as they can find. This is what makes Middleton so interesting this summer -- his role is totally up in the air. He could be playing next to a new partner. Even if he plays with Spurgeon, he may be forced into taking on more responsibilities as one of the most experienced players on the blueline.
Watch Minnesota's moves closely, and remember to view them through the lens of a simple question: What does this mean for Jake Middleton? The answer to that question will tell you what kind of blueline the Wild are trying to create.
2