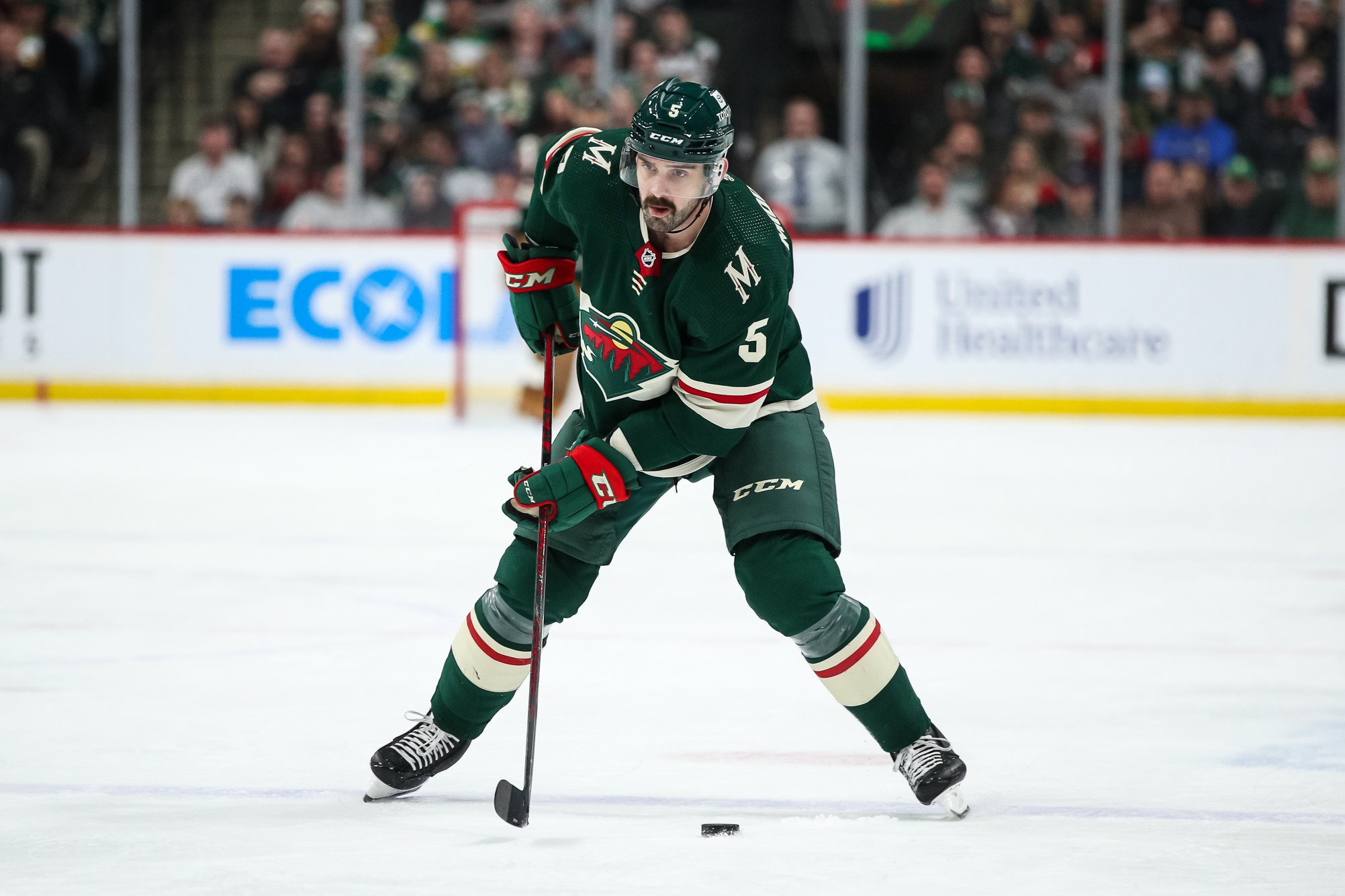 Bill Guerin made some important moves at the deadline. He found affordable options to shore up some of the Minnesota Wild's biggest needs. His decision to trade for future Hall-of-Famer Marc-Andre Fleury was the statement move from last Monday. But don't sleep on Minnesota's acquisition of Jacob Middleton from the San Jose Sharks. It may prove equally important.
Given that Kaapo Kahkonen no longer had a future in Minnesota, getting a 26-year-old RFA defenseman who can play in the top-four is a fantastic return.
The second-to-last pick in the 2014 draft, Middleton made his NHL debut in 2018-19. He spent the next three seasons primarily in the AHL, playing just 14 NHL games through last season. But he impressed when given a more prominent role in San Jose this season, playing particularly well in the top-four with Erik Karlsson. In 452 minutes together, they were +5 with an expected goals share of 53.5% (via MoneyPuck). Karlsson is having a resurgent season, in part because he played with Middleton.
Now Middleton is paired with another franchise defenseman in St. Paul. Jared Spurgeon played almost exclusively with Alex Goligoski before Middleton's Wild debut on Thursday. Goligoski had a strong start to the season and played well during the absence of both Jonas Brodin and Spurgeon. However, his age seems to have caught up to him, and the numbers suggest Spurgeon was doing most of the heavy lifting recently.

It's still unclear what the full plan is for the bottom pairing. But all three of Goligoski, Jon Merrill, and Dmitry Kulikov became healthy scratches this week in favor of Middleton. For now, the plan seems to be to pair Middleton with Spurgeon and rotate the other three on the bottom pair. A rotation could be beneficial for the Wild. With schedule congestion and a playoff push on the horizon, having seven reliable blueliners is a luxury few teams have.
In his first three games, Middleton has looked the more part. He certainly fits the mold of a physical, tough-to-play-against hockey player the team has built its identity around.
If anything, his defense-first style may benefit Spurgeon, allowing him to take more chances offensively. That was on display this weekend against Columbus, as Spurgeon played one of his best games of the year and grew into his newfound partnership with Middleton seamlessly.
He's also gotten attention for his physicality, throwing some big hits. Minnesota's defense has been criticized for not protecting the net well enough. That hasn't been a problem this past week, as Cam Talbot won First Star of the Week for posting a .959 save percentage. Marc-Andre Fleury was also successful with Minnesota's defense, with a .920 save percentage in his turn in net.
Middleton isn't just some rental defenseman, either. An arbitration-eligible RFA this summer, there's a good chance he returns next season on an affordable deal. Middleton doesn't have many games under his belt, so working out a fair deal for both sides shouldn't be too difficult, should Minnesota wish to retain him.
While it's still too early to call the Middleton acquisition a smashing success, the early indication is that this was a great bit of business by Guerin. He flipped Kahkonen, a player with no future in Minnesota, for an impact player who could carve out a long-term role with the team.
The Wild swung for the fences by trading for Fleury, but the Middleton trade could be just as impactful. Defensive depth was a glaring need, and Guerin addressed it without massively overpaying for someone like Ben Chiarot or Hampus Lindholm.
It's hard not to like this move. It was affordable, practical, and addressed a significant need not just now but also moving forward. Middleton plays a tough, low-event game, making him the perfect defensive anchor for the Lamborghini that is Jared Spurgeon. Minnesota made a great deal to prime them for a deep playoff run.