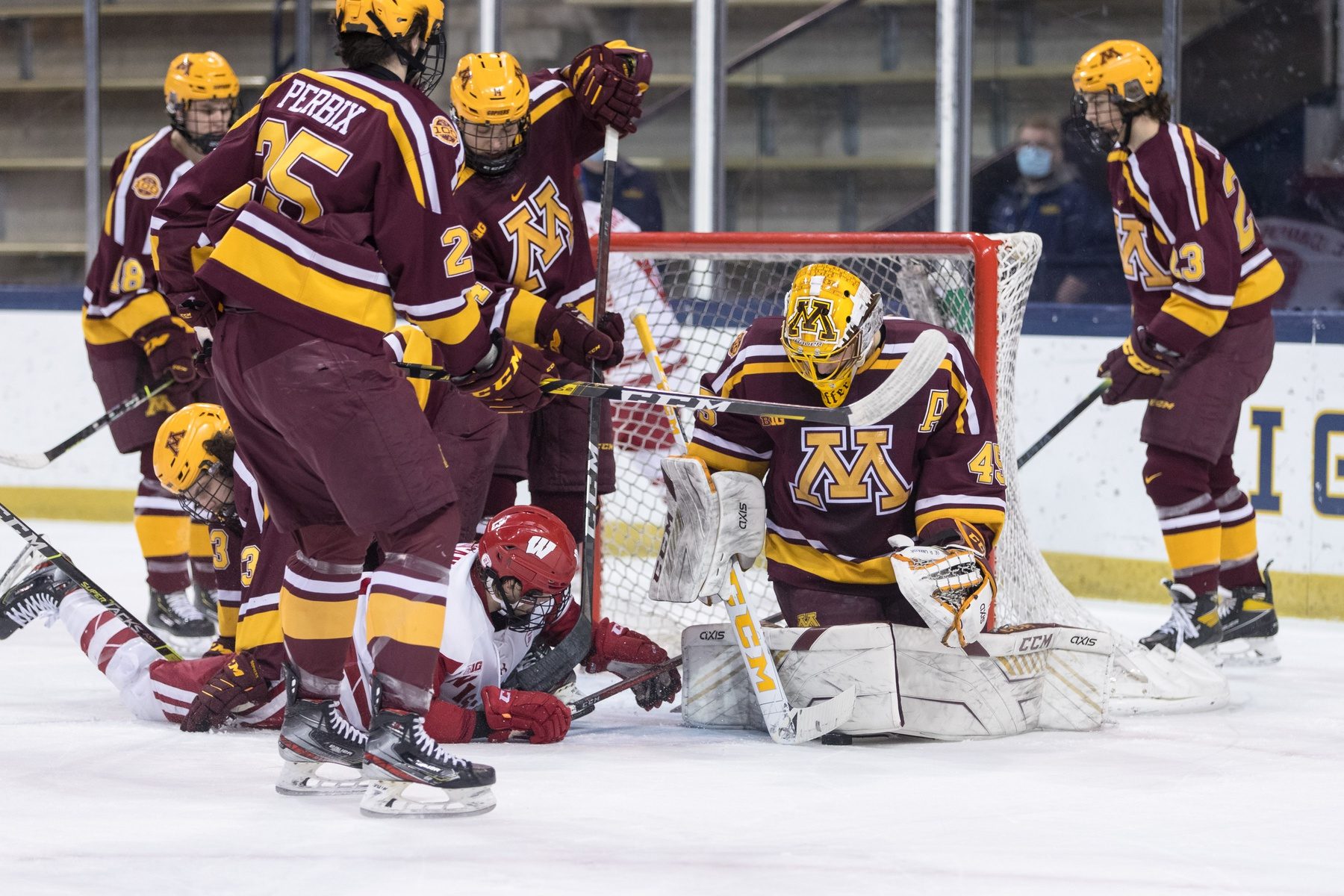 The Minnesota Golden Gophers Mens' Hockey team was riding high. They took a sweep at Michigan State and moved into the top-8 of the Pairwise rankings. Head coach Bob Motzko and Co. were feeling good about their second-half push in their quest to repeat as Big Ten Champions and a return to the NCAA Tournament. And then Sunday's bombshell landed out of nowhere.
Senior goaltender Jack LaFontaine informed the school he would be leaving, effective immediately, to sign his entry-level contract with the Carolina Hurricanes. Suddenly, their top goalie was poached by the team that took him in the third round of the 2016 NHL Draft. It was a shocking announcement, especially considering you rarely see a star collegiate player leave school in the middle of the season for the pros.
So how did we get here? Why would Carolina call on their collegiate prospect to their big league club, and why would LaFontaine leave his teammates as they take aim at their 6th NCAA national title? More importantly, how much does this affect the Golden Gophers and their chances the rest of the year? Let's dig in.
Why the Hurricanes Called On LaFontaine
Well, they didn't have much of a choice. Goaltender Antti Raanta was recently placed on the injury list with an ailment sidelining him for more than just a couple of games. Both their AHL goaltenders are currently injured at the moment with more than just short-term designations. With only two healthy netminders available for their NHL club, they desperately needed to find a third goalie.
But why pluck LaFontaine from college? Why couldn't they just stay afloat over the next couple of weeks until their reinforcements returned from injury? There are a few good reasons, really. First, they couldn't proceed with only two available goalies. A third was needed as either of their two goalies could get injured at any moment. Not to mention either goalie (or both) could test positive for COVID, an all-too-real possibility with the Omicron variant spreading like wildfire through the NHL. Second, with the Olympics fast approaching, a few veteran goaltenders (such as former Wild goalie Devan Dubnyk) on the market would presumably prefer to remain that way as they suddenly have a chance to represent their countries. Suffice to say, veteran free agents are not easy to come by these days.
With their only other prospect option currently playing in the KHL — ask Minnesota Wild fans what it's like prying prospects from their Russian contracts — the Hurricanes were forced to turn to LaFontaine. It might only be January, but the Eastern Conference is shaping out to be a juggernaut at the top. Finishing first in the Metropolitan Division is a top priority for Carolina, as they look to avoid facing another contender in the first round and instead would face a Wild Card team with a far less imposing lineup, such as the Boston Bruins or Pittsburgh Penguins.
Why LaFontaine Decided to Leave
Why would a captain of a top-10 NCAA team with National Title hopes suddenly leave his teammates in the middle of the season with the promise of playing perhaps only a game or two at the NHL level? When you analyze from the surface level of the situation, it doesn't make much sense. But this is 2022, with a pandemic still raging on. There are numerous factors as to why the now-former Gopher made this decision.
For starters, here are 88,500 reasons why: The signing bonus put forth by Hurricanes GM Don Waddell. Remember when you were in college, with your senior year winding down and the real world quickly approaching? $88,500 is a life-changing amount of money at that age, not even counting his $750,000 NHL level contract ($70,000 in the AHL). From a purely financial standpoint, one can't exactly fault LaFontaine for saying yes when Waddell placed those numbers at his feet.
However, the reasons must run deeper than just money, considering LaFontaine was a third-round pick and just coming off receiving college hockey's most prestigious goaltending award. Many will point fingers at LaFontaine for "deserting his teammates" mid-season as they make a push for the National Championship. It's important to remember the situation the world is in at the moment with the pandemic continuing to push on. No matter where you fall with your opinion on how leadership should react to COVID, the NCAA has already canceled one Frozen Four because of it. If the spike in cases continues, it's not unreasonable to wonder if LaFontaine would have even been able to compete for a title. Would you rather guarantee a chase at the Stanley Cup, or risk watching your hopes of leading the Golden Gophers to a championship squashed due to another cancellation.
It's hard to blame LaFontaine for signing the contract given all these factors.
Where do the Gophers Go From Here?
Coming into the season, the Minnesota Golden Gophers possessed a weapon nobody else could boast: the reigning Mike Richter award winner in net. With that advantage now gone, Motzko is left scrambling with less-than-desirable options.
Junior netminder Justin Close has only appeared in six games during his three-year run on campus, while freshman Brennan Boynton has yet to see NCAA action. For a team riddled with NHL draftees and a real shot at competing for the NCAA championship, it must be an absolute blow to the gut for the players remaining on the roster. While the Hurricanes could turn to un-signed prospects to fulfill their needs, the Gophers cannot find a solution outside their current rotation of goalies.
However, it's not all doom and gloom for the Golden Gophers. In fact, some fans may not even notice much of a difference to start off as they begin to mix in their inexperienced goalies. While LaFontaine may have carried the team last year with his 22 wins, 1.79 goals against average, and a ridiculous .939 save percentage, he had fallen back to Earth a bit this season, posting a 2.69 goals against average and a very pedestrian .900 save percentage.
Yes, the Gophers will miss LaFontaine during a critical junction of their season, but they have raced out to a 12-8 record despite below-average goaltending so far. Remember, LaFontaine may have carried his teammates last year, but it came as an unexpected surprise. His start at the University of Michigan had been a disaster, leading to his eventual transfer to Minnesota and shocking turnaround.
The Gophers have been successful this season despite LaFontaine's dip in play. Perhaps Close or Boynton can step in and provide the University of Minnesota with their own LaFontaine-like surprise.