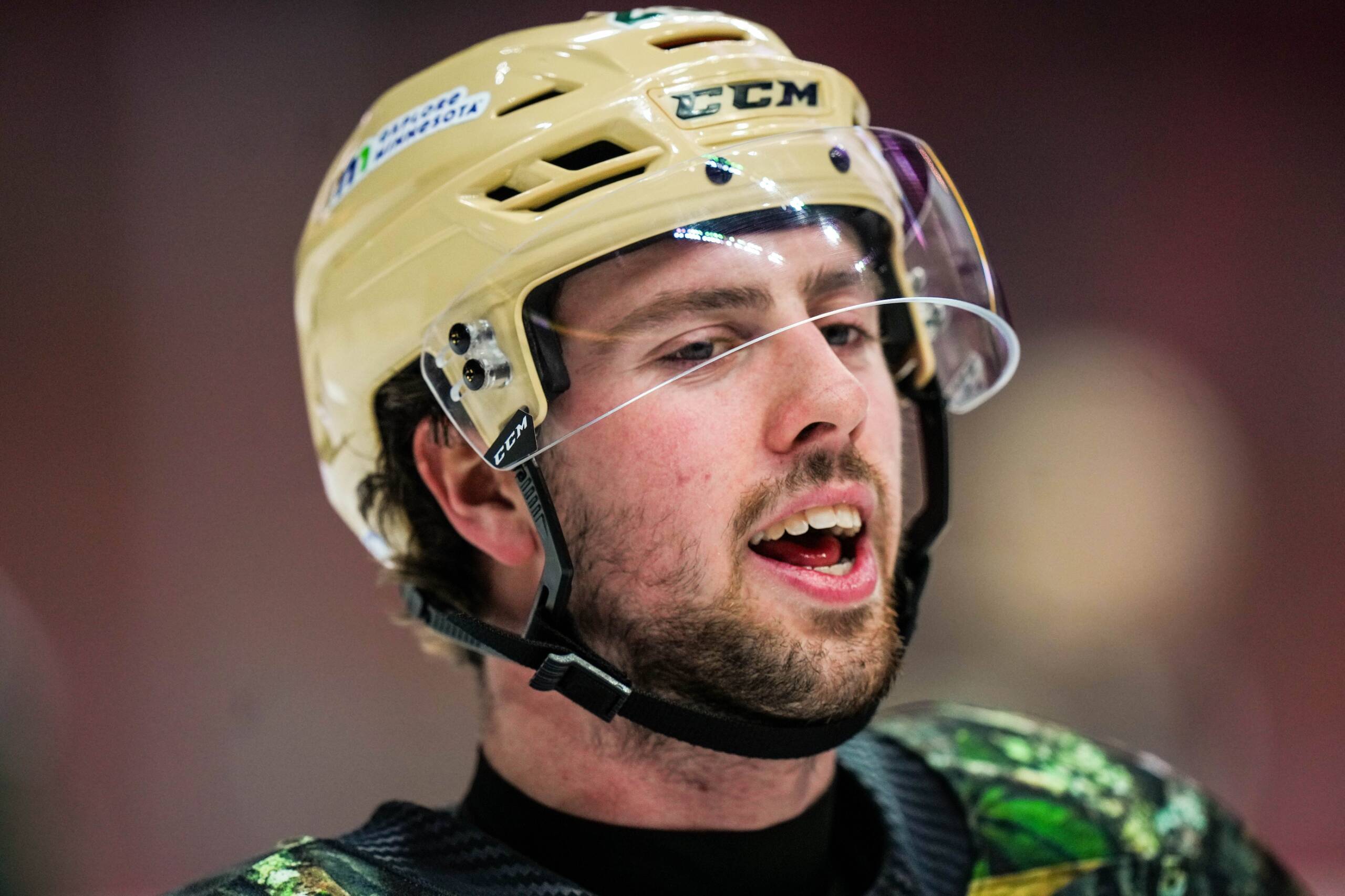 The Minnesota Wild are in the middle of a wide-open Western Conference race. The top three spots are seemingly up for grabs in the Central Division. The Wild have managed to squeak out the wins thanks in large part to Kirill Kaprizov and great goaltending by Filip Gustavsson and Marc-Andre Fleury. Minnesota's top line is doing all the work, but it's time for the second line to pick up some of the slack. The market is open for the Wild to acquire a winger. However, the Wild already have one they could try out in Sammy Walker.
The second line has not been consistent all season. Matt Boldy has been the only constant presence on the line. Freddy Gaudreau, Ryan Hartman, and Sam Steel all got to play the role of the second-line center until Dean Evason disbanded the GREEF line, and Joel Eriksson Ek took over the 2C duties. Walker has not been with the team since December 29th, but he seems to be the only one who looks comfortable in the second-line left-wing spot.
Remember when he skated through the Edmonton Oilers' entire team to set up a scoring chance? That kind of creativity is what the Wild needs right now.
No matter who is put in the second line, no one seems to be scoring. Boldy has only four goals, and two have been on the power play. He also has seven assists, but five of them came on the man advantage. To summarize, in the past month at even strength, he's got two goals and two assists. He could really use some help.
Sammy Walker could give him that help. Walker has been a consistent scorer for the Baby Wild. In Iowa, he's mostly been on a line with Adam Beckman and Marco Rossi. When he was up with Minnesota for six games, he looked just like the playmaker that the second line needs. Walker has 42 points in 46 games played for Iowa. He is more of a threat offensively than Foligno and fits the role a lot better.
Walker also made the AHL all-star team last month. Plus, he's already got a pretty impressive highlight reel.
Eriksson Ek isn't doing much better at five-on-five either. He has four goals with the man advantage, and four assists, and three of those powerplay goals came last month. Eriksson Ek has largely played a shutdown role in his career, but he's got enough playmaker in him to be part of a scoring line. Having a right-hand shot like Walker could help balance out the line, and possibly help the offense get going.
The left-wing position has been all over the place. At the moment, Marcus Foligno has the job. Foligno has only one goal and three assists since January 4. Not exactly someone you want on what is supposed to be a scoring line.
Adam Beckman got the chance last week as Foligno was injured. Beckman did not tally any points, but he still got some good looks. He scored his first goal for all of about five minutes as it was called back for being offsides.
The Wild need a scoring second-line winger to get the line going. Putting a shutdown guy like Foligno there obviously has not been working, as they are producing very little offense. Sammy Walker is the only player who seemed to look right at home on the line, so why is he still down in Iowa when Minnesota could clearly use his scoring touch?
No one knows what Bill Guerin is up to as far as the trade deadline goes. Given that the Wild are second in the Central at the moment, he might want to be a conservative buyer. However, if he decides to roll with the current roster, they still need help, and they have it in Iowa with Walker. Guerin has already made some lame deals for Marcus Johansson and Gustav Nyquist. Johansson has already proved he's nothing more than mediocre and Nyquist isn't expected to play until the end of the season as he is recovering from shoulder surgery.
It's been rumored that the Wild are interested in veteran winger James van Riemsdyk. The Wild have the cap space to acquire him, but rentals are never a good idea. Either way, giving Walker the opportunity on the second line wouldn't cost Minnesota a thing. Furthermore, giving him an extended look in a top-six role could do wonders for the young player's confidence.
We all know that Guerin and Co. seem to prefer the veterans over rookies or young players, and that showed in the trades made on Tuesday. Johansson is 32 and Nyquist is 33.
Brock Boeser is another better option as a second-line winger. Boeser's agent is apparently trying to get something done with the Wild. The Vancouver Canucks would have to retain some of his salary, but Minnesota potentially may have enough cap space to make it work. Boeser is another right-shot playmaking forward who could do wonders opposite talent like Boldy. Having Eriksson Ek as the center, that line could rival the top line in scoring, which is exactly what the Wild need.
The thing is, the Wild really don't need to go out and trade assets for ineffective players when they have Sammy Walker waiting down in Iowa.
If the Wild want to have any hope of doing damage in the playoffs, that second line has got to get rolling. The third line of Jordan Greenway, Freddy Gaudreau, and Brandon Duhaime has done more damage than the second line recently. Greenway only has one assist, but in the past five games, Duhaime has three goals, and Gaudreau has three assists, all at even strength.
Whether it be a Sammy Walker call-up or a trade, the Wild need to get more lines scoring. Having just one scoring line does not work in the playoffs, and the current line configuration is not cutting it.