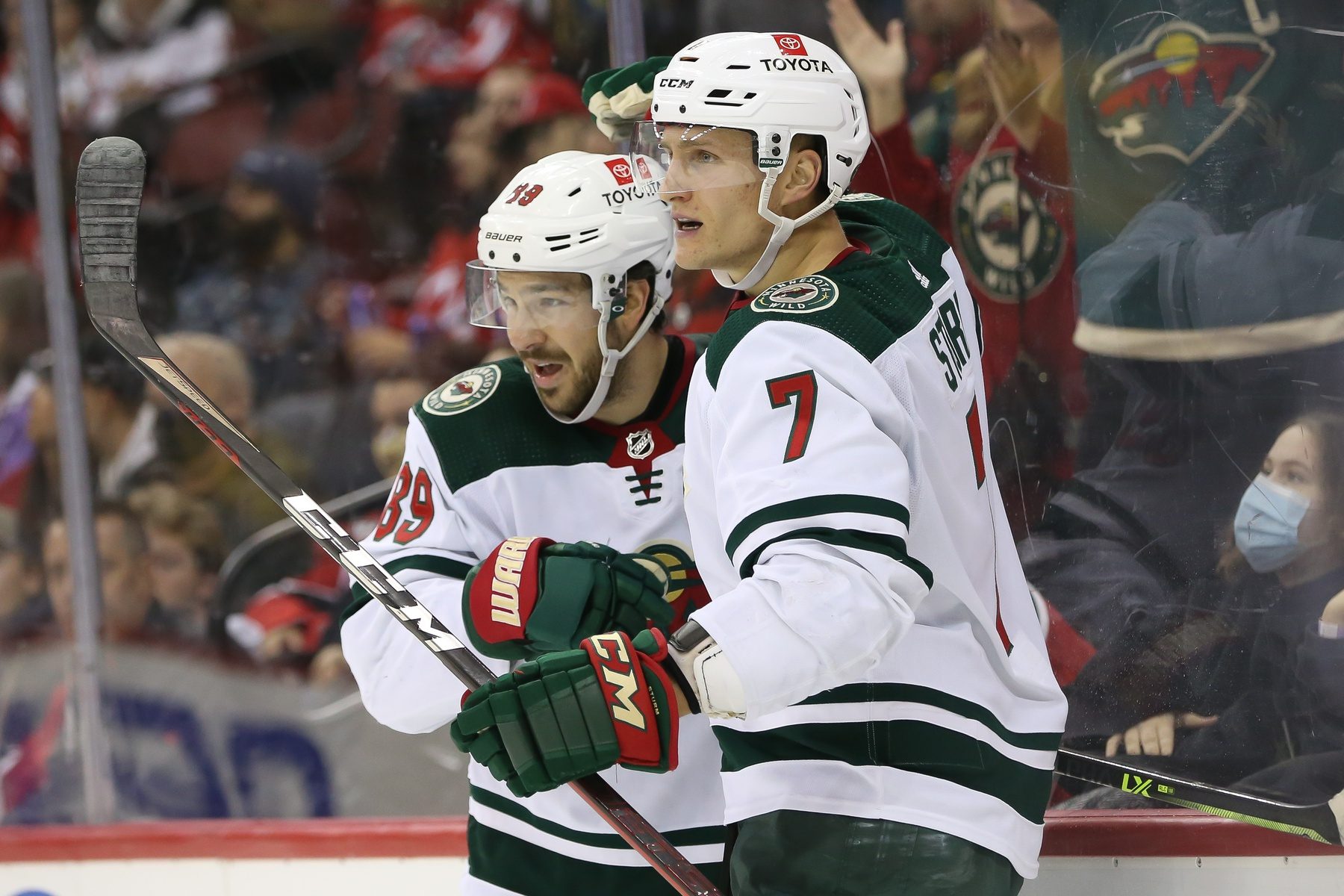 Minnesota Wild fans experienced a rather lengthy Sturm Warning against the Montreal Canadiens on Monday evening. In a night of many firsts, Nico Sturm, the Wild's fourth-line center, achieved his first career three-point performance. In addition to his own goal, Sturm assisted on fellow linemate Connor Dewar's first NHL goal and Jordie Benn's first of the season.
Minnesota's current third-line center, Freddy Gaudreau, has played in the middle of Kirill Kaprizov and Mats Zuccarello and is now joined by the talented Kevin Fiala-Matt Boldy pairing. Boldy and Fiala have been red-hot since they've united on this line. Gaudreau hasn't been anything but, though. He has only two assists and no goals in his previous 10 games. However, he could muster a point against the Canadiens in 13 minutes of ice time. This feat was also accomplished by 12 other Wild players, though. Fair to say a point was not hard to come by.
Still, Sturm displaying an offensive clinic against the Canadiens raises a question: Why is Gaudreau a lock to play top-nine minutes? He currently gets talented linemates and frequent appearances on the power-play, while Dean Evason has relegated Sturm to the fourth line and penalty-kill duties. The two centers appear to play a similar defensively-minded game, so what's going on? Is Gaudreau producing more than Sturm with more time and opportunities?
Gaudreau has 531 minutes at all strengths in 32 games this season, but he only has two goals and 10 assists. Of his TOI, 51 minutes was on the 4-on-5 penalty kill, where he tallied an assist. And on the power play, he's seen a rather sizable 53 minutes of ice time and is goalless.
Sturm has played 473 minutes in 38 games this season. The speedy center accounts for seven goals and eight assists in all situations. Of the total minutes played, 70 were on the PK, where he's responsible for the Wild's only shorthanded goal this season. Only three minutes of his total ice time occurred on the PP, but he tallied a goal and an assist. Even though Strum hasn't seen anywhere near the same amount of PP minutes, he is the more productive of the two forwards.
Sturm also has the edge over Gaudreau in the faceoff dot. Winning faceoffs is not a guarantee of success, and there is little statistical correlation between faceoff percentage and winning games. But there are undoubtedly situational benefits to winning faceoffs, such as the ability to relieve pressure in the defensive zone.
Both centers have seen roughly 300 puck drops at all strengths. Here again, Sturm has outperformed Gaudreau by winning 53.8% of faceoffs to Gaudreau's 51.1%. This discrepancy widens at even-strength play, where they've each visited the dot 250 times. Sturm has won 55.8%, but Gaudreau has managed to win only 50.4%.
Using Evolving Hockey's Standings Points Above Replacement, we can see how they compare on both sides of the puck. Gaudreau has an edge on defense, with his play in his own zone being worth about 0.7 points in the standings. Surprisingly, Sturm is nearly exactly replacement-level on defense.
However, the difference between them offensively is a much wider gulf, favoring Sturm. Granted, the German center hasn't contributed as much offensively as he did last year. Offensively he's on track to be worth about a point in the standings. But Gaudreau's offense is dead last on the squad. Evolving Hockey estimates that it has already cost Minnesota two points in the standings. His defense cancels out some ineptitude, but not nearly enough, giving Sturm a decided overall advantage.
MoneyPuck estimates the shooting talent above average for NHL players based on distributions seen over thousands of simulations. The higher the percentage, the more highly skilled that individual is deemed a shooter. For example, at 20.8%, the highest Shooting Talent Above Average on the Wild is, unsurprisingly, Kaprizov. Nico Sturm is the fourth-highest at 10.1%, and Gaudreau's STAA value is -9.8%. Once again, his value ranks dead last on the Wild.
Based solely on stats and metrics, it is difficult to understand why Evason is picking Gaudreau over Sturm. Perhaps it is because Evason was the coach of the Milwaukee Admirals for three out of the five years Gaudreau suited up for them. It is natural to assume the two developed a certain amount of trust and respect for each other during that span. But, that history combined with Gaudreau's slight defensive edge over Sturm simply isn't enough to continually allow him to play a top-nine role on a nightly basis. It certainly isn't a valid reason to grant Gaudreau any opportunity on the PP where he has been anything but fruitful.
As evidenced by his point production and underlying numbers, Sturm has been more productive playing alongside less skilled linemates with fewer opportunities afforded to him. Sturm also is undoubtedly the more skilled shooter.
It's time to swap their respective roles. Imagine the third line with a more offensively gifted but defensively sound, fleet-footed center between Fiala and Boldy. Evason would unleash the potential of all three players, and the ceiling of success for this line would increase instantly. Wild fans would certainly need to prepare for an increase in Sturm warnings.
All data from Evolving Hockey unless stated otherwise.