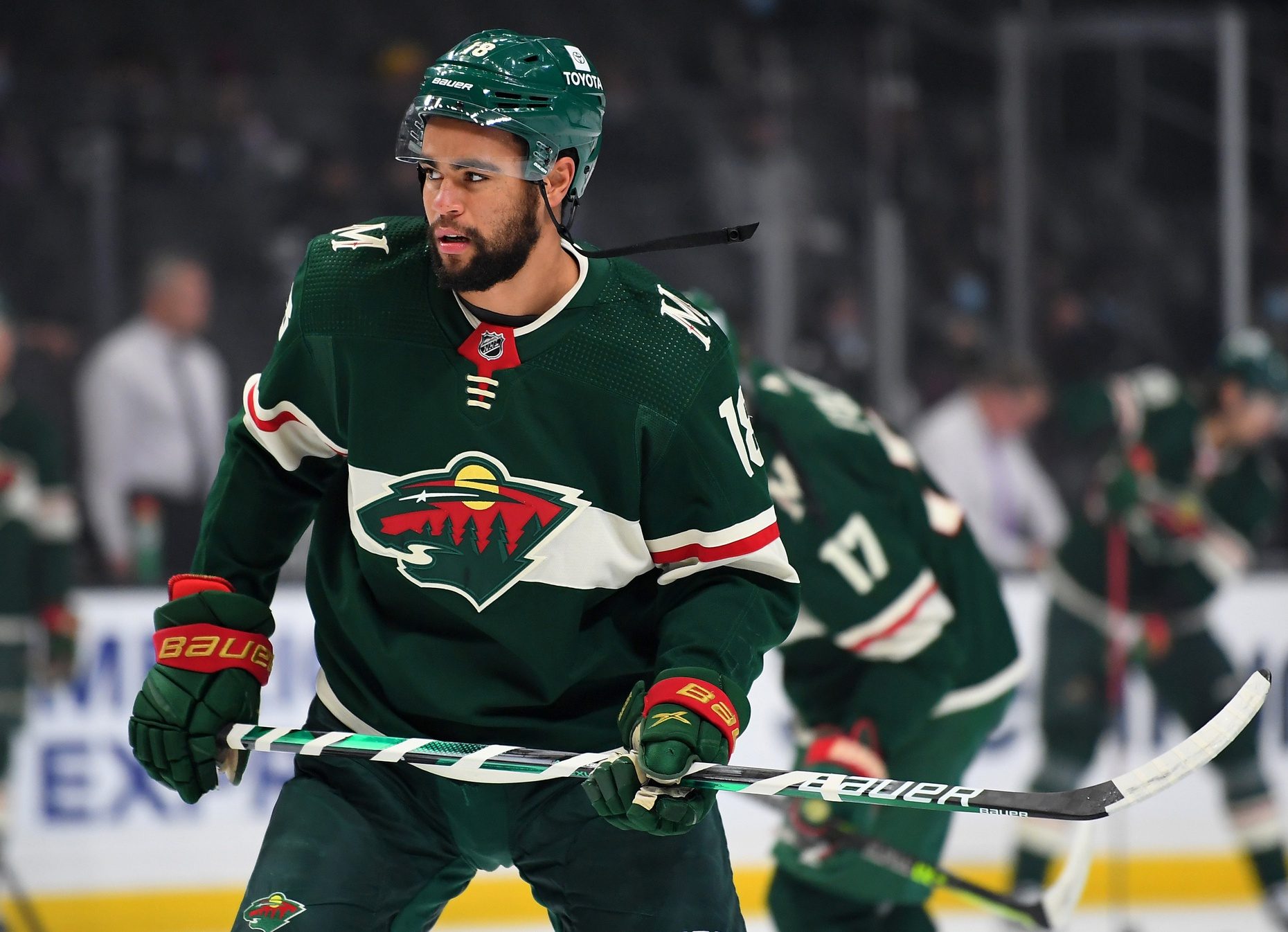 The trio of Joel Eriksson Ek, Jordan Greenway, and Marcus Foligno showed how strong of a line they could be last season. And they've become more dominant this season. All three guys are big and strong. More importantly, they're unrelenting. That kind of size and heavy style of play is difficult to maintain throughout a 60-minute game. But that does not stop them from pestering the opposition all 200 feet of the ice rink.
That line has yet to surrender a goal at 5-on-5 this season, a testament to their dominance. That's 29 games and over 184 minutes together where Minnesota's goalies have been living on Easy Street. The Wild are especially eager to keep that performance rolling to next year and beyond, as they're closing in on a contract extension for Greenway. That will keep all three members of the line coach Dean Evason calls his "security blanket" together for the foreseeable future. 
But has that line been as dominant offensively? Considering that they take on the other team's best line night after night, their 2.93 GF/60 is a great number, especially when they're not giving an inch. Foligno leads the trio in goals with nine at 5-on-5, followed by Eriksson Ek's three and Greenway's two. Those goal totals feel pretty low for a line that spends a lot of time in the offensive zone. And that's with Foligno already surpassing his career-high for goals. Both Eriksson Ek and Greenway are on pace to do the same as the season progresses.
That isn't to say that the line is doing anything wrong. That line has mostly been incredible all season. Still, with all that time spent in the offensive zone, it sure seems like they're leaving more goals on the table. The line stands firmly in third place on the team behind the Kaprizov line and Fiala line in shots per hour. That makes sense because Dean Evason uses that line primarily in checking situations. But there's too much size and skill for it to lag far behind the Wild's other top lines. 
The line is disruptive in the offensive zone, but their 2.6 xGF/60 suggests they're not being disruptive enough around the net. Eriksson Ek is fourth on the team in 5-on-5 shots. Foligno is seventh. But Jordan Greenway has the lowest shot total for any forward on the team with more than 30 games played.
A new contract will mean raised expectations, though, especially at a $3 million price point. To this point, Greenway has been a nice player to have, but he's not a player that the Wild can consider a vital piece of their quest for a Stanley Cup. Minnesota's pending salary cap hell means that every dollar spent has to deliver surplus value. Will Greenway provide the value that makes his new contract a Ryan Hartman-esque bargain? So far, it seems not. His physicality is nice. The Wild maybe missed it when they took on the Boston Bruins a few weeks ago. Outside of that, though, Greenway is playing at around replacement level.
The 2015 second-round pick by former GM Chuck Fletcher must find a way to be more effective in the offensive zone. His line controls the shots and goals output, yet per HockeyViz.com, he looks like he's simply a play hitchhiker rather than a play driver. 
[caption id=attachment_117246" align="aligncenter" width="425]

Courtesy of HockeyViz.com[/caption]
One simple thing he can do to deliver more value? Shoot the puck more. Early last season, Kirill Kaprizov was racking up assists, but he took off once he started shooting the puck. It's allowed him to continue his magical ride now in his sophomore season. Eriksson Ek was infamously snakebitten in his first 82-game season. His defense was always there, but the offense took off last season when he decided to shoot the puck more frequently and go to the net à la Zach Parise. Shooting the puck is never a bad idea for any player, and Greenway could use a healthy dose of selfishness with the puck. 
The Foligno, Eriksson Ek, and Greenway line is dominant and can match up against any line the opposition offers. They are a disruptive force in the offensive zone, and their forechecking wreaks havoc on defensemen. Eriksson Ek has found a way to turn it all into offense. Foligno is having career seasons next to No. 14, too. One slight change in mindset by Jordan Greenway can raise that line from dominant to elite. By doing so, he could look like an absolute steal, another terrific signing to navigate Minnesota through their cap hell years. Until he does that, though, he's still just a hitchhiker on his line – and it might make the Wild regret this contract.
Stats courtesy of NaturalStatTrick.com, Evolving-Hockey.com, Hockey-Reference.com, and HockeyViz.com