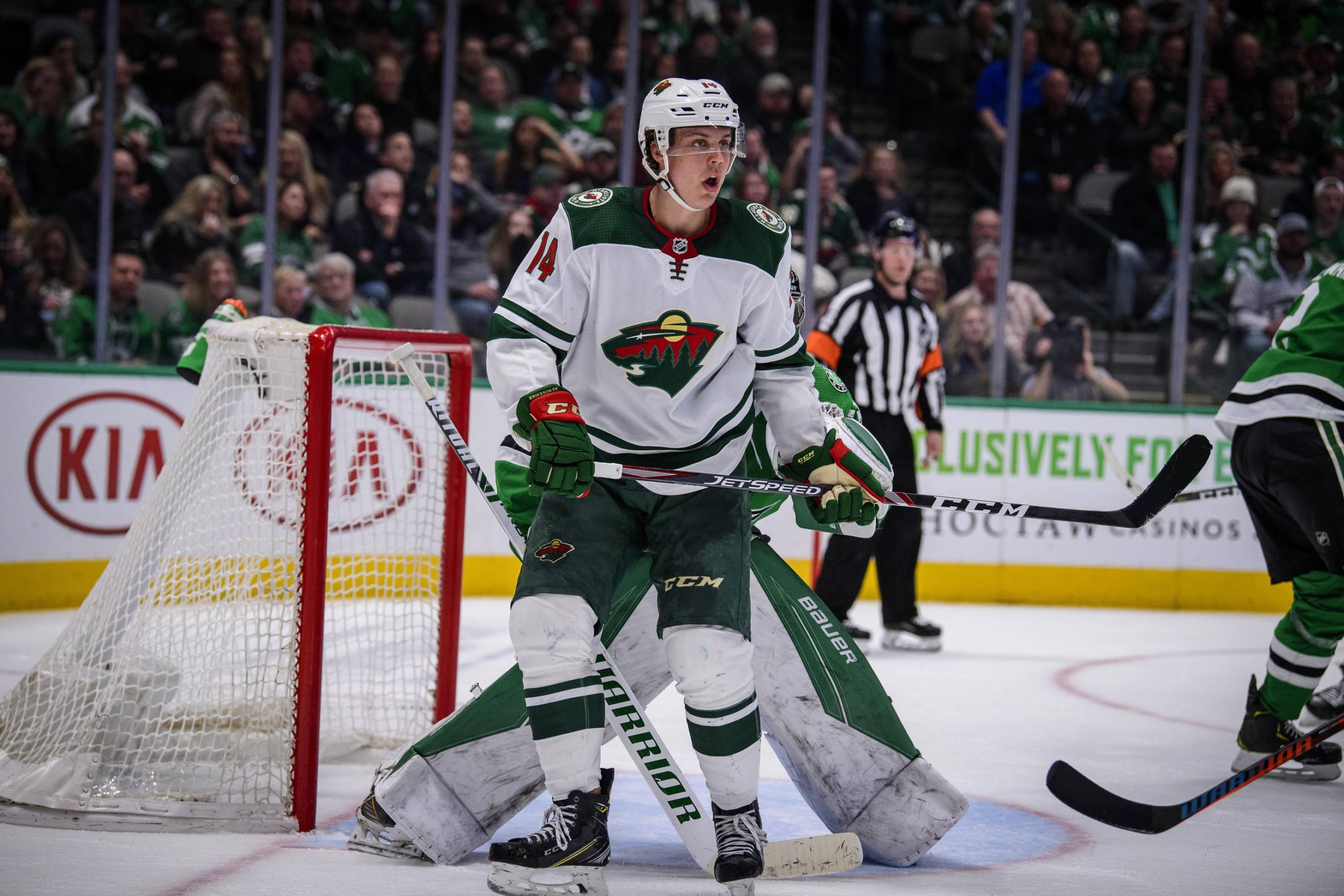 The five-year anniversary of the Minnesota Wild drafting Joel Eriksson Ek is rapidly approaching. In 2015, Minnesota grabbed the Swedish center with an eye towards eventually replacing Mikko Koivu. They got a player who projected as a Koivu clone, in both play style and personality.
"He's a big, two-way center," said Brent Flahr, who ran the Wild's draft table in those days. "Very smart player at both ends of the rink. He's a real hard-working kid. He's a character kid and he really shoots the puck."
That pick is a memorable one in the State of Hockey, but for all the wrong reasons. Fans who clamored for Burnsville native Brock Boeser lament this pick. Boeser became a full-time NHLer at 20 and averages 31 goals per 82 games. Even if Minnesota saw a center as an absolute necessity, Sebastian Aho went 15 picks later. Aho's now one of the league's brightest young stars, scoring 38 goals in just 68 games this year.
Meanwhile, Eriksson Ek had a rough start to his NHL career. He had a cup of coffee at age-20 and looked terrific in a fourth-line role. Eriksson Ek scored seven points in 15 games, and even scored one of the best goals in Wild history.
Those flashes of brilliance didn't translate when he transitioned to the NHL full-time. Koivu and Eric Staal were firmly set on the top two lines, leaving Eriksson Ek to a bottom-six role. Eriksson Ek held up his end of the bargain on the defensive end, but his point totals were ghastly. He scored 16 points in his first full season, then just 14 in the next. For context, Boeser had a 16-point month in November 2017.
Even for a young player, those struggles were notable. Since the 2013-14 season, 101 forwards have played 100 or more games between their age-21 and 22 seasons. Eriksson Ek ranked 98th among that group with just 0.23 points per game. It was more than fair to wonder whether Eriksson Ek would ever find his game in Minnesota.
Eriksson Ek had another slow start, scoring just two points in ten games in October. That slump coincided with a miserable 4-9 record for Minnesota. New general manager Bill Guerin investigated changes after that.
One trade rumor swirling in St. Paul come November was that Eriksson Ek, among others, was on the block. The rumors never amounted to much, but they rang true anyway. Eriksson Ek was going to have to show something, or Minnesota was going to move on.
Eriksson Ek started showing something shortly after that. In November, he centered a third line with Jordan Greenway and Luke Kunin. The "GEEK Squad" line, as they would be known as, became trusted by Bruce Boudreau. Boudreau threw them out against top lines, and the Squad rewarded Boudreau by showing some nice offensive touch.
Boudreau would break up the GEEK Squad as Kunin and Greenway were moved up and down the lineup. But Eriksson Ek remained a constant on the third line, where he filled the shoes of a declining Koivu.
Eriksson Ek was nothing short of dominant defensively. He allowed just 1.77 expected goals against per hour at 5-on-5. That ranked second in the NHL among forwards with 750 or more 5-on-5 minutes. That's not a fluke, either. In his rookie year, Eriksson Ek posted an hourly rate of 1.81 expected goals against. The only Wild players to have multiple defensive years at that level or better are Koivu, Marcus Foligno, Nino Niederreiter, and Mikael Granlund.
He was so reliable defensively that Boudreau wouldn't move him off that role even when injuries hit. It's hard to blame Boudreau for this. His job was on the line and his team was trying to protect their bad goaltending. And if Eriksson Ek continued to produce at a paltry rate, a shutdown role would have been the perfect landing spot for him.
But for the first time since his rookie year, Eriksson Ek started producing. He had a career-high 29 points, sixth among Wild forwards. Considering that came in 62 games, and his previous best of 16 points, this is a big leap.
This is especially true when you look at it from a per-minute standpoint. Eriksson Ek scored 1.95 points per hour at 5-on-5, which ranked above more highly-regarded offensive players like Jason Zucker (1.87 before being traded), Luke Kunin (1.84) and Zach Parise (1.57). He was even close to overtaking Eric Staal (1.99), the team's number one center.
And Eriksson Ek flourished despite having teammates that were not nearly as talented as the ones Staal played with. Staal's top-three linemates were Mats Zuccarello (who Staal spent 64 percent of his minutes with), Zucker (35 percent) and Parise (33 percent). Eriksson Ek made do with Greenway (55 percent), Kunin (46 percent), and Foligno (43 percent). Greenway, Kunin, and Foligno had fine seasons themselves, but there's no denying that talent gap.
Eriksson Ek has been a superb defender in his young career. He does all the little things right, he plays hard and gets under his opponents' skins. And now, he's even producing while getting a heavy defensive workload and few shots with his most skilled teammates.
Minnesota has had Eriksson Ek in the organization for five years, and on the team for three. And yet we're not much closer to figuring out what he'll become. Can he produce offensively, or was his recent surge a defensive specialist merely playing above his head.
Time is running out to find out. There are two major events next summer that may decide Eriksson Ek's future in Minnesota. The first is that the two-year deal he signed this summer will expire. It would be helpful for Minnesota to know what Eriksson Ek is capable of before determining whether to extend or trade him.
The second is the Seattle expansion draft. The State of Hockey already has bad expansion memories leftover from Vegas two years ago. Minnesota is in for some more hard decisions next year, especially if they try to keep their defense together again. Such maneuvering could leave Eriksson Ek exposed to Seattle.
And if you'll remember, Vegas did very well at picking up centers in the expansion draft. Minnesota traded prospect Alex Tuch to make Vegas select Erik Haula. Haula had a lot of similarities to Eriksson Ek. Haula put up decent numbers in a limited role, never got a shot, and Minnesota decided he was expendable. He got elevated into Vegas' top-six and immediately scored 29 goals 55 points.
Then there's William Karlsson. There was no indication of Karlsson being a top-six player when Vegas acquired him at age-25. His career-high in points was 25. He wasn't more than an average defender. Columbus let him go without a second thought.
But once he got top minutes with a skilled linemate in Jonathan Marchessault, he flourished. He put up 43 goals in his first year in Vegas. That was surely a fluke, but Karlsson's a two-way center who's good for 55 points a year. He's immensely valuable.
It's not guaranteed that Eriksson Ek would breakout if given the opportunities Karlsson did in Vegas. But there's a lot more to indicate a breakout for Eriksson Ek than there was for Karlsson. Eriksson Ek has a season where he's been productive at both ends of the ice, and he's still just 23 years old.
There's no need to risk letting someone swoop in and benefit from the developing Eriksson Ek has done in Minnesota. Minnesota can give Eriksson Ek a chance to sink or swim in a top-six role. Perhaps that could be a role alongside veterans such as Parise or Zuccarello. Maybe they could put him between Kevin Fiala and Kirill Kaprizov, and let Eriksson Ek be a defensive rock that lets the Wild's two young star do their thing offensively.
Eriksson Ek has earned the chance to see what he can do. Minnesota needs to see if their young center can truly replace Koivu. If Minnesota allows next summer to arrive without finding these answers out, it'll be nothing but a disservice to themselves and the player. It's now or never.