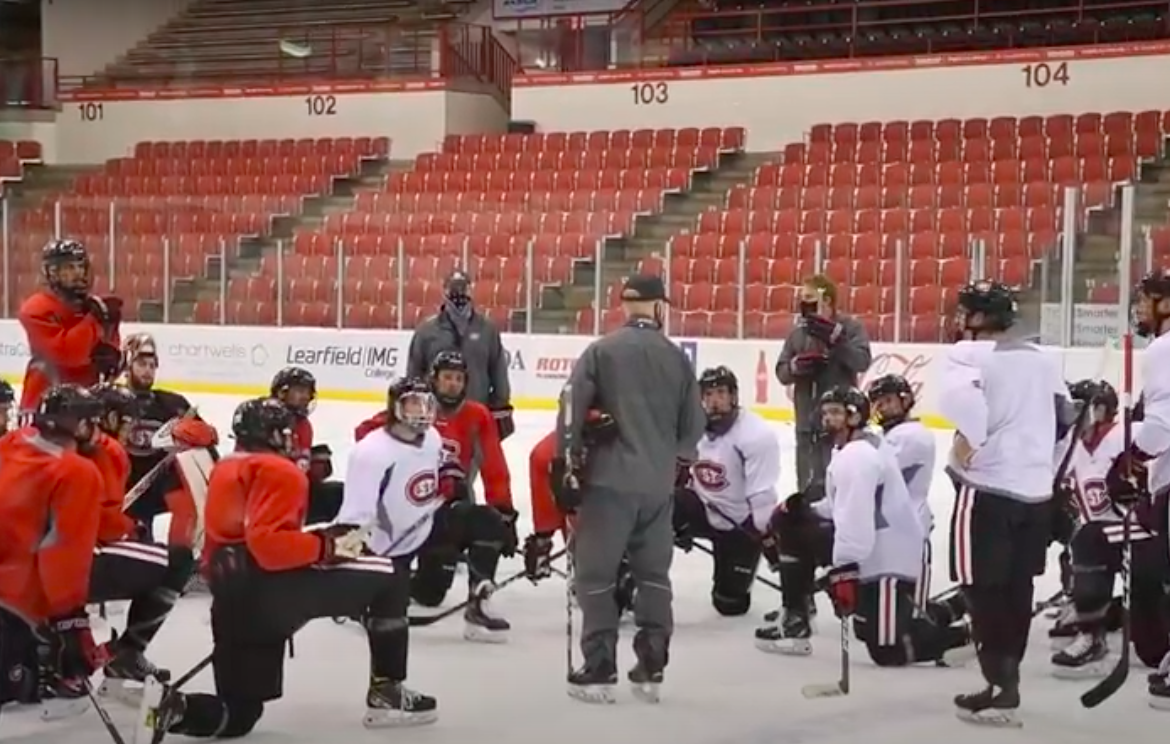 Friday, Saturday and Sunday was NCAA Hockey's Opening Weekend. Big 10 Hockey took center stage, as star-studded Wisconsin and Michigan teams took the ice. Cole Caufield netted a couple of assists, and 2021 Draft hopeful Owen Power made an early statement with a three-point game.
Outside the imaginary bubble of the sporting world, the coronavirus pandemic raged on in the United States. Those three days saw 475,504 new cases, hitting hardest in the Great Lakes States, a.k.a., college hockey country. Minnesota alone saw 21,786 new cases, enough to fill two Mariucci Arenas with a couple thousand left over.
The virus is already impacting the world of college hockey. Army cancelled their weekend series due to an outbreak. Eight cases in the St. Cloud State women's program postponed their opener.
These will hardly be the last. Fans and leagues may have a false sense of security after the success of the NBA and NHL this summer. Those leagues spent a ton of money and took up a lot of resources to be sealed off from the outside world. Leagues that couldn't or wouldn't, like the NFL and MLB, were much more vulnerable to positive tests and cancelled games.
The NCAA can't offer the protection the NHL could offer their players. Outside of a handful of games for the NCHC, there won't be a bubble for these college players. Risk of coronavirus will be a looming threat for these players all season, and the NCAA knows it. Three of the last five weeks in the Hockey East schedule are reserved for postponements, which can be seen as a concession that outbreaks are not just a possibility, but an inevitability.
There is an argument to be made that it was perfectly fine for professional leagues to agree to return to play in the pandemic (though this ignores a larger conversation of whether these leagues should be burning through tens of thousands of tests per week). The Players Associations could negotiate the terms of the return, and there was financial incentive by all parties to come back. Everyone involved was an adult with an agent to help them weigh the risks and rewards.
The same isn't true of college athletes. True, they're (mostly) adults, but everything else is completely different. These athletes are unpaid, leaving them no financial incentive to justify taking on the risk. Only a small amount of players not already drafted (or a lock to be drafted) will sign a pro contract. They don't have a labor union or representation or the protections that come with them.
It's also true that a group of younger, healthier players are much less likely to succumb to coronavirus than older, less healthy people. That doesn't mean they're off the hook. We don't fully know the long-term effects of coronavirus, but decreased lung capacity is certainly a possibility, which is definitely a risk to any player's NHL hopes, let alone their well-being.
Sure, the players are playing, and they're playing because they want to play. But players always want to play, no matter the risks. The Miami Marlins voted to play a game despite the fact that they knew they had an outbreak on their team. Players will fail to protect themselves every time.
There's no upside to holding this season. Any hopes that games would be safe to play by November should be thoroughly dashed. Instead, the virus is surging, which makes getting any gate revenues impossible, meaning this season likely won't be profitable -- even with their unpaid labor. Every practice and game puts these amateur athletes at risk for almost no reward to anyone involved.
Yet there's no reason to think that business will not go on as usual. Minnesota's scheduled to drop the puck on their 100th season of college hockey on Thursday. What should be a massive celebration of hockey history will instead be yet another bizarre, perverse monument to our society's insanity.