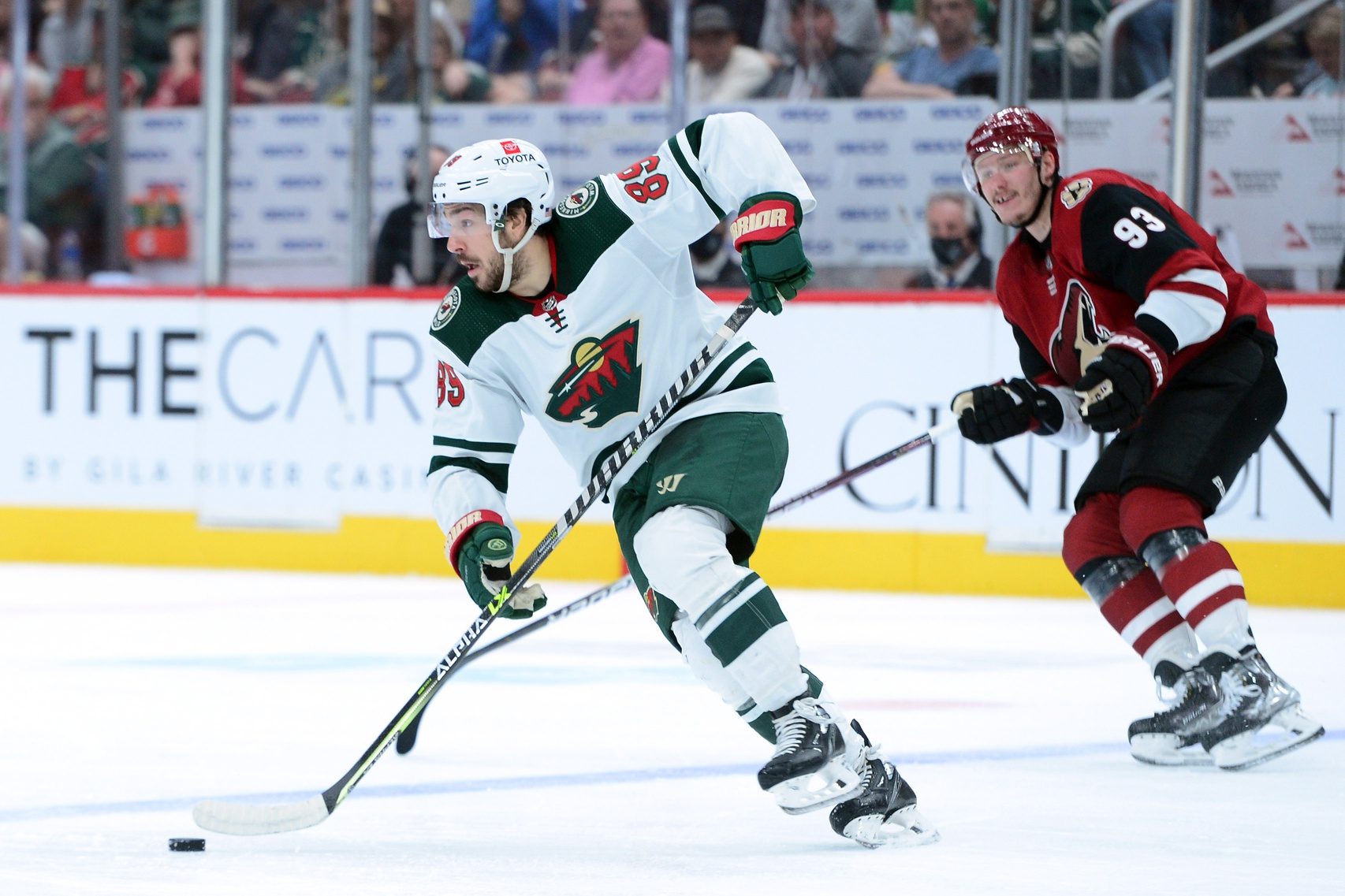 Freddy Gaudreau signed with the Minnesota Wild last summer to little fanfare. To be fair, a lot was going on at the time. Minnesota scrambled to replace Ryan Suter and Carson Soucy, and Jack Eichel mania reached its peak in St. Paul. How does a longtime Milwaukee Admirals farmhand get attention in all that chaos, even if his underlying numbers popped?
Yes, Gaudreau happened to play in the AHL under coach Dean Evason. No, he isn't the second coming of Pontus Aberg or Anthony Bitetto. He doesn't have much scoring punch, with only four points in 12 games this year and 22 in 115 for his career. But that hasn't stopped Evason from entrusting him with the most important role on the Wild: Centering Kirill Kaprizov.
Finding a center to unlock Kaprizov's full potential is a code Evason, and the front office hasn't cracked yet. They auditioned many for the role to start last season before settling on Victor Rask. Rask has good hands and can score a pretty goal when he finds space. The problem is his lack of speed makes finding space almost impossible. Opponents blocked one-third of his shot attempts, and Rask scored just 10 goals despite a premium assignment and 19% shooting.
Evason abandoned the experiment late in the season, turning to converted winger Ryan Hartman. They provided a more dangerous look, as Hartman was fast enough to play on the rush with Kaprizov. The Vegas Golden Knights exposed their flaws in the postseason, though. They backed off Hartman and let him find all the open ice he wanted, but he couldn't convert against Marc-Andre Fleury.
This season the Wild tried Joel Eriksson Ek in the role. It made sense on paper. Eriksson Ek could stand in front of the net looking for rebounds while Kaprizov and Mats Zuccarello did their thing. A strong showing against the Winnipeg Jets aside, this combination showed signs of struggling at 5-on-5 play. Eriksson Ek got chances around the net but didn't create space for Kaprizov to find high-danger areas like many hoped.
So Evason broke up the line, sending Eriksson Ek to play with Kevin Fiala and Marcus Foligno. That left Gaudreau free to be the latest center to try solving the Kaprizov spot. How's that going?
On the score sheet, not exceptionally well. Opponents are out-scoring Kaprizov and Gaudreau 4-2 through 65 5-on-5 minutes together. But the underlying numbers strongly hint that these two can find success. Here's where they're finding their shots.

Even with a preference for fairly low-percentage shots from the half-wall, this duo is finding scoring chances. Shooting at the net and from the high slot are prime scoring areas for Kaprizov, who has come to life since first being paired with Gaudreau against the Ottawa Senators. He has three goals and four points in the four games since.
They work well defensively, too, keeping shots away from the net. The problem is that they've been victimized by shooting percentages at both ends of the ice. The Wild are shooting just 5.7% with the pair on the ice and stopping only 86.2% of shots. The goaltending part of the equation is out of their control, but what about the shooting? Not a lot of offense happens with Gaudreau on the ice throughout his career, with his teams shooting 6.7% at 5-on-5.
There are 491 forwards to play 1000-plus minutes since Gaudreau made his NHL debut in 2016-17. That shooting percentage ranks 394th among them. It's resulted in Gaudreau's teams underperforming offensively compared to their expected goals. Can that change? He trended up with the Pittsburgh Penguins, which shot over 10% with him on the ice, and 65 minutes this year is quite a small sample. But between this 5-on-5 showing and his stint on the power play -- where the Wild again underperformed despite generating chances -- we may have to accept that a line with Gaudreau is always likely to run a bit cold.
But all that means is Gaudreau isn't a permanent solution to be Kaprizov's center. That's fine because no one expected this in the first place. However, that means that the search for the person to stop the Kaprizov Center Carousel continues on, though.
With Eichel no longer a possibility, all eyes are on star prospect Marco Rossi, who's playing for the Iowa Wild this year. Despite being one of the youngest players in the AHL, Rossi's been dominant so far. He has two goals, nine points, and 23 shots through seven games. Both the points and shots per game totals are among the top of the heap for AHL rookies. In last night's tilt against the Rockford Ice Hogs, Rossi assisted on both the tying and overtime-winning goals.
https://twitter.com/IAWild/status/1458646203235811336
Presumably, the Wild will want to give Rossi a bit more than seven games before moving him up to the NHL, no matter how well he's doing right now. Still, it'll be hard to keep him out of a spot in the NHL this year. Can Gaudreau hold down that center spot in the meantime?
The good news for Gaudreau and the Wild is that speed seems to be the key to success with Kaprizov. Gaudreau has it, which gives Kaprizov an outlet to support him on zone entries or even allows Gaudreau to take over while Kaprizov finds soft spots to score from. Gaudreau also sparks transitions with strong defensive play and isn't out-of-place when moving the puck around in the offensive zone.
Again, the Wild don't need Gaudreau to fill in next to Kaprizov long-term. He's just got to be a capable stopgap. Given that he does many little things well, the potential is there for him to be exactly that; it's just a matter of whether he and his linemates can put up average shooting numbers. The light at the end of the tunnel for the Kaprizov Center Carousel is coming, and it wears No. 23. Until then, it's Gaudreau's turn to hold the fort down long enough to keep the Wild afloat.