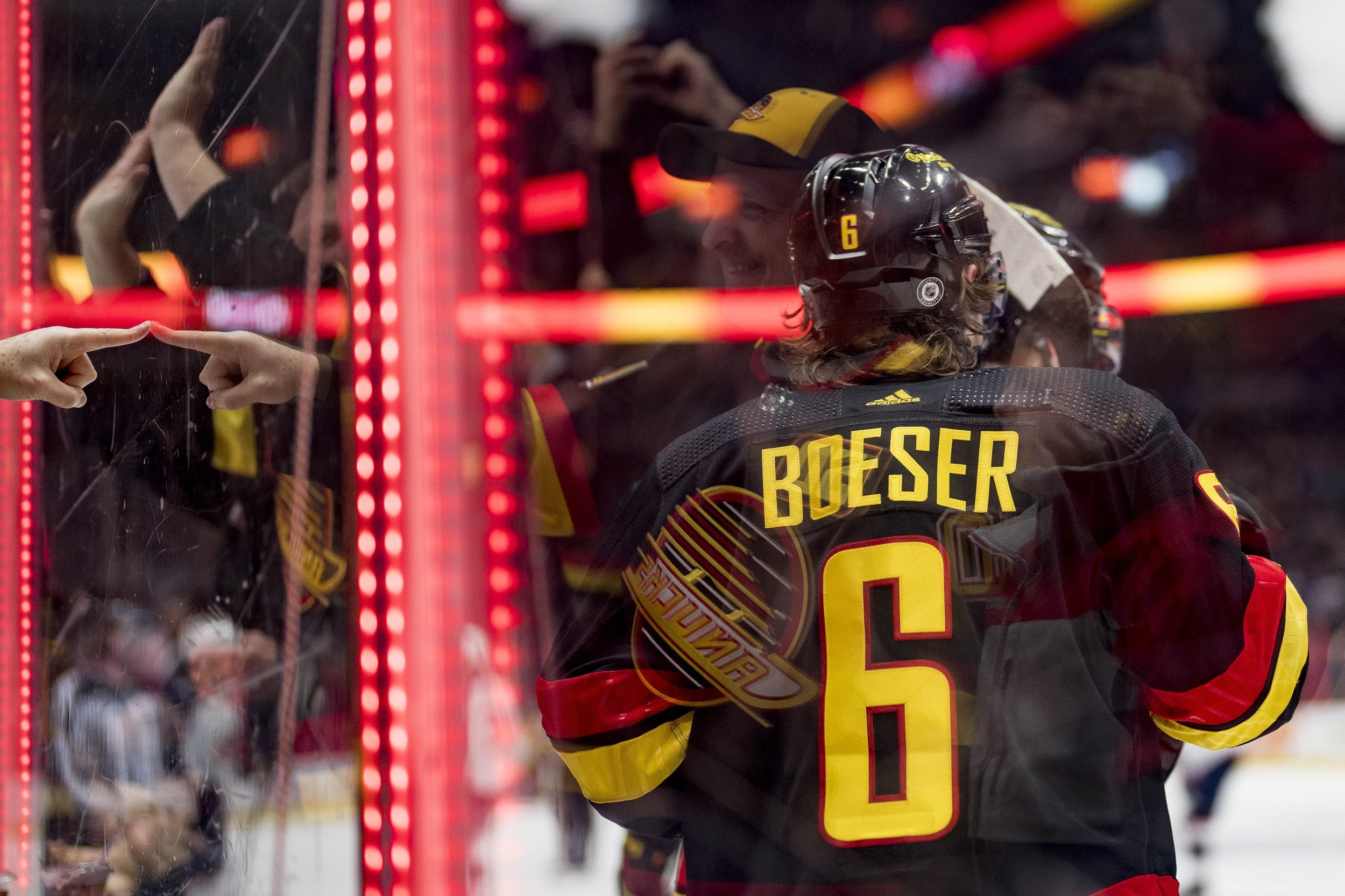 On draft night in 2015, the Minnesota Wild said Thanks but no thanks to Burnsville's Brock Boeser, who sat there staring at the Wild from their backyard at 20th overall. Instead, Minnesota was entranced by the blank gaze of a Swedish lad, Joel Eriksson Ek, with a serial killer's mien and a blue-collar work ethic. Bye, bye Boeser. Enjoy Canada.
Chuck Fletcher and Co. probably overthought things a little with that pick. The Wild needed a scoring wing and could have used the 55 goals Boeser produced in his first two seasons in the NHL. But Eriksson Ek became a late bloomer who broke out with a 26-goal, 56-point season in 2020-21. Eriksson Ek is Minnesota's only viable top-6 center, who has spent most of his time on the third line – because of course they put him there. Still, he's become a necessity for a team that hasn't been able to develop Marco Rossi, their center prospect who was borderline NHL-ready on draft day.
Fortunately, the Wild can put both players on their roster if they act fast. I say fortunately because Minnesota traded Kevin Fiala, who scored 33 goals last year, to the Los Angeles Kings last offseason. Unsurprisingly, they're having trouble scoring because Matt Boldy is stuck on a second-line island without an adequate center or wing partner. Bill Guerin claimed that the Wild didn't have the cap space for him, which was a red herring. They didn't have cap space for Fiala because they didn't create cap space for him.
They also took one of the first offers they received on him, meaning that a team that lacks scoring didn't exactly extract maximum value for a 30-goal scorer. Brock Faber looks like a steady defensive defenseman and is a fan-favorite Gopher captain. And Danila Yurov is a Russian star who was a steal at 19th overall. Still, if we learned anything from the Kirill Kaprizov saga, extracting a player from Mother Russia is pretty tricky because it's Mother Russia.
Furthermore, if the Wild are having trouble getting a point-per-game center in the AHL across the Iowa border, why do we think Faber is plug-and-play? It's two different players who have different roles. But Rossi looked pretty ready to go on draft night, and they've exiled him to the cornfields. They even moved at a snail's pace with Boldy, one of Minnesota's developmental success stories. Boldy's college production put him in elite company, and he dominated the AHL. Still, they kept him out of the playoffs two years ago in a seven-game series against the Vegas Golden Knights, where they could have used depth scoring.
Production in Des Moines, Dinkytown, or Russia doesn't do the Wild much good right now. That isn't great, given they've transformed an exciting 113-point team into a roster carried by a Russian superstar and Filip Gustavsson. Getting Kaprizov at 135th overall in the draft same draft they passed on Boeser feels like a decent make-good, and trading a disgruntled Cam Talbot for Gustavsson was a heist. But Minnesota won't have a successful trade deadline unless they add the 23rd overall pick in 2015 to the mix.
Kaprizov, 25, is about to enter his prime and skating loops around defenders. But the Wild look destined to finish in the same spot they've landed since the 2014-15 season – golfing after the first round or out of the playoffs altogether. Perhaps Gustavsson stands on his head, and Kaprizov becomes MC Hammer-level untouchable with the puck. Otherwise, this team is going nowhere. Even then, underskilled teams that go on miracle runs usually fail to reach the Stanley Cup Finals and are inevitably damned to hockey purgatory. They become too good to get quality picks but not good enough to contend while wasting their best players' prime years. Sound familiar?
The Wild must get creative to bring Boeser home, but it's worth channeling their inner Picasso here. Née, it's imperative. Kaprizov may be under contract and content in the Frozen Tundra, but St. Paul may seem less like Novokuznetsk after another flaccid first-round exit. That's great news for citizens of Minnesota's Capital City, given that few people are pressing to relocate to the second-largest city in the oblast. But it's terrible news for fans who want to see their favorite Russian son retire in Forest Green and Range Red.
Minnesota is caught in the middle because they're trying to serve two masters. On the one hand, they're trying to build a contending team after buying out Zach Parise and Ryan Suter. That makes sense, given they have a franchise winger and an incredible young goaltender. But they also aren't going young, or at least they don't feel comfortable playing their young players. Therefore, they're trying to sell the fanbase on Ryan Hartman and Sam Steel as first-line centers and Marcus Johansson as a player who drives scoring. And they don't have scoring because they haven't developed Rossi and traded Fiala. It's a predicament of their own creation but one they can solve by bringing Boeser home.