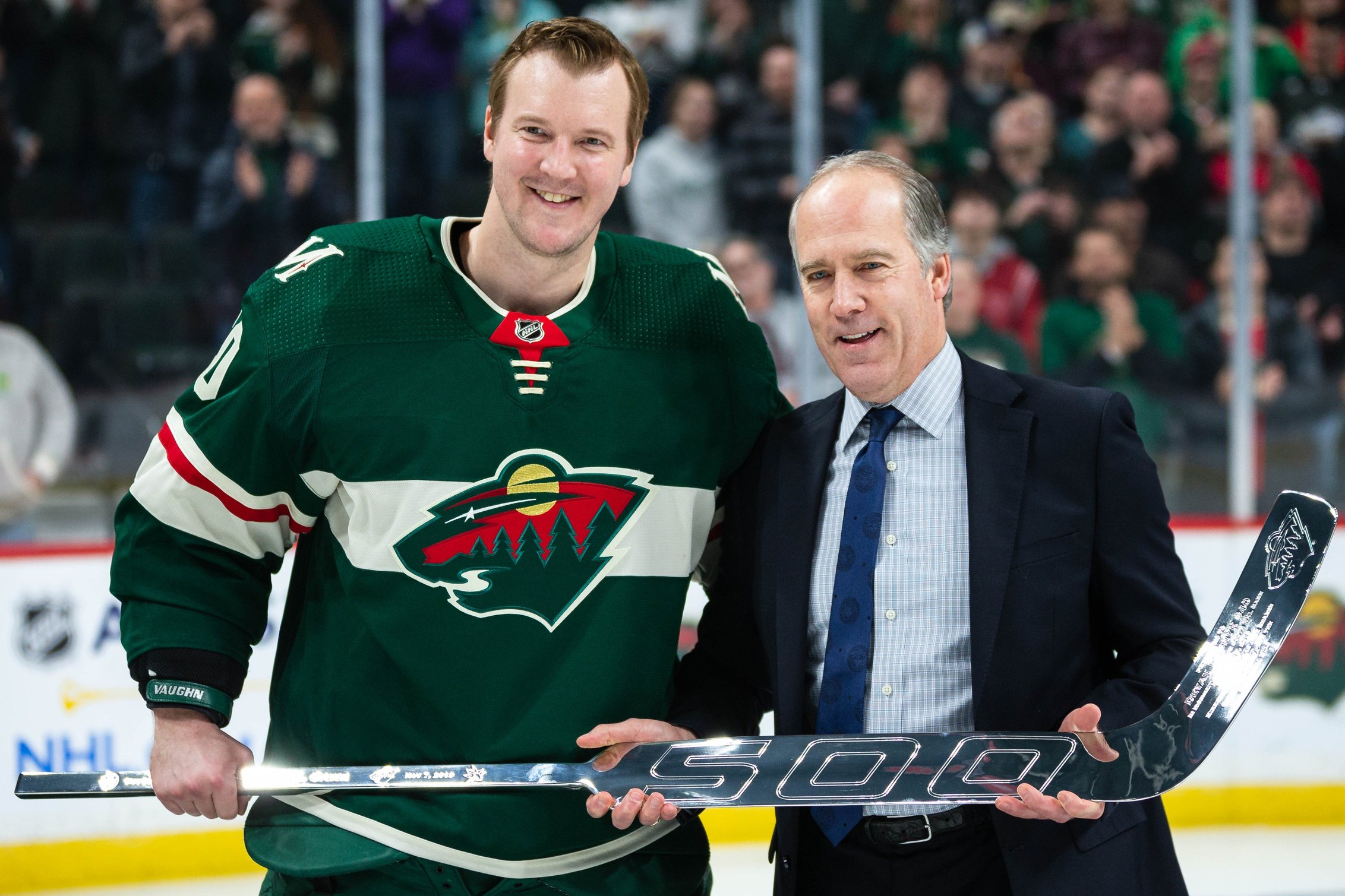 A week ago Monday, Minnesota Wild general manager Bill Guerin and head coach Dean Evason met with the media for their end of season media availability. One of the first bits of news to come out of this media session was that goalie coach Bob Mason would not have his contract renewed after 18 years with the team.
Mason, who is from International Falls and played in the NHL from 1983-91, joined the Wild in 2001 following a two-year stint as goaltending coach of the Atlanta Thrashers. During Mason's time with in Minnesota, the team has enjoyed good success in goal and never have truly never been without decent options in net.
Here are Mason's accomplishments via the team's media guide from this past season:
"Under [Mason's] tutelage, Devan Dubnyk ranked second in the NHL in goals-against average (GAA) and save percentage (SV%) and was named to the NHL's Second All-Star Team, finished third in Vezina Trophy voting and fourth in Hart Trophy voting in 2014-15. Josh Harding led the NHL in GAA and SV% in 2013-14, while goaltenders Niklas Backstrom (2007) and Dwayne Roloson (2004) won the Roger Crozier Saving Grace Award. Dubnyk (2016, 2017), Backstrom (2009) and Roloson (2004) also represented Minnesota in the NHL All-Star Game. The Wild ranked first in the League in 2006-07 with a 2.20 GAA and a .922 SV% and claimed the William Jennings Trophy as the team allowed a league-low 191 goals against."
While the accolades listed off seem great, it became evident in recent years that there should be a change was needed.
Of all the goaltenders the Wild have had over the years, none of them have been close to being truly one of the best in the league. Minnesota got close with Harding in 2013-14, but Multiple Sclerosis derailed his career and the Wild were left reeling again in goal. There have been good goaltenders on the team, but none have really been great while manning the crease in St. Paul.
Roloson became great after his trade to Edmonton in 2006. Dubnyk's career was revived by then Arizona goalie coach Sean Burke before he was traded to Minnesota in 2015, and Mason was able to ride the wave of that revival until this year. Backstrom was good, but he truly never got close to great in all his years with the Wild, even though he still holds several team records.
Another knock on Mason, with the exception of Harding, was that he never developed a goaltender the Wild drafted. Darcy Kuemper appeared to be the next in line after Harding's career came to an abrupt end, and even he was the stalwart that got the Wild to the postseason in 2014. But inconsistencies in his game crept in, and Kuemper could never get it ironed out in Minnesota.
This is going to be the example where coaching comes into play.
Once Kuemper departed Minnesota, he signed with Los Angeles before being traded to Arizona. During the Stanley Cup Playoffs Kuemper has been one of the best goalies in the league. His inconsistencies are a thing of the past.
But how did he get there?
The adjustments came from Kings goaltender coach Bill Ranford, who made some positioning and mental adjustments with the now-former Wild goaltender. From Scott Burnside, who broke this down at The Athletic:
"I had some ideas on how to try and get him back on track," Ranford [told Burnside]. "I knew he was a good goalie and I knew he could help our team."
Kuemper told Ranford he felt heavy and flat-footed, so Ranford suggested being more vertical, upright. Kuemper's so tall he was always going to be able to use his legs to make stops, but being more upright gave him more control.
"It brought more energy back into his body," Ranford said.
They looked at Kuemper's hand positioning – at times Kuemper felt as though his hands were locked in a certain position – and made adjustments there.
One of the knocks on Kuemper was that he didn't practice hard enough, but Ranford did his due diligence. He talked to Mason and saw none of that in his experience in Los Angeles.
Ranford explained to Kuemper how he thought he could help him, and Kuemper responded.
It gets hard if you're practicing every day and know you're not playing, Ranford noted. "He felt like he'd turned into a target," Ranford said. "I've been there, I've felt it and it's not a fun feeling. The frustration of the position can really come into play when you're not playing much."
With all the adjustments he made, turned Kuemper back into the goalie Minnesota saw in 2014. But unfortunately, it happened while Kuemper was playing in a different uniform.
As for the mental aspect of Kuemper's game that was wildly inconsistent while here in Minnesota, that appears to be a thing of the past as well. Coyotes coach Rick Tocchet said "nothing fazes him" during the postseason, and that he is the type of goalie that will raise to the occasion.
With Kaapo Kahkonen on the threshold of being on the NHL roster permanently, the time for change was now and Guerin made the move. While Kahkonen was great in the AHL this past season, winning the AHL's goaltender of the year award, he will have to earn his way into the Minnesota goal next season. Perhaps a change in voice will do him good to take that next step.
Or if the Wild simply want to ride out the final season of Dubnyk's contract along with another year of Alex Stalock, perhaps that change in voice can resurrect Dubnyk and bring him back to form because the past two seasons have seen him go from good to below league average.
No matter which way the Wild go in goal, they will have a new voice with their goaltenders moving forward. A voice that they can only hope will bring great success to the Wild at that position.
http://zonecoverage.com/wp-content/uploads/2016/05/itunes.jpghttp://zonecoverage.com/wp-content/uploads/2017/05/Podcast-header-Image-City-1.jpg