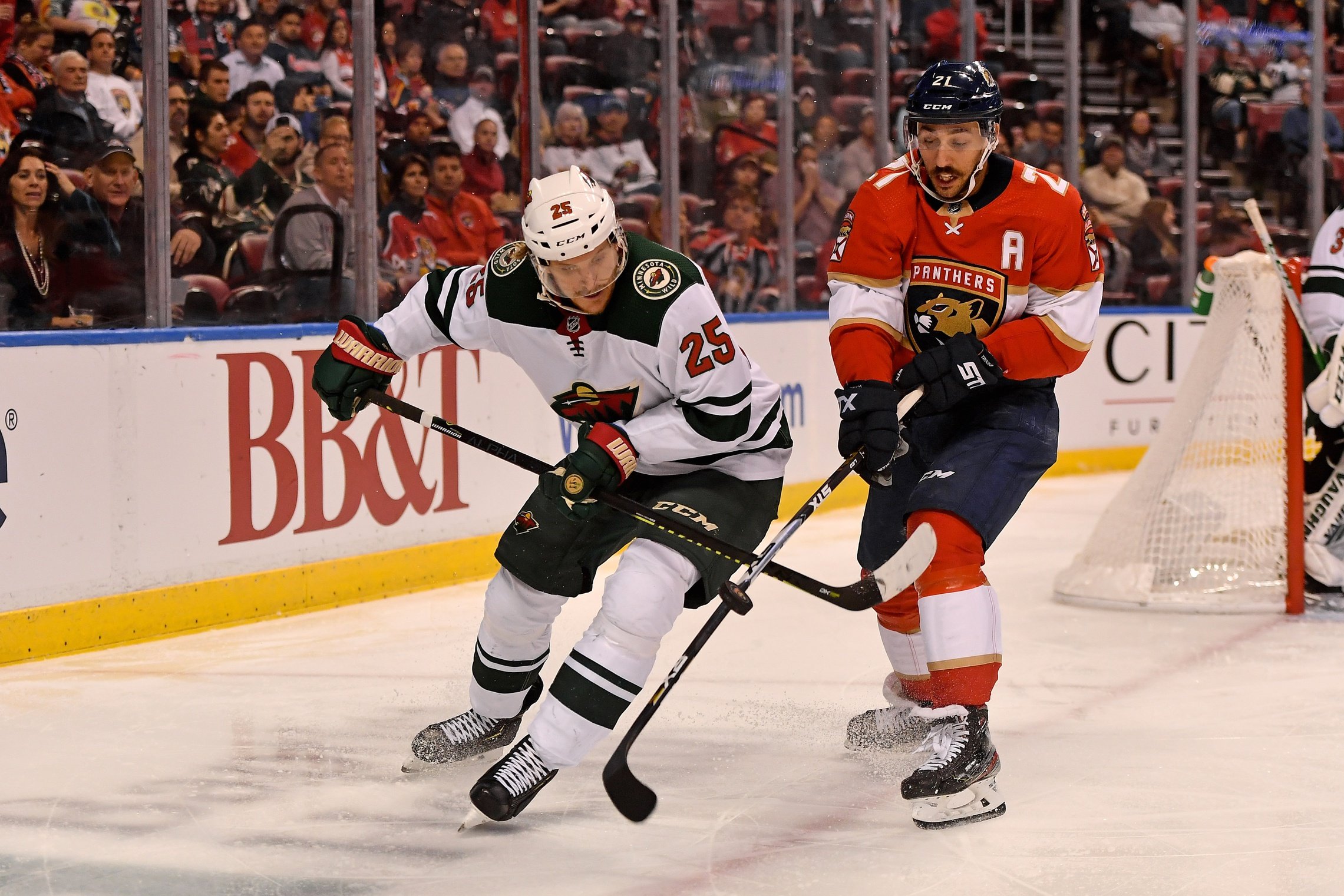 With the trade deadline less than a week away, it's the time of year when the rumors run rampant about teams making calls on certain players. The Minnesota Wild are a team very much out front and center of rumors this trade deadline season, as they still hold two top trade chips on their roster in defensemen Matt Dumba and Jonas Brodin.
Brodin has come into the light in the last day, as it has been reported by The Athletic's Pierre LeBrun and Michael Russo that the Wild have interest in Florida Panthers center Vincent Trocheck and a potential return for the center could be Brodin.
A straight-up deal between the Wild and Panthers involving Brodin and Trocheck would be a massive loss for the Wild, however.
Yes, Trocheck fills an area of need at center and he is only 26 years old. Despite having a 31-goal/75-point season just two years ago, production has fallen off a bit for the Pittsburgh native. He has only has amassed 33 points in 52 games this season. In an injury-shortened season in 2018-19, there were just 34 points for Trocheck.
If you dive into some of the underlying numbers, you will find Trocheck to be an above-average center in terms of driving offense. It is not a high bar to clear, but the Wild are desperately in need of a center who can drive some offense. That does not mean Trocheck is going to be a No. 1 center, however. His production combined with his age tends to say he is what he is at this point.
And that means he is a No. 2 center.


Getting a No. 2 center is nice, but while the Wild sit on big trade chips in Brodin and Dumba, they need to set their sights even higher. They need to find that No. 1 center -- and not back off that request.
If Florida does truly want Brodin, general manager Bill Guerin needs to drive a hard bargain with Panthers general manager Dale Tallon. Brodin is under contract for another season after 2019-20 and carries a very affordable $4.17 million cap hit. Minnesota's 2011 first-round draft pick has been described by The Athletic's Dom Luszczyszyn as "one of the best defensive defensemen on the planet" as you can see on the ice every night with his smooth skating, sound positioning and good puck transition.

There is no need to jettison Brodin at this moment, so Guerin is in a position to hold out for the best possible price -- and he absolutely should.
Now if the offer was upped to Trocheck plus Florida's first-round pick, would that be sufficient enough? It's not a likely scenario, considering Florida is outside the playoffs currently looking in, but something to think about for Guerin. Imagine having a third first-round pick in what is considered to be a deep draft. Florida could, in theory, make the pick lottery protected, but it's not likely the Panthers will go this far trying to land Brodin. With other defensemen out there, they might just move on.
The point in all this is that the Wild don't have to trade Brodin or Dumba before the deadline on Monday. If Guerin does not get a deal he really likes, then he can stand pat and wait for the offseason and try again.
Minnesota's general manager already showed patience with his first trade, landing a first-round pick and high-end prospect from Pittsburgh in exchange for Jason Zucker, so the hope remains he will show it again when it comes to the mad scramble leading up to Monday's 2 p.m. Central deadline.
Don't trade just for trade's sake. Make a trade because you truly believe the team will be better off from it.
Charts in this piece courtesy of Evolving Hockey
http://zonecoverage.com/wp-content/uploads/2016/05/itunes.jpghttp://zonecoverage.com/wp-content/uploads/2017/05/Podcast-header-Image-City-1.jpg