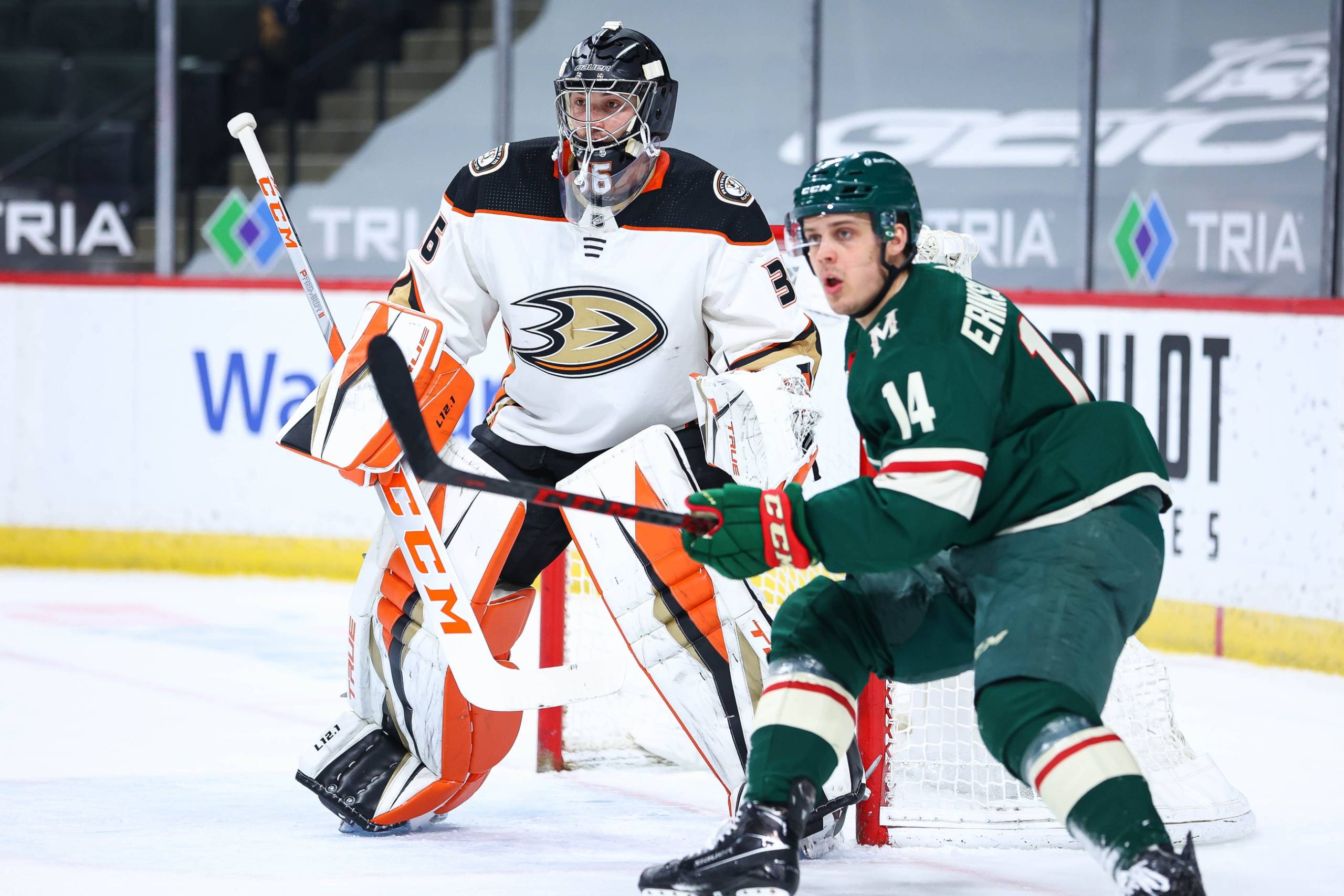 In 2018-19, John Gibson played 58 games as the Anaheim Ducks' workhorse goalie, with a 917 save percentage and his first top-10 placing in Vezina Trophy voting. It was the end of a brilliant three-year stretch that earned Gibson a hefty 8-year deal worth $6.67 million annually. Long-term goalie contracts are risky, but if a player puts up elite results, you pay them now and ask questions later. Besides, Gibson was just 26, which is plenty young for an elite goalie.
Now we know why big goalie contracts are risky. Over the past three seasons, Gibson's elite game disappeared. Sure, he could get hot for stretches, but on the whole, he ranks in the bottom half of the league in most categories.
Of the 81 goalies who've faced 1000-plus shot attempts in that time, Gibson is 55th with a .904 save percentage. His GSAx is -18.3, or 60th place. The amount of time he gets in net (5th in the NHL with 142 GP) skews that last number a bit, as plenty of goalies are much worse on a per-minute basis. But when your save percentage barely surpasses Petr Mrazek, how much is that really worth?
With the changing of regimes in Anaheim, new general Pat Verbeek may have seen enough. Though Gibson has denied asking for a trade, reporters are hinting that the Ducks could trade Gibson this offseason, and despite his struggles, there should be some takers. Teams like the Edmonton Oilers, the Boston Bruins, and the Toronto Maple Leafs faltered this playoff season, in part, because their goaltending wasn't good enough.
Count the Minnesota Wild among that group.
As publicly stated by GM Bill Guerin, the plan right now is to bring back the Cam Talbot and Marc-Andre Fleury tandem they rolled into the playoffs with last year. 10K Rinks' own Justin Wiggins explained why that was a bad idea last week. Putting all your eggs in the baskets of aging goalies that already let you down doesn't seem to be a winning strategy.
The problem is, is spending assets to acquire an expensive, struggling goalie the answer?
It is if the Wild think they can fix him. Gibson wasn't merely a top goalie in the NHL three years ago. He was the best, and it wasn't even close. From 2016-17 to 2018-19, Gibson played 170 games, 11th-most in hockey. In that time, he had a .922 save percentage, the highest of any goalie who played over 100 games. And that might even sell him short.
Over those three seasons, he posted a staggering 84.1 Goals Saved Above Expected. It was almost 20 goals ahead of Sergei Bobrovsky, who was in second place. His GSAx was over double that of Braden Holtby, in third place. Henrik Lundqvist was the only other goalie to sustain that performance over a three-year run since 2007-08.
Is a change of scenery all he needs to reattain his status as an elite goalie? It's not like the Wild don't already have proof of concept with what happens when a formerly touted, currently struggling goalie can do in their system.
We're, of course, talking about Devan Dubnyk. Even if you throw out his .936 save percentage in 39 games for the Wild after a January 2015 trade as a fluke (and it was), there's no denying that Dubnyk revived his career in Minnesota. Over the next three seasons, Dubnyk posted a .920 save percentage while starting over 60 games per season.
The kicker here is: Dubnyk wasn't even remarkably great, at least in terms of his underlying numbers. According to GSAx, he saved 25.8 goals below expected in those three seasons. With the Wild's system doing the heavy lifting, though, it worked. And say what you want about Gibson, but he's probably still better than Dubnyk, even at this diminished stage of his career.
But then you may see some red flags. For example, Talbot and Fleury had higher save percentages with the Wild than Gibson had this season. But again, this is in part credit to Minnesota's system. The Wild were 10th in the league at surrendering expected goals, while the Ducks were 10th-worst.
And we've seen what happens when the Wild get lousy goaltending. Their goalies allowed a combined -16.2 GSAx this season, and they finished second in the West. Even if Gibson only cuts 10 or so goals off that, Minnesota's in good shape. Again, that's only if he doesn't do any better with a change of scenery.
That's the high-reward part of the equation. What's the risk, though?
The biggest concern is money, as with every decision the Wild face these days. Gibson's cap hit would make up just under 10% of their effective cap over the next three seasons, which is hampered significantly by the Zach Parise/Ryan Suter buyouts. If Gibson can't cut it, that's nearly $7 million of cap space tied up for five years.
That said, $6.67 million is still less than the projected cost of Talbot ($3.5 million on his last year) and Fleury (projected for a $4.7 million cap hit via Evolving Hockey). Throw in a league-minimum backup for Gibson, and that's still less than what Minnesota plans to spend on goaltending now.
Given that Minnesota is theoretically taking on salary in this deal, is that worth, say, the Wild's 24th overall pick, or more, on the gamble? Like the Parise/Suter buyouts and the pending Kevin Fiala trade, it'd be a huge swing by Guerin's front office.
But it offers potential upside and rewards that Minnesota's current options just don't provide. Even if Gibson is average, or slightly below average, he's indisputably a workhorse goalie. At age 29, he should be able to soak up 50-60 games for the next few seasons.
At worst, that buys a ton of time for Jesper Wallstedt. As it stands now, we may well see a scenario where Wallstedt needs to step into the crease next year. Even if the Wild hold off on the pressure, it's hard to see him in the AHL for much longer than a year. Ask the Philadelphia Flyers and Carter Hart how well that works.
Gibson and an Alex Stalock-esque backup could give Wallstedt two full seasons in the AHL to acclimate to, then dominate, a high-level North American league. Say he gets those two seasons. He can then slide in behind Gibson, first as a backup, then slowly taking on more responsibility.
After three years of that, Wallstedt should be ready to be a full-time starter, and Gibson's contract should expire. That makes sense from a financial standpoint, too, as Wallstedt's entry-level contract would expire by then.
It's a similar path that the Tampa Bay Lightning used with Andrei Vasilevskiy, letting him develop behind Ben Bishop. The New York Rangers' slow-rolling worked with Igor Shesterkin, playing a year in the AHL at 24 (much older than Wallstedt, 19, is now) and as Lundqvist's backup before taking the starting job. And it's the same path the Ducks used with Gibson, letting him blossom behind Ryan Miller.
Is Gibson a great bet to turn into an elite starter again? It's possible, but probably not. The point is, the Wild don't have a ton of options. Free-agent backups aren't going to get them what they need, and they don't have the cash to outbid the market.
However, they have draft and prospect capital, and just enough cap space to fit someone like Gibson in. The move is a risk, but so is everything else the Wild are doing these days. Even if it's a moderate flop, acquiring Gibson is the Wild's best possible insurance have against sabotaging their future in Wallstedt. It's absolutely something they must look into.