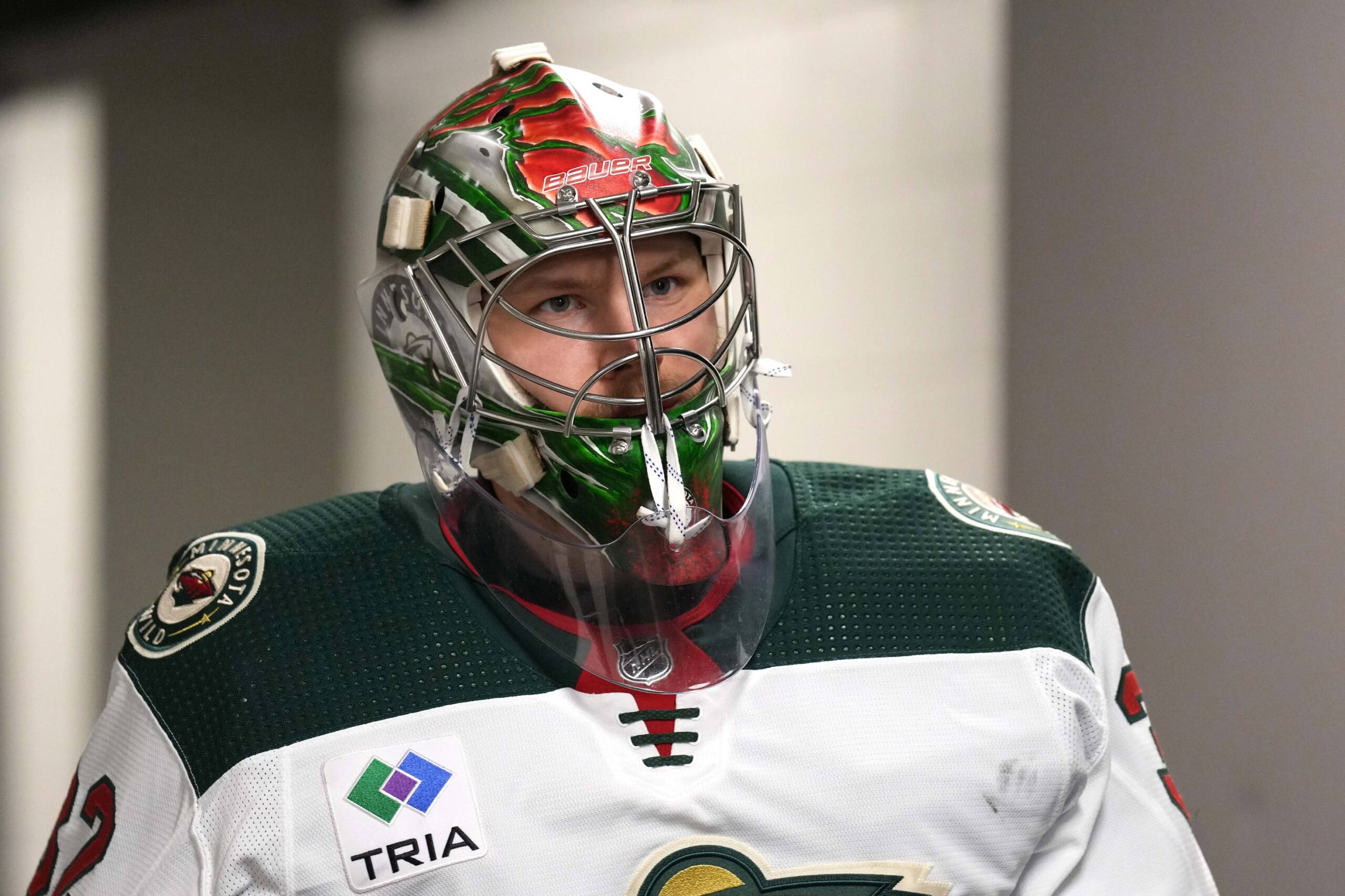 There was a time when Filip Gustavsson looked like a mortal human and not a puck-stopping machine. It lasted for about a week, with two uncharacteristically poor starts against the Arizona Coyotes and Boston Bruins.
At this point, though, any time there's a crooked number in the Goals Allowed category, it feels like an off night from the "Gus Bus." Gustavsson has only given up three or more goals in 10 of his 34 appearances. In 17 of those remaining 24 (counting a 20-minute relief stint against the Vegas Golden Knights), he's surrendered one goal or fewer.
If that number sounds insane, it's because it is. Ilya Sorokin (19) and Linus Ullmark (17) are the only goalies who have more such appearances this year, per Stathead. Alexandar Georgiev is tied with Gustavsson, yes, but they remain ahead of Jake Oettinger (15), Connor Hellebuyck (13), Andrei Vasilevskiy, Igor Shesterkin, and Juuse Saros (12 each).
Gustavsson's done so well for so long that it's getting impossible to dismiss his success as a fluke. He's now played over 2000 minutes. Since 2007-08 there are 493 seasons by a goalie logging 2000-plus minutes. Where does Gustavsson rank among them in save percentage?
[caption id=attachment_146805" align="alignnone" width="578]

Courtesy of Evolving Hockey[/caption]
Gustavsson is sitting at ninth place, stopping a staggering 93.15% of shots. He's currently one of 11 players to sit at a .930 or higher save percentage since 2007-08, which goes to show just how difficult it is to do over a long stretch of time. Look at the players who've done it. How many flukes are there?
The book obviously isn't written on either Ullmark or Shesterkin. Maybe you'd say Brian Elliott, but even he had a great run as a tandem goalie. In the six years after his .939, he enjoyed a six-year stretch where he posted a .916 save%. That also includes a brilliant .930 year in St. Louis when he started 38 games during the 2015-16 season.
You might also point to Antti Raanta, but from age 25-30, he sported a .924 save%, which is pretty elite. He merely was limited by injuries. Same with Ben Bishop, who had a career .921 save% in almost 400 starts before injuries ended his career. Semyon Varlamov might be part of a tandem goalie now, but he is a career .916 netminder who finished as Vezina runner-up in 2013-14 -- which isn't even the year that made this list.
Past that, you're seeing the best goalies of the last era or two. Tim Thomas, Carey Price, Sergei Bobrovsky, Tuukka Rask, and Henrik Lundqvist. That's seven Vezina Trophies, six additional nominations between them, with a Hart Trophy thrown in for good measure.
And there's Gustavsson, revving his engine with the best of them.
At this point, we can be relatively confident that Gustavsson can be a great tandem option for the foreseeable future, at the very least. And that's if he lives up to the lower end of the track records established by these high-flying goalies.
So, long-term, that's great. But what about the short-term? After all, the Wild are weeks away from the playoffs, and if this low-scoring team is going on a run, it will be on the back of the "Gus Bus."
Right now, that is looking good. But what happens when the samples get smaller? In baseball, for example, a Cy Young, Hall of Fame-bound pitcher like Clayton Kershaw can get rocked in the postseason. Similarly, Gustavsson is going to be more vulnerable to the whims of randomness and small funks, without a long run for things to even out over.
So, how does absurd regular season success translate in the NHL playoffs? Do these goalies tend to thrive in the playoffs at the peak of their powers, or do they get Kershaw-ed?
Let's look at that Top-15 again, but this time, at how they parlayed their success into the Stanley Cup Playoffs.
[caption id=attachment_146807" align="alignnone" width="559]

Courtesy of Evolving Hockey[/caption]
We suppose this, in itself, is a small sample, with only 11 postseasons between these 15 seasons. Still it's very encouraging. Looking at these 11 postseasons, and we see that six of these goalies were able to keep up something near their regular-season dominance, sporting a .925 save% or higher.
There are also two other categories. Those who did merely okay, finishing their playoff runs between .914 and .924, which is pretty respectable and good. Then there are the outright disasters, with Elliott (.903) and Bobrovsky (.886) falling into that group.
Even then, it maybe isn't quite so bad, at least for Elliott. The San Jose Sharks and Los Angeles Kings out-chanced his St. Louis Blues. But through five games, Elliott sported a .944 before the Kings brought him back down to Earth late in Round 2. Still, he finished the postseason with a 1.88 Goals Saved Above Expected, which is much better than a .903 save percentage indicates.
That's another positive indication for Gustavsson, by the way, as the playoffs near. Look at those 11 postseasons again. Only Bobrovsky failed to exit the first round. Here's the breakdown of how far these goalies took their teams:
Lost in Quarterfinals: 1 (Bobrovsky)
Lost in Semifinals: 6 (Bishop, Elliott, Price, Rask 2x, Thomas)
Lost in Conference Finals: 3 (Lundqvist, Shesterkin, Varlamov)
Lost in Cup Final: 0
Won Stanley Cup: 1 (Thomas)
10 out of 11 of these players winning a round, with four trips to the Conference Final sound like pretty good odds. Of course, these are (mostly) the best goalies in recent memories at the height of their powers. But if even Tier 2 or lower goalies like Elliott, Bishop, and Varlamov can reliably convert regular-season success into strong postseasons, that's great news for the Wild.
For what it's worth, Gustavsson isn't a product of beating up on weaker teams. Not by any stretch. His save percentage against playoff teams (.935) is higher than his track record against non-playoff squads (.929).
No one will judge a Wild fan for having the optimism beaten out of them come playoff time. Seeing the Blues nullify Minnesota's two best regular seasons ever will do that. Same with running into the buzzsaw Chicago Blackhawks every year.
But if you're looking for any reason to believe, it's not in Kirill Kaprizov. It's not the surge of scoring post-trade deadline. It's the "Gus Bus." We're seeing him at the peak of his powers, and there's every reason to believe he can keep it up now and going forward.
All data via Evolving Hockey unless indicated otherwise.