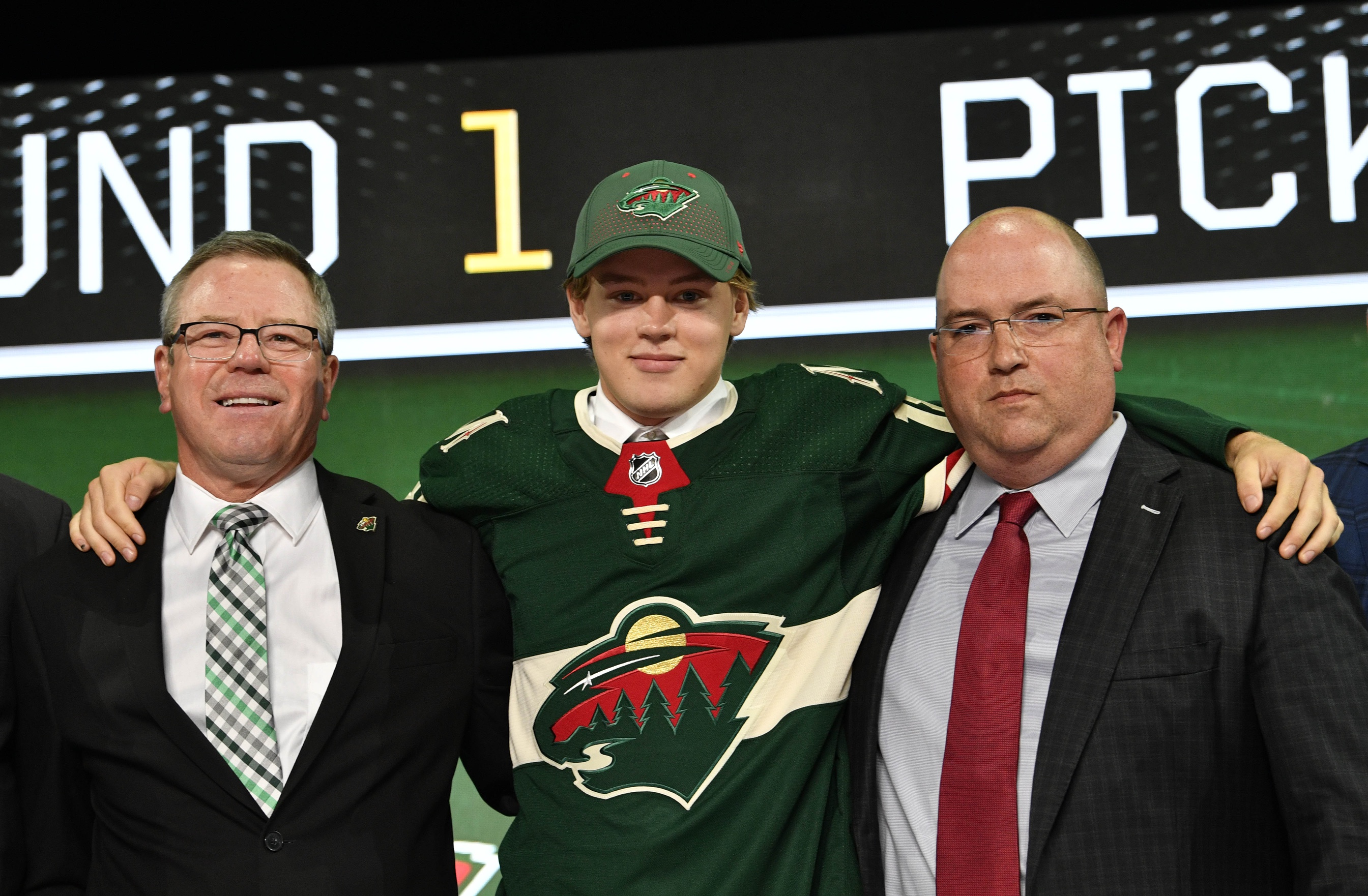 Image courtesy of © Jerome Miron - USA TODAY Sports
Remember 2018? Zach Parise, Eric Staal, and Mikael Granlund were the Minnesota Wild's leading scorers. Matt Dumba had double-digit goals, and Devan Dubnyk played almost 70 games. 
Times were different, and so was management. Paul Fenton was in charge of his first draft. Draft analysts believed Fenton had a great eye for talent when he was with the Nashville Predators. The Wild had three third-round picks after trading Jason Pominville and Alex Tuch. However, they did not have their second-round pick after trading it to the Arizona Coyotes for Martin Hanzal and Ryan White. 
The Wild had the 24th overall pick and had lost out on falling offensive dynamo Ryan Merkley. The New York Rangers took Minnesota native and dual-position star K'Andre Miller at 22. With no picks in the second round, Minnesota's new management took a swing at a sturdy, defense-first defenseman from Sweden. 
Unfortunately, they got a little overzealous.
The Wild took Filip Johansson 24th overall. Many fans didn't know who he was. Experts saw Johansson as a consensus second or third-round pick. He had no business being picked in the first round. Johansson had risen his stock with his mobility and high hockey IQ, but he was still a risky pick in the first round. The Wild were probably worried that he would not be available when they picked next at the start of the third round and gambled on him. 
So how did Fenton's first pick turn out? 
Well, Johansson is 23, the Vancouver Canucks own his rights, and he hasn't seen AHL action let alone NHL action yet. Safe to say this wasn't Minnesota's best selection. Two of the players the Wild picked after Johansson have been more productive, and a trio of defensemen picked almost immediately after Johansson has had positive impacts in the NHL. 
The Wild took Connor Dewar and Jack McBain, and they have succeeded in the NHL. McBain plays in Arizona, but the Wild traded him for a second-round pick that turned into potential game-breaker Hunter Haight. Dewar has been a stable player in Minnesota's bottom six and a critical part of the penalty kill over the last few years. 
Fumbling this pick looked bad at the time, and it looks even worse today. But what could the Wild have gotten with that pick instead? Let's assume Minnesota was going to go defense with that pick. Who were some notable defensemen taken right after Johansson? 
At pick 28, the Rangers took Nils Lundkvist, an offensive defenseman with a lot of potential. Last season, New York traded him to the Dallas Stars for a first-round pick at the start of the year. He hasn't reached the ceiling that many scouts thought he might have, but there's been some promise, and time will tell if he can be a reliable offensive defenseman in the NHL. He would fit perfectly as a cheap option on the Wild's bottom pair with a little more size. 
At pick 29, the Toronto Maple Leafs took Rasmus Sandin. He was a bit of an enigma during his time in Toronto. He was streaky and inconsistent defensively, and they traded him to the Washington Capitals for a first-rounder. During his last season stretch in the nation's capital, he exploded into an offensive dynamo, scoring at nearly a point-per-game pace. He put up 15 points in 19 games on Washington's blueline. That would look great on Minnesota's D-core, which lacks a real scoring punch. 
The last of the picks taken in Johansson's range was the first pick in the second round. The Buffalo Sabres took Mattias Samuelsson, and he's been a capable bottom-four defenseman. He's a stay-at-home, two-way defenseman who provides solid depth for any team. He does not bring much on the offensive side of the puck, with only two goals in over 100 games. But his steady defensive presence would be an excellent asset for Minnesota's defense right now. 
Sean Durzi and Calen Addison are two other defensemen taken later in the second round. The Wild had different management and would probably not have picked either of these shorter defensemen at the time. However, Durzi and Addison have succeeded as puck-moving offensive-defensemen in the NHL. Durzi became a cap casualty for the Los Angeles Kings, and they moved him to Arizona. Durzi put up 65 points in 135 games for Los Angeles. That's almost half a point-per-game pace, which isn't bad from a second-rounder. 
I know the Wild probably won't take a forward but bear with me. Kirill Marchenko does not even have 60 games in the NHL, but he already has 20 goals, and the Columbus Blue Jackets got him with pick 49 in the second round. Just imagine how fun another Russian sniper on this Minnesota Wild team would be. 
Other notable players taken after pick 24:
The Wild received a second-round pick as compensation for not retaining Johansson's rights. This pick ended up being forward Rieger Lorenz, who is looking to build upon his freshman season at the University of Denver when he only recorded nine points in 37 games on a veteran-filled squad.  
Any affordable, team-controlled talent is useful for the cap-strapped Wild. They need young players who are effective to be able to contribute. Having a pick like this work out would have been huge for them. 
Taking Filip Johansson is not a back-breaking, franchise-altering mistake by Paul Fenton in his first draft. However, any of the players listed above would be helping the Wild to win games now. Time will tell how Lorenz pans out, but any of these other guys are doing a whole heck of a lot more in the NHL than Johansson. 
3