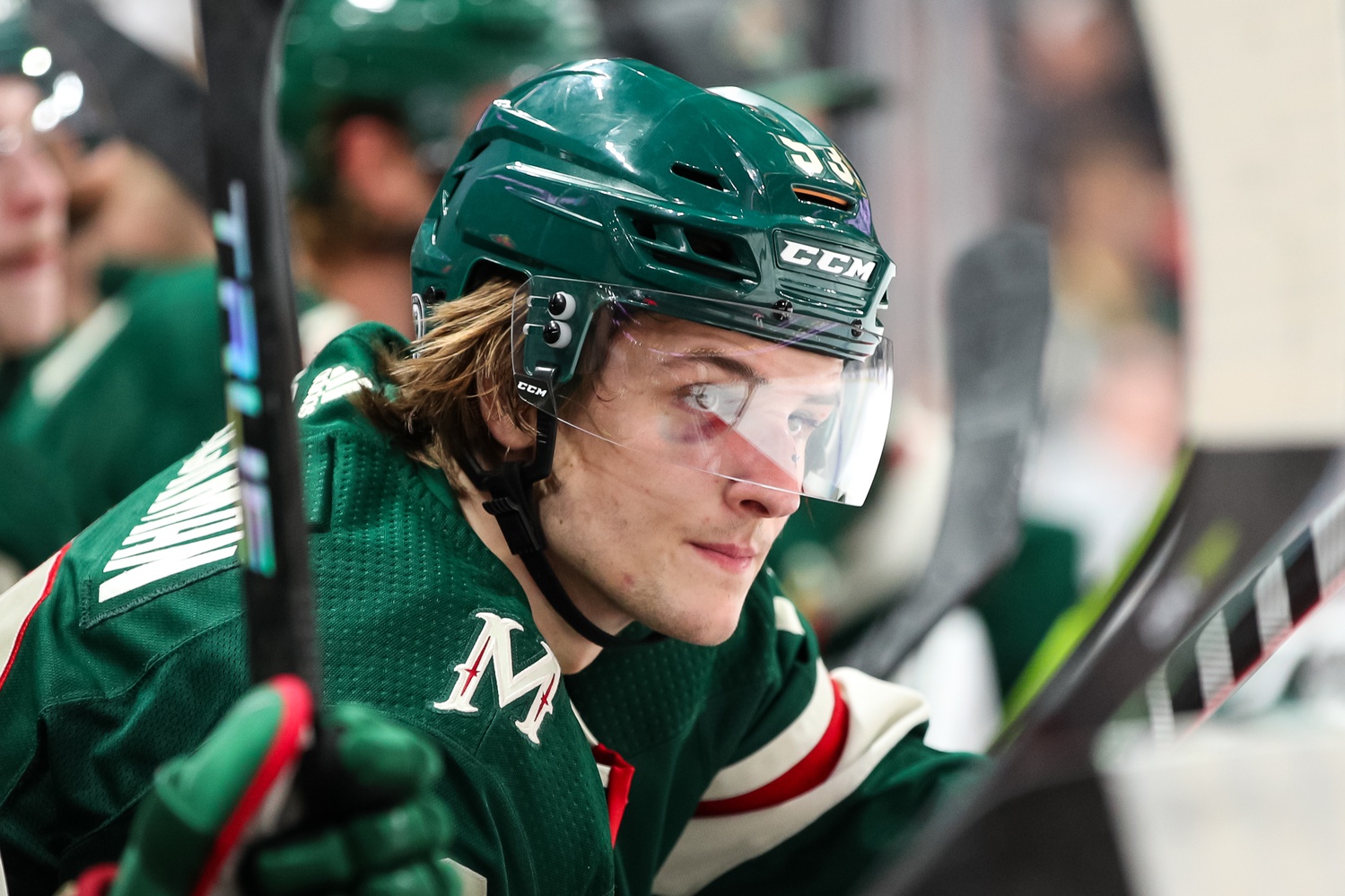 Image courtesy of © David Berding-USA TODAY Sports
Primacy is an educational concept that states that it's easiest to learn new information as early as possible when tackling a new concept. It applies very strongly to the draft. Within a news cycle of NHL draft day, bloggers and reporters fill fans' heads with highlight reels and best-case scenarios. These ideas take root next to a name that many fans are learning for the first time. Years later, that bright-eyed young man from the draft stage seems to take the NHL ice nothing close to that level, leaving fans to ask, What happened?
Watching your favorite prospects get older can be a melancholy experience. The reality is that it's unfathomably difficult to play professional hockey in comparison to junior hockey or even the NCAA. The difference can be especially stark for talented offensive players. It's also especially easy to measure, which prompted Byron Bader of HockeyProspecting.com to investigate whether a drop in scoring is predictive of future troubles. Beckman's name came up in the list of players who had trouble transitioning to the pro level. 
Bader's analysis was based on scoring equivalency (NHLe), a metric that adjusts point totals based on how hard it is to score at different levels. It adds up goals, primary assists, and secondary assists at different weights, then translates them to NHL points based on the relative difficulty of scoring in that league. It's a great way to understand the average change in per-game scoring when a prospect moves up or down a level. 
The Wild drafted Beckman in 2019, meaning 2019-20 was his D+1 season. The scoring touch Beckman demonstrated in the WHL didn't hold up at the professional level in D+3 (2021-22).

Bader's analysis should capture Beckman's game reasonably well. He's a scorer. Sure, there's plenty of physicality and defense to his game, but that's true of almost every hockey player. Many fans hope that Beckman's breakout year is coming soon. On the other hand, Bader's analysis suggests that Beckman only has a 34% to 50% chance to play out a meaningful NHL career (200+ games, by his definition). 
Could that be true? 
To understand Adam Beckman requires a close look at his history. Beckman was an offensive driver and a triggerman in junior hockey. Teams brought him in for his effective shot and the flashes of offensive brilliance he brought to the ice in the WHL. His offensive game developed steadily, peaking with a nomination for the 2019-20 David Branch Player of the Year Award. The two other nominees were Marco Rossi and Alexis Lafreniere. That's esteemed company, even if he was a full year older than them. 
Early in the '20-21 season, Spokane Chiefs GM Scott Carter mentioned that Beckman had been slow-cooking since he was 16.  
"He really made our hockey club at 16, but we elected to send him back home," Carter said. "But we envisioned him being a more offensive hockey player and not a 13th forward platooning on a fourth line. We wanted him to go back and be a dominant player at the [AAA] level."
It's common practice in prospect development to hold a player back when they're meant for a scoring role. To preserve their confidence, hockey executives will keep a player in a scoring role with more ice time at a lower level. Perhaps that's why Beckman played only 9 AHL games in '20-21, even though he'd already shown the WHL was light work for him. 
In Beckman's case, this is made even more likely because he's not especially large. "Just putting on strength has always been one of my biggest weaknesses as a player," Beckman noted in the same article, "so just getting some time to work on myself physically was hugely beneficial this summer." 
On film, Beckman epitomizes the epitome of a scrappy, undersized, offensive winger. Even if he's behind the typical schedule for a star scorer, his AHL highlights are scintillating. 
Beckman's shot is his superpower. It's one of the reasons that he often scores as many goals as assists. His release is quick and powerful, allowing him to shoot with less space. That's important in transitioning to the NHL, where defenses clog shooting lanes and consistently create stick-on-stick interference during the shooting motion. 
Beckman puts the value of this skill on full display in his overtime winner against the St. Louis Blues. His short shooting motion allows him to disguise his shot through traffic, fooling the goaltender. 
Beckman's shot isn't so good that he can score buckets of NHL goals with it. But he'll supplement that scoring volume with his instinct to go to the net. 
He has the toughness to play in dirty areas, but he's so good at timing his drive to the net that he rarely takes much of a beating. That's an important intangible for an undersized forward in the NHL. 
So it seems like Beckman is safe for now, and there's even a chance that he'll be an offensive weapon even if he never becomes more than a middle-six forward. But what's his path forward? 
The HockeyProspecting.com model gave two strong comparables for Beckman from his draft year in Vincent Trocheck and Brad Marchand. Both are undersized scorers, and both were late bloomers, just like Beckman.


Both of these outcomes offer Beckman a best-case scenario -- Marchand is a superstar, and Trocheck scored 75 points in 2017-18. Before either of them did that, though, Trocheck took four years to establish himself as a full-time NHL player after his own draft, and Marchand took five seasons. Beckman is entering Year 5. Just like Trocheck and Marchand, he played a few NHL games during Years 3 and 4. 
To make this track, Beckman needs to carve out sizable time in the NHL this year. The problem is that the roster has essentially no cap space to call up a 13th forward. The only path for him to make the NHL club this year is likely as an injury replacement. If Beckman puts up a career year in the AHL, he'll be the first name to be called up. 
If Rossi can slot into the Top-6, Evason said he expects that the third line will likely play Ryan Hartman or Frederick Gaudreau on the wing. That means an injury to any of the top nine forwards could open the door for Addison. But if that doesn't happen, Beckman can still crack next year's roster if he plays out of his mind because Minnesota has three wings becoming UFA's in 2024-25. 
The stakes are high for Adam Beckman this year. His route to the NHL does not include stops on the fourth line because he doesn't fit NHL-level penalty kill roles. He has to score to bring value. If he struggled to transition from junior to the AHL, he may encounter bigger hurdles trying to score in the show. The opportunity is there, but Beckman will have to be the same bright-eyed young man from the 2019 draft stage. Hockey fans are all too familiar with how rare that is. If Beckman bucks that trend, though, fans can puff out their chests and declare that they always knew he had it -- and so can he.
2

1