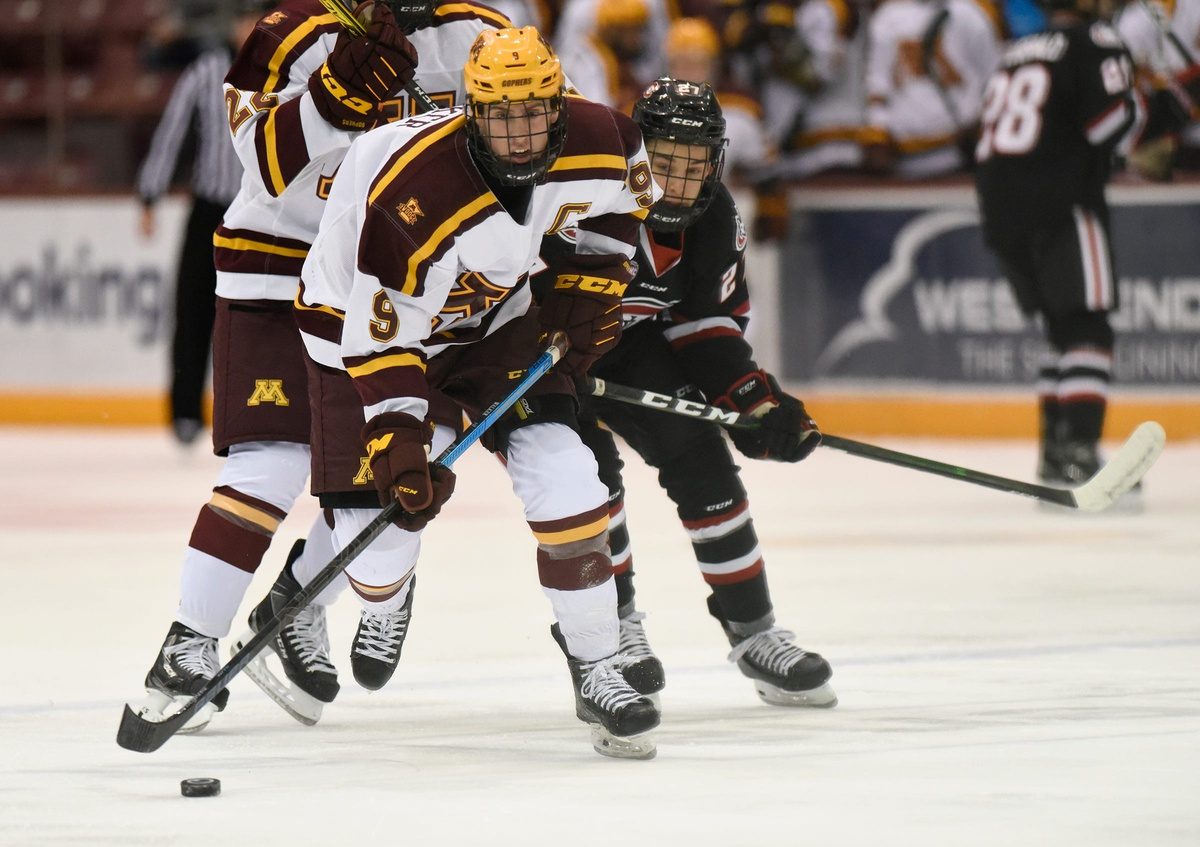 Minnesotans love an excellent hometown sports moment. It gives us a great sense of pride when one of our own makes it to the big leagues. Edina native Sammy Walker did that on Sunday after being called up from Iowa. Not many were expecting this call-up, but with the injuries and coaches continuing to experiment with line combinations, this is a great time for Walker to get his feet wet in the NHL.
At the time of his call-up, Walker was tearing it up in the American Hockey League. He is still first on the team in points, with 11 goals and 11 assists, and six of those goals came on the power play. He skated in 21 games for Iowa, was playing on the first line, and also had plenty of power play time.
Walker played in four full seasons with the Gophers and was captain for three, so he's not short on experience. He also became the 120th all-time Gopher to play in the NHL. Minnesota hockey fans love the local connections, and Walker is as good as you can get.
The Wild gave him the full rookie treatment for his first game. They asked him to deliver the line-up in the locker room, and he got a longer-than-usual solo rookie lap during warmups.
"It felt like forever." He said, "I thought they were never going to come out, but it's fun to get to do that, for sure." When asked which one he was more nervous about, he was candid. "The introductions, for sure," he said. "My stomach dropped when I heard I had to do it, but I thought I did pretty well with it."
Instead of putting him on the fourth line like a lot of rookies, Dean Evason placed Walker on a scoring line with Freddy Gaudreau and Matt Boldy. He certainly did not look out of place during the game, logging 12 shifts and almost 10 minutes of ice time. Walker also drew the penalty that led to the game-winning goal.
He had a chance to score in his debut on a semi-breakaway when he outskated veteran defenseman Oliver Ekman-Larsson, but he could not cash in. He said, "I was trying to get in as fast as I could, tried to go upper right, but I just missed the net there."
Linemate Matt Boldy thought Walker was great in his debut. "He was awesome," Boldy said. "He definitely didn't look out of place out there, which I think is the biggest thing. He looked comfortable, was making plays, and skating. He looked awesome out there, and I'm really happy for him."
Head coach Dean Evason also liked what he saw from Walker. "Really good. He had one spin-o-rama coming out of our zone that he'd want back, but obviously, he's got speed. When you've got a breakaway in your first game in the NHL, you know that you can get going. He was good defensively. We really liked the way he conducted himself here tonight."
He's not a typical rookie, either. He's got plenty of experience under his belt and will turn 24 next year. "He's not that young," Evason said. "To play your first game, I don't care how old you are, there's gotta be a lot of nerves and butterflies going. He conducted himself very well in all areas. He didn't panic, he had a bit of poise, so that was nice to see. He should get better as we go along."
Walker also liked how he played his first game, saying, "I feel like I did pretty well. I tried to think of it as just another game and just tried to play my game and do well. I'm glad I was able to contribute and glad we got the win tonight."
Walker again played a great game with several family members in attendance in his home debut. He was all over the ice and made a great impression on the home fans. He was very creative at times. "Just trying to buzz around the ice and wreak havoc," Walker said.
He appeared to score his first point on a secondary assist, but after some back-and-forth, the NHL deemed that Connor McDavid touched the puck after Walker did, taking away the elusive first NHL point.
In only his second NHL game, Walker got the chance to skate opposite McDavid and Leon Draisaitl, two of the league's best players. Considering they were pretty much shut down all game long, I'd say he did a pretty good job. Walker was a little in awe himself, saying, "It's pretty crazy. I'm like, 'Should I get off?' Yeah… It's crazy."
Gaudreau is inspired by the rookie as well, saying, "I'm very impressed. He's coming in, he plays with so much speed and confidence. He's fun to play with. He always has a smile on his face. He's got great energy. He's a treat to play with, and it's fun to see."
Walker is definitely making a case to stay in Minnesota for a little while longer. Or at least until the Wild are fully healthy. If he continues to develop chemistry with Gaudreau and Boldy, it's a no-brainer to keep him up.
Minnesota Wild fans will always have a soft spot for the hometown players, and Sammy Walker is giving the local fans exactly what they want to see. It brings the fans so much joy to hear how much fun Walker's teammates are having, plus the Wild needed another right-shot forward. In only two games played with Minnesota, Walker's already got a lot going for him.