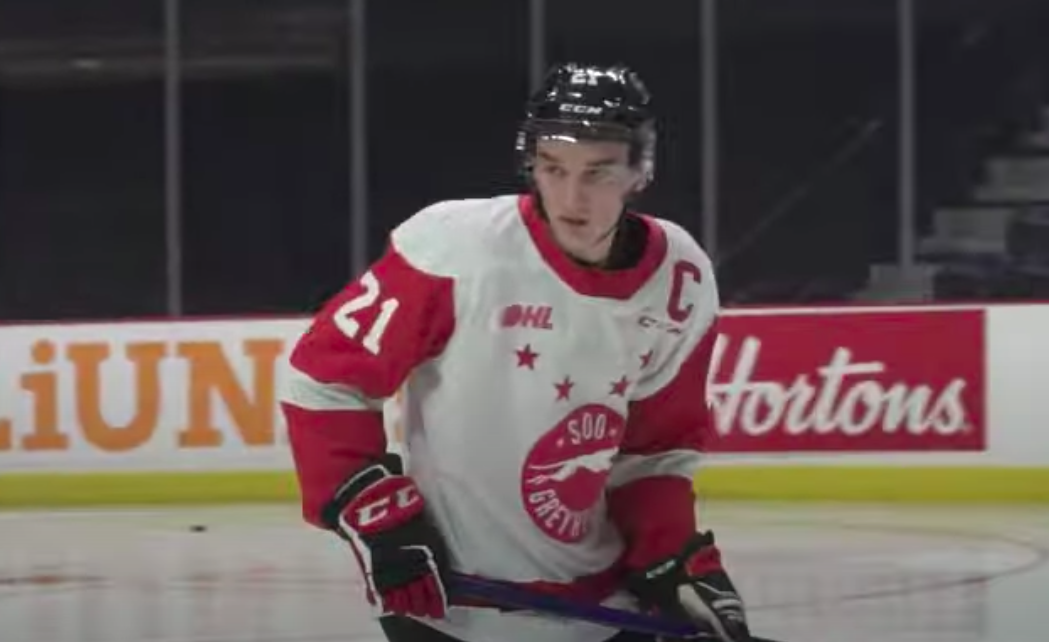 In Bill Guerin's first entry draft as general manager for the Minnesota Wild, he made some picks that received high praise from trusted analysts. The Athletic's Corey Pronman gave the Wild a B+ grade, followed by Scott Wheeler giving Minnesota an "overtime winner" title for its picks on Day 2 of the draft.

 

Those rankings have largely held up, as Marco Rossi has gone through a COVID-19 health scare but is still a promising NHL center prospect. O'Rourke wasn't even the second player to go to the Wild in the 2020 draft; another center, Marat Khusnutdinov, went 37th overall and has shown promise in his KHL season last year. That brings us to O'Rourke, the third player taken by Minnesota in that draft, one with realistic NHL aspirations and talent.

 

O'Rourke is already on the fast track to the NHL, even as a second-round pick. He debuted for the Iowa Wild last season as an 18-year-old after the Ontario Hockey League season was delayed. O'Rourke made the most of the opportunity to continue playing this season, despite not appearing for the Soo Greyhounds in 2021, his OHL team since 2018.

 

While his point totals from this past season give a certain impression of his style of play, there's more than meets the eye. First, jumping right into AHL play as an 18-year-old is a challenge to any player's skill set. Going from playing against teenagers to some of the most NHL-ready players entering the prime of their careers has to be an adjustment that can't be overstated. O'Rourke notched a goal and six assists in his 33-game AHL debut in 2020-21. Although those numbers might make him seem like a stay-at-home, physical defenseman, thanks to his 30 penalty minutes, he proved himself a successful two-way player in juniors.

 

 

O'Rourke is a heady player, for lack of a better term. At 17 and 18, he commands the ice and understands the game almost from a bird's-eye view. He recognizes the flow of a given play and puts himself in tremendous position to aid in a rush or slide back to anticipate a rush the other way. O'Rourke can show he is one step ahead of a play both on

and falling back on

.

 

In addition to his strong ability for reading plays and anticipating moves, he can be an excellent quarterback of the power play. He can

and

to get his forwards the puck and capitalize with the man advantage. Beyond just keeping the offensive zone, he has shown an ability to keep things running smoothly on the power play -- especially in the OHL. In the 2019-20 regular season, 15 of O'Rourke's 37 points were on the power play for the Greyhounds.

 

Beyond just staying put and running a well-oiled power play, he is good at identifying a rush and joining it on the offensive. As a defenseman, he has a

to keep up with the forwards and add another threat to a rush into the zone, something Minnesota only has in Matt Dumba right now -- although a case can be made for Jared Spurgeon as well.

 

On top of all his offensive talents accentuating his two-way game, he is already a physical force, which could accelerate his elevation into an NHL lineup. The 6'2", 180 lbs. defenseman has a gritty, physical style that makes him valuable as he transitions into an NHL roster. It would be tough to crack a power-play lineup with Dumba, Spurgeon, and Jonas Brodin, especially as Calen Addison looks to be slightly ahead of him in pursuit of a regular NHL position. So, if O'Rourke begins his big-league career playing lesser minutes in a naturally smaller offensive role, he should still have ways to thrive and show his value. He also brings a physicality to the Wild that isn't currently abundant on defense, with the exception of Dumba.

 

O'Rourke is still just a 19-year-old prospect, after all. There's plenty of time for him to develop into an NHL-ready player. He has the right build, tools, and the smarts to make that transition possible. For now, there's a stable of NHL defensemen ready to play for the Wild in the short term. But in the next few years, cap crunches and roster demands could necessitate a player like O'Rourke to make an impact on the NHL roster.