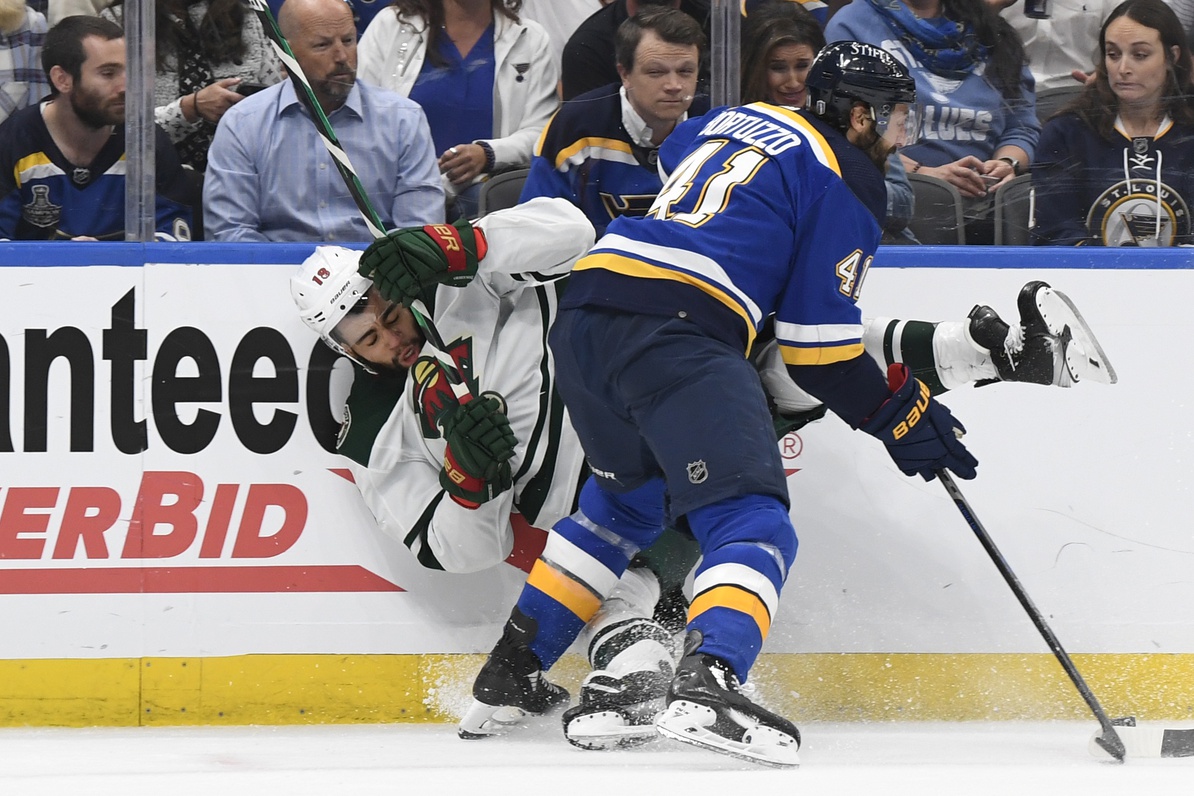 Should the Minnesota Wild tank next year? If not now, when? The Wild had a 113-point season, a superstar performance in the playoffs, and still lost in the first round. So how is next year going to be better? What will they do with their roster with the upcoming cap situation? Kevin Fiala is all but gone, and the goalie situation remains a conundrum because Cam Talbot and Marc-Andre Fleury are getting older. If they couldn't win this year and will be worse in the next year or two, is it time for the Wild to purposely tank?
They've always been a middle-of-the-road team throughout the Wild's entire existence. Too good to ever get a top-three draft pick (aside from Marian Gaborik) and bad enough to never make an impact in the postseason. They're constantly eliminated from the playoffs in the first round, resulting in a pick in the 17-25 range. And this year, their 113 points locked them into the 24-27 range. Unless the draft is considered deep, which isn't often, middle-to-late first-round draft picks are way likelier to be nice players than stars.
The Wild are going to find themselves in a precarious situation. Straddled with the dead money from the Zach Parise and Ryan Suter buyouts, the Wild will have to trade at least one or two impact players.
Fiala is the most likely candidate. He had a career year with 85 points, and he formed a line with Freddy Gaudreau and Matt Boldy that gave the Wild great depth scoring in the regular season.
However, Fiala was invisible in the playoffs this year. The Wild's second-best scorer in the regular season had three points and 18 penalty minutes in the postseason, which is a major concern.
The New Jersey Devils and Ottawa Senators are reportedly interested in Fiala, and they have reportedly considered up their first-round pick for the Swiss winger. However, the Devils have the second-overall pick, which may remove them as a suitor. Ottawa has pick No. 7, so that might be plausible. Either pick would allow Minnesota to draft an excellent young player who will be cost-controlled for a few years.
Matt Dumba is the other player who the Wild might need to move. He is due $6 million for one more season, then he'll be an unrestricted free agent. If the Wild feel they won't be able to re-sign him affordably, it's in their best interest to trade him.
Like Fiala, Dumba did not have a great postseason this year. He only scored once, in the disappointing Game Six loss. He was often a topic of discussion after the playoff losses, and many blamed him. But on Monday, he revealed in his exit interview that he had suffered a fractured rib and a punctured lung about a month before the playoffs started, so that could be the reason for his less than stellar play.
The market for Dumba might not be as strong, though. He was a seventh overall pick and a Top-4 defenseman, but the Wild have never been able to bring back similar value.
The return for Dumba might not look as good as he comes with some caveats. His contract only has one more season, so the team that trades for him will either have to sign him to another deal or see him walk into free agency. The Wild might only want picks or prospects in return, as the point of moving him would be freeing up cap room, and not every team can afford him.
Dumba also has something of an heir apparent in Calen Addison, who had a solid year in Iowa. Therefore, the Wild can trade Dumba if they get the right offer.
Both Cam Talbot and Marc-Andre Fleury would like to be back with Minnesota next season, but they're getting up there in age, so is that really a good idea? Talbot will be 35 when the next season starts, and Fleury will be 38 at the end of November. Neither had great stats last year but still were able to get wins.
The Wild just signed goaltender Jesper Wallstedt to his entry-level deal, but he will most likely spend the first year in Iowa. It often takes a while for goalies to get acclimated to new leagues and teams, and goalies take longer to reach their prime.
With all that said, does this put the Wild in a spot where they're going to have a few down years before they can build their roster back up? The cap hell they are in is not easy to navigate and puts the Wild in a spot where they have to play younger players or guys on affordable deals, who are usually not that great.
And if that's going to happen anyway, why not lean into it? The 2023 NHL Draft is full of talent, with Connor Bedard as the headliner. From a fan's perspective, it's easy to say 'Tank for Bedard.' No organization will admit to intentionally losing, but getting the opportunity to draft a generational player is tempting for any team.
It's unlikely that a team will go from being in the playoffs to winning the draft lottery. However, the Montreal Canadiens did it. They were in the Stanley Cup Finals last year, then bottomed out and got the No. 1 pick this year.
The Canadians lost a lot of impact players, though, and no one expected them to be as bad as they were. Carey Price only played a few games due to injury, and Phillip Danault signed with the Los Angeles Kings in free agency. They also had to go through a coaching change and were a colossal mess the entire season.
Minnesota has never unexpectedly bottomed out like Montreal did. However, they could find themselves in a similar situation. Their goaltending situation is uncertain, and replacing someone like Fiala will not be easy. They also may make changes to their defensive corps.
Maybe Minnesota's luck would still prevent them from getting the No. 1 overall pick, even if they finished with the worst record. Still, it feels like it's worth the risk.
The Wild have a great talent in Kirill Kaprizov but look at the last ten years of Stanley Cup winners. Pittsburgh has Sidney Crosby and Evgeni Malkin. The Chicago Blackhawks have Patrick Kane and Jonathan Toews. The Tampa Bay Lightning have Steven Stamkos and Nikita Kucherov. The Wild have yet to find that kind of duo that will lead them to the Stanley Cup.
Losing the next few seasons wouldn't be the worst thing in the world.
With the talent Minnesota has and the fact that the first two lines are likely to remain the same, it's probable that tanking is not in the Wild's future. But that could mean that the Wild are doomed to mediocrity. Record-breaking seasons don't mean a thing if you're always out in the first round. We've seen that Bill Guerin likes to make big moves, but having a tank season could be his savviest one yet.