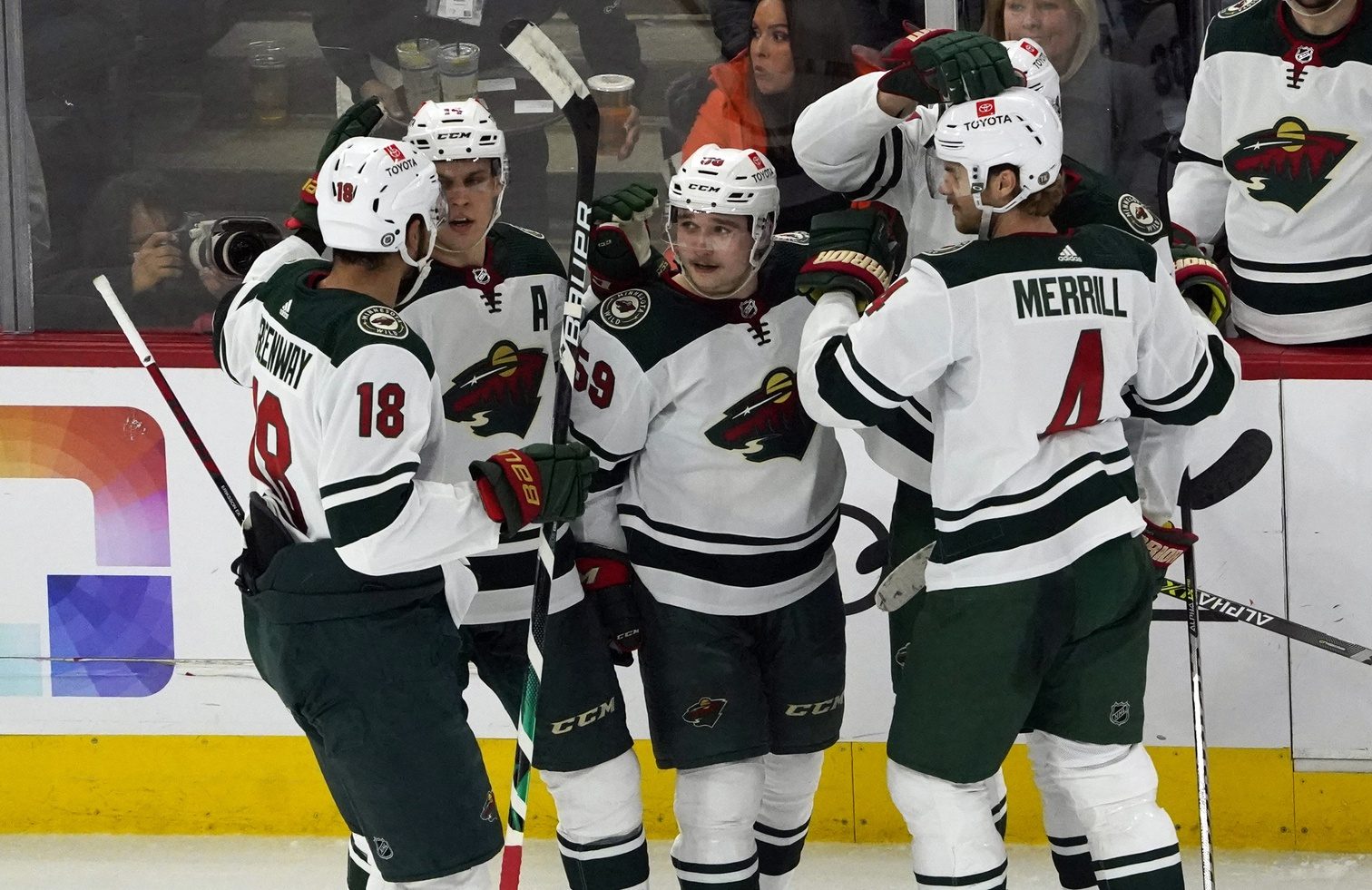 Have you ever seen fans clamoring for a player to play in the NHL more than Minnesota Wild fans call for their top prospects? The Wild have plenty of young, talented players on the cusp of getting a full-time spot in the NHL. Calen Addison is one of them, as he could come up and get top minutes for a defenseman right away.
Addison, 21, has looked great in the limited capacity. He has been the first call-up when the Wild need a defenseman. Addison's value started rising when the Wild experienced a run-in with COVID-19 during a late October West coast road trip. Jon Lizotte was the first defenseman Minnesota called up. Many Wild fans probably believed that Addison should have gotten the first call. Lizotte was quick to confirm those fans' thoughts. After a lackluster game against Iowa, Minnesota sent Lizotte back to Iowa and hasn't called him up since. Addison is on speed dial now, and deservedly so.
Addison has been reliable when playing in the Wild lineup. Dean Evason usually places him on the bottom pair, playing alongside Dmitry Kulikov, Jon Merrill, or Jordie Benn. No matter who the Wild pairs with Addison, he continues to play a great game.
Addison has two goals and an assist in his nine games in the NHL this season (seven as a defenseman, two as an emergency forward). When the Wild traded for Addison back in 2019, he projected to develop into a high-end offensive defenseman. Minnesota will be facing a major cap crunch soon, and Matt Dumba's name is in trade rumors again. Could Addison step into the top-4 defense group and keep the Wild rolling next year?
First off, trading Dumba would be trading a vital piece of the "heart and soul" of the locker room, and Addison probably won't replace that initially. However, Addison's offensive game could step right in and may exceed Dumba's.
When Addison is in Iowa, he captains the top power-play unit. Addison runs the power play, similar to how Jared Spurgeon runs Minnesota's top unit. Addison could have come right in and provided a spark that the team was missing when the Wild were struggling with their power play earlier this season.
In addition to being a great asset on the power play, Addison brings a heavy one-timer that Dumba has lacked ever since suffering a pectoral injury three seasons ago. Dumba's heavy shot was the biggest upside to his game as an offensive defenseman. Since that injury, Dumba has lost some of his "pop" offensively. In Addison's recent run with the Wild, he unleashed a heavy shot against the Chicago Blackhawks that flashed shades of the old Dumba.
Addison is also more careful with the puck than Dumba is. At least once every game, Dumba will attempt to make a pass that he shouldn't, resulting in high-percentage scoring chances for the opposition. Lucky for Dumba, he plays with Jonas Brodin, one of the best defensive defensemen in the NHL. Addison's puck control would complement Brodin's game and give the Wild a reliable defensive pair. Addison's offensive skill matched with Brodin's defensive skill would give the Wild two great options for the defenseman to jump up and keep plays going.
Let's also not forget the salary relief that Addison brings. Dumba makes $6 million a year and is an unrestricted free agent after next season. Addison is currently on the second year of his three-year entry-level contract that pays him $795K. That is approximately a $5 million savings that could go to another player like Kevin Fiala. The Wild need the cap flexibility, and Addison would provide that immediately.
It's no secret that Dumba is one of the most critical voices in the locker room and has done a lot for the Wild over his years. Addison would provide a younger, cheaper replacement. Addison's ability to play on a top power-play unit offers the Wild something they have struggled finding, a second defenseman to help the power play. Addison could step right into the lineup, play Dumba's top-4 minutes, and never have to hear the words "Des Moines" ever again.