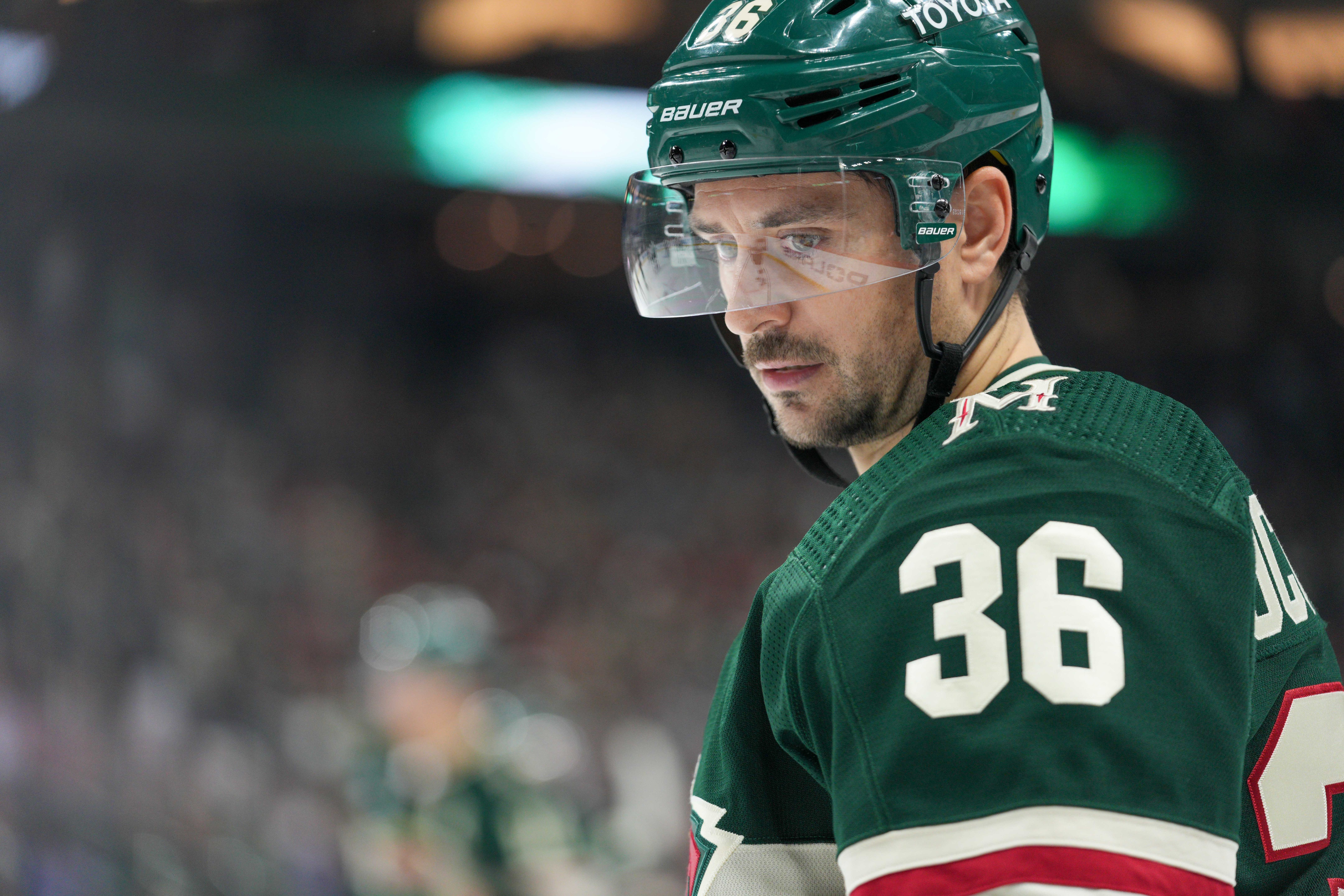 Image courtesy of © Matt Blewett - USA TODAY Sports
There's a fine line between a culture of accountability and a punitive team culture. The screaming, overbearing high school football coach trope is present throughout film and television for a reason: It's widespread in real life. 
The reason for team identities of accountability and punishment throughout sports is somewhere between two truths. Traditionalists believe that it's become so common because it works. New-school coaches would argue that it mostly just feels like this approach works. You can say that a player never had it if he fails. If he succeeds, you can say that all that pressure turned him into a diamond. 
Proponents of the analytical movement in hockey generally ascribe to the latter belief. And they have a point. There are countless examples of hockey coaches and executives chasing unsustainable performance. They'll re-sign playoff performers to large contracts that turn sour later -- Jordan Binnington and Matt Murray are prime examples. 
It's easy to say that hockey's decision-makers also make mistakes in the opposite direction. Dean Evason seems to be on a mission to avoid chasing unsustainable performance. If things are going poorly now, but they've been successful in the past, he typically just lets the team play its way out of the slump. He loathes scrambling his lines or try out young players in high-leverage situations, likely because he's happy with what he's already got. It's hard to argue with him when his teams have finished over a 100-point pace each of the last three years. 
But after two straight seasons of slow starts, is lineup philosophy related? Would a team with more competition in training camp come out of the gates with more fire? 
In case you missed it, the Wild are off to a slow start for a team behaving like they want to contend in this year's playoffs. They currently sit outside the Western Conference playoff picture, with a record of 5-5-2, including a low point of 3-5-2. It's reminiscent of last season's slow start when the team was 4-4-1 after October. 
In the team's first three games of the 2022-23 season, they gave up seven goals, then seven goals again, then six. That prompted Mats Zuccarello to say that the Wild defended like "a junior team." Minnesota started this season with a shutout followed by the following goals against in regulation: seven, two, seven, four, four, and six. They might as well have been the Waterloo Blackhawks or Peterborough Petes. 
The underlying numbers are also distressing. These can be a good gut check to ensure Minnesota hasn't been the victim of bad luck. Unfortunately, Minnesota simply hasn't inspired confidence at five-on-five. Per MoneyPuck, they rank 23rd in 5-on-5 expected goals for rate (xGF%) and 20th in 5-on-5 expected goals against per hour. 
These numbers improve when looking at all situations, mainly because Minnesota's power play has been bailing them out. This might sound encouraging, but 5-on-5 play is typically a better predictor of future success. 
To make matters worse, Minnesota's goaltending is suspect. But given the Wild's porous defense, it's not fair to compare the Wild goaltenders to their peers using GAA or save percentage. Still, they've performed poorly even after considering their heavy workload. Marc-Andre Fleury has allowed 1.7 goals more than expected (49th out of 71 goalies on a per-minute basis). Gustavsson has been even worse -- a whopping 4.0 goals allowed above expectation (61st on a per-minute basis). 
The offense hasn't produced scoring chances at 5-on-5, the goaltending has been subpar, and the defense has been so bad it almost makes the goalies look good. The Wild have started this season playing worse than they have since last November. Last year, Minnesota started the season on a similar pace. Then they snapped out of it with two shake-ups to the forward group. On November 23, they traded for Ryan Reaves and demoted Marco Rossi five days later. 
Similarly, Minnesota seems to have turned around their bad play by shaking up the lineup. Dean Evason promoted Rossi and Matt Boldy to the top line, separating Zuccarello from Kirill Kaprizov. They changed power play personnel to incorporate five forwards but demoted Matt Boldy to PP2. Then, they shipped out Calen Addison -- the first prospect Bill Guerin acquired as GM -- and replaced him with Zach Bogosian. 
The message was as clear this week as it was last November: If the team doesn't produce, anybody is replaceable. 
Contrast that with the last two training camps. The Wild clearly prefer to keep both goaltenders fresh. That's undoubtedly advantageous, but it removes the playing time incentive to "take the reins" as the top goaltender. 
From the net out, Evason has gone out of his way to keep lines and defensive pairings together. While injuries derailed the plans this season, Jared Spurgeon and Jonas Brodin anchor pair 1A and 1B. Their partners are largely predetermined in Jake Middleton and Matt Dumba or Brock Faber. Jon Merrill, Alex Goligoski, and Calen Addison rotated on the third pairing. That leaves little room for internal competition outside of the third pairing. For Middleton and Dumba, there's not much pressure to perform when their replacement can't handle top-four matchups. 
The forward lines seem even more pre-set. In both of the past two camps, Kaprizov and Zuccarello have played with Ryan Hartman without fail. Joel Eriksson Ek centered the GREEF line in 2022-23, and this year he was slated between Boldy and Marcus Johansson. 
Johansson's extension (which largely resulted from his play on that line) solidified the top two lines. Similarly, Marcus Foligno and Frederick Gaudreau's extensions made it clear they wouldn't play any lower than the third line this season. With Connor Dewar and Brandon Duhaime slotted onto the fourth line, that left only one spot for Marco Rossi (third-line center) and Patrick Maroon (fourth-line wing). 
That leaves little room for internal pressure. How can Eriksson Ek push Hartman when the coach is reluctant to break up either line? How can Boldy push Zuccarello when the team is married to uniting Zuccarello and Kaprizov? It took until the low point of Minnesota's season to break up these line combinations, mainly because Rossi forced the issue with spectacular play. 
Let's also consider the origins of that spectacular play. Rossi is one of the only members of last year's roster to feel that hunger that comes from seeing a teammate promoted to your spot in the lineup. What did that cause? Rossi went all out in his offseason training, returning as a much-improved hockey player. 
That was also true for Addison. The Wild replaced him in the lineup and on the power play with John Klingberg, and Addison also remained in Minnesota to put in a strong offseason. He reportedly trimmed down to 7% body fat, meaning he was probably hungry in a literal sense as well as figurative. 
Perhaps Minnesota has learned its lesson after two slow starts. After all, it seems that lineup changes and a roster move have been the lever they pulled this season and last to lift the team out of a sleepy autumn. This year, the team was faster to make moves by nearly an entire month. Perhaps next season will see a more competitive training camp with a more flexible lineup, especially with Danila Yurov, Marat Khusnutdinov, and Liam Öhgren's expected arrival. 
It goes a long way when players show faith in the players that brought them success. The Wild have built a locker room that is very close by all accounts, making Minnesota a locker room destination. But after two straight slow starts, the team needs to prove to its players that they are held accountable with their spot in the lineup. When the players are all close to each other, demotions and trades send that message even louder. Hopefully, Calen Addison can be the last time Evason and Guerin learn that the hard way. 
Standings and Win/Loss Record data from hockeyreference.com.
1