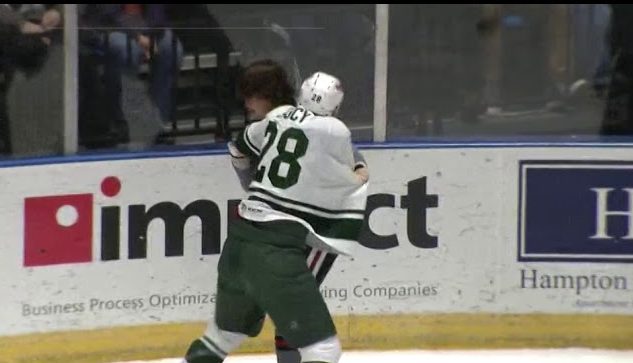 Carson Soucy was one of the last defensemen cut from Minnesota's training camp roster in September. It was a bit of a surprise, but the 6-foot-4 defenseman had impressed Wild head coach Bruce Boudreau enough to remain in training camp up until the final days.
But when Soucy, 23, was ultimately sent back down on Sept. 29, Boudreau said: "He's a young guy that needs to play. He's going to go down there and play. He's going to gain experience. When we do see him again, hopefully he's a lot better."
In his first full season with Iowa, Soucy has appeared in all 25 games on the blue line, registering a goal and four assists. His first goal came back on Oct. 13 against Ontario, which also happened to be his first point of the year as well.

After finishing out his senior year with Minnesota-Duluth last season, Soucy – a 2013 fifth-round pick by Minnesota – signed his entry-level deal on April 10. He finished out his UMD career with 47 points on its blue line, with 15 coming in his senior year -- in which the Bulldogs lost to Denver in the NCAA Championship game.
Even though his college career has ended, Soucy still checks in on his old team from time to time.
"Yeah, I check in every now and then. I have a cousin (Parker Mackay) on the team so I like to check in every so often."
Following his departure from UMD last year, Soucy appeared in three games with Iowa before the season ended. The transition from college to the pro ranks can be a bit tricky, but that does not phase Soucy.
On how his transition has gone since arriving in the AHL, Soucy said, "It's tough going against elite players every night. A lot of these guys [he is playing against] could be playing in the NHL. It's been tough but I enjoy the challenge and I just keep working [hard]."
While Soucy brings a good physical and defensive game to the table every night, it has been his offense that he has been trying to work on in Iowa.
On what specifically he wants to work on he said, "I'm just trying to be a good all-around player. Break pucks [out of the defensive zone], work on the offense a bit. Hopefully, it keeps coming."
Soucy is currently part of an Iowa Wild team that, as of play Wednesday, currently sits in third in the AHL's Central Division. At their current pace (.580 winning percentage) they project to be a playoff team for the first time since moving to Des Moines five years ago.
"We have a good leadership group," Soucy said. "We have some older guys that are taking charge."
ALSO READ: Christoph Bertschy Happy To See Winning Times In Iowa
Even despite a three-game losing streak – all of which were lost in overtime – Soucy said the team just has to get back to hard work to grind out the wins.
"We've lost a couple of close games recently, but hopefully we can keep working hard to get those wins again."
---
Never Miss an Episode of Giles & The Goalie!