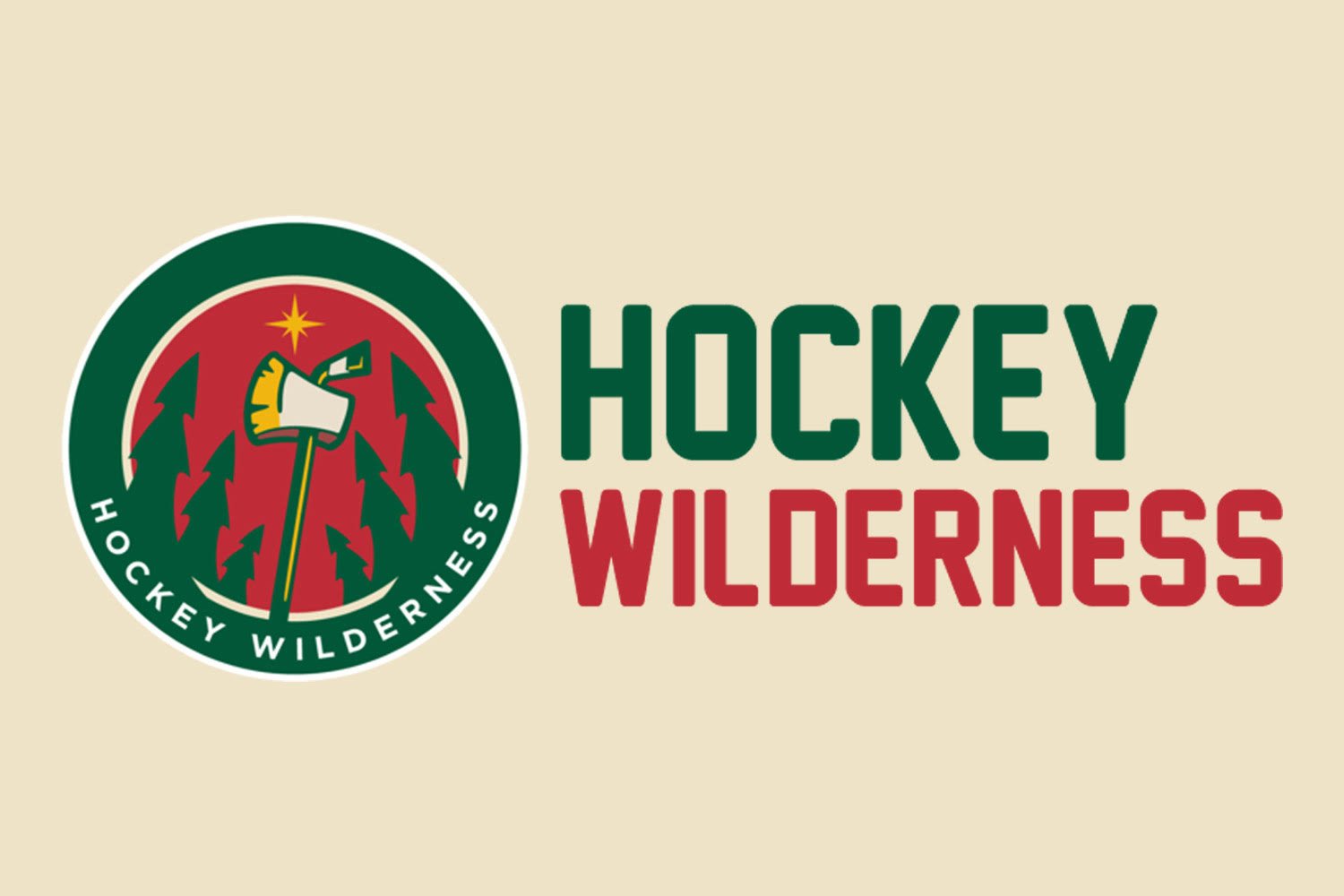 Going into tonight's contest, head coach Derek Lalonde talked about how it was necessary for Iowa be hard to play against tonight. After seeing how the team answered tonight, top to bottom, it was clear that they boys answered the bell. With the win, the Wild jump the Wolves in the standings as well and hold the fourth seed by winning percentage.
Tonight, Derek Lalonde opted to start Niklas Svedberg (7-8-3, 2.75 GAA/.911 SV%) in net, still trying to get some kind of rhythm after missing nearly a month due to a lower-body injury. The Sollentuna, Swe., native made 32 saves on 34 shots for his seventh win of the season. In the opposite crease, Maxime Lagacé (11-3-2, 2.63 GAA/.908 SV%) was in net for the Wolves, but didn't finish the night after taking a knee to the head from Mario Lucia - a no decision.
He attempted to stay in, but Iowa was able to score again and he left the ice for Kasimir Kaskisuo (7-9-1, 2.60 GAA/.908 SV%) who made 8 saves on 10 shots and was tacked with the loss.
A staring contest ensues
The start of the game was relatively uneventful for both sides, save a break in the action to repair a broken stanchion in Iowa's end of the ice. But, as in most games, there was a lot going on that doesn't show up on the stat sheet.
Iowa managed just four shots in the first period, though none seemed to test Lagacé any more than the other. Same can be said for Chicago, though the Vegas/St. Louis-affiliate was able to launch nine of their own.
Some defensive zone turnovers stymied some chances for dome decent breakouts with open ice calling for a rush, though the defensive unit did other things right - staying above pucks, finishing checks, providing some decent in-zone passing. On the other end of the ice, the Wolves appeared to breakout with ease, only to be stopped in the neutral zone.
When Chicago opted to chip and chase, the Iowa defense had answers each time. However, when the first horn sounded, the Iowa offense had failed to get the better looks, often taking what felt like a second too long instead of an immediate shot on goal.
Fortunately, the period ended in a draw with an intermission of adjustments and 40 minutes of hockey left to play.
Turnovers turned goals
When the second period began, there was a noticeable tension in the air, though it wasn't one wrought with physicality. It took nearly eight minutes, but somebody finally blinked, and it was Lagacé.
The previous possession, the Wolves appeared a bit lackadaisical, struggling to maintain the puck with no pressure. After getting a shot off on Svedberg, the attitude continued as Jake Walman half-heartedly attempted a clearing attempt. With everyone seemingly flat footed, Brennan Menell took off. With a deke to get around Walman, he was able to get a shot off with the defenders stick bringing him down to the ice (unassisted; 8:31).
"It was a cautious game up to that moment," Lalonde recalled. "We're getting to that time of the season where the stakes seem higher. That first goal seems so huge...it gives us life to go up 2-0 in the period."
In Menell's estimation, he was just making the most of an opportunity.
"I looked up and had some space...the defender was just kind of over-committing," the Woodbury native said, breaking down his goal. "I was just trying to get it on net while I was falling down and saw it went in....It's a nice confidence booster, [but] more importantly I'm happy to get a win."
Then, a tense moment for the Wolves as Walman took a blast from Zach Palmquist and then Lucia hit Lagacé with a knee in the head around the 12:37 mark. The Longueuil, PQ, native shook it off and stayed in the game following the hit.
However, Chicago got lazy again with the puck in their own end with limited pressure from Colton Beck. Chris Casto, who had been playing well most of the night, made an errant pass just out of the reach of Walman and it ended up on the stick of Lucia. The winger was able to find Pavel Jenyš, who walked in and buried his first professional goal, blocker side, on Lagacé (Lucia; 15:01).
The two sides finally added a real physical element to their game, though not from who you'd expect. Battling down in his own trapezoid, Svedberg took exception to fellow Swede, Tobias Lindberg pinning him against the boards, using his blocker as an outlet for his frustrations, resulting in coincidental roughing penalties - Sveds got an added two minutes for unsportsmanlike conduct.
During the break, Lagacé went to the bench and Kaskisuo, a Maple Leafs contract holder, came on for the Wolves.
Third Period
Iowa had the opportunity to step on the throat of their division rival, dominating the first 30 second of the period in Chicago's offensive zone. Unfortunately, it was the Wild's turn to take a nap as Brett Sterling was able to sneak behind Nick Seeler and get the Wolves on the board before the first minute came to an end (Tynan, Matteau; 0:50)
However, the Wild had an answer of their own less than a minute later. After winning the draw, Iowa did a tremendous job maintaining possession in the offensive zone. After a Palmquist blast, there was some chaos in front of Kaskisuo's net and Mitchell was able to pick up the trash for his seventh goal of the season (Palmquist, Cannone; 1:38).
And then the Wolves seemed to change their philosophy from trying to outplay the Wild to simply pestering them as much as possible. Sterling got away with landing a gloved punch on Palmquist when both were down on the ice and Paul Thompson gave Sam Anas a pretty hefty shove following a whistle in Kaskisuo's crease.
It was Sam that got the last laugh though, as continued to show why he is one of the best finishers on the Wild, if not the entire AHL. After a great keep by Justin Kloos behind the Chicago net, it was tic-tac-toe with a familiar list of suspects: Kloos to Mayhew to Anas in the slot - his 15th of the season (Mayhew, Kloos; 6:33).
Up three goals, it was time for the Wild to finally do something that they had struggled to do all season: finish.
Iowa had been tough to play against all night, and it would've been nice to see them finally step on somebody's throat, especially a team like Chicago.
The Wild were almost able to keep a clean sheet in the final 19:10, but a Mayhew delay-of-game penalty in the offensive zone gave Chicago their second power play opportunity of the night. It was Thompson down low poking one in with Svedberg unable to get his blocker completely over the puck (Sterling; PP - 15:06).
"That type of lead has been an issue for us," Lalonde admitted. "Hopefully [it's] a step in maturity for our team."
Landon Ferraro was able to add the empty-netter after Chicago opted to pull Kaskisuo with roughly 2:30 to play in the game. It sealed the win, 5-2, and gave Iowa a much needed two points as the playoff battle in the Central charges on.
Final Thoughts
It was a statement win tonight, as Iowa took on one of the upward trending opponents in the division, though they were without their leading scorer in Brandon Pirri and Beau Bennett did leave the game with an injury.
Playing banged up is a part of hockey, however, and Iowa has their sights set on the postseason; something that has eluded the franchise since moving up to Des Moines from Houston.
Tonight, the defense looked solid from top to bottom with all six guys performing well, winning battles, and making opportunities with great breakout passes. After the game, Iowa's head coach sees the defense as the hill on which the Wild need to plant their flag if they're going to contend for April hockey.
"On a whole, if we're going to make the playoffs...we need to be better defensively," Lalonde said afterwards. "We're a minus goal differential [126-127]...you're not going to make the playoffs like that....We've been working on defending correctly, our tracks and sorts, owning the middle of the ice [and] being hard to play against."
In his assessment of where the team needs to be, he reiterated thoughts that the rest of this season holds no room for letting up.
"You're going to have to be over .600-plus to make the playoffs," he professed. "Every point, every game is going to feel like playoff hockey from here on out."
The Wild will be back at it on Friday against the Bakersfield Condors (Edmonton Oilers) at Wells Fargo Arena. Puck drop is scheduled for 7:00 CST and it's Gustav Olofsson Bobblehead Night (and $2 beer night as well).