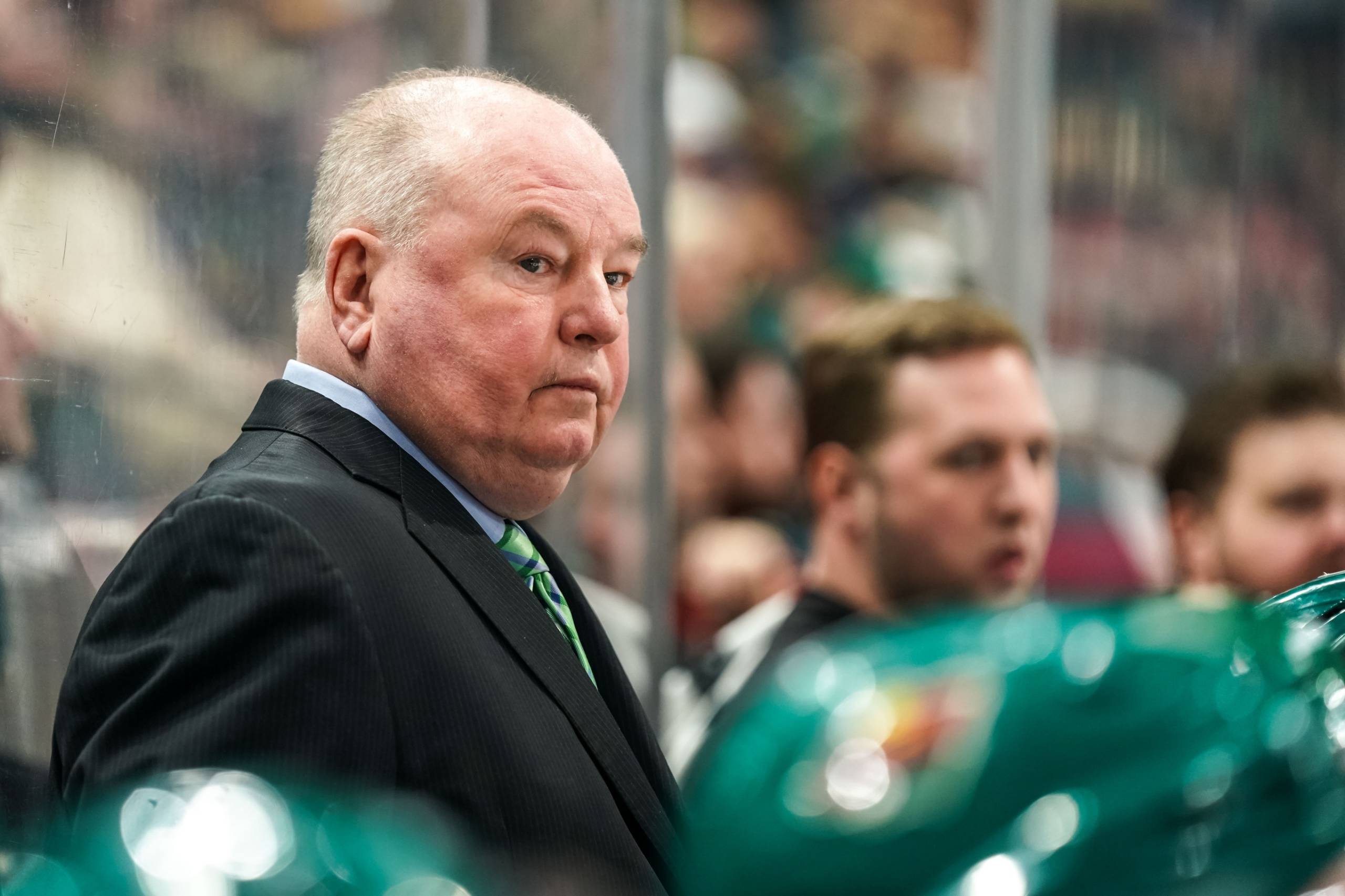 On a day when love notes are passed around like no other, a different type of note changed hands in St. Paul Friday morning. Wild general manager Bill Guerin handed head coach Bruce Boudreau his walking papers at TRIA Rink on Valentine's Day morning, firing the head coach after three and a half seasons behind the Minnesota Wild bench.
The move comes the morning after Guerin watched his club blow a 3-1 lead late in the third period against the New York Rangers, losing 4-3 in overtime. Minnesota currently sits three points out of a playoff spot in a season that followed the club's first missed playoff appearance in six years.
Taking over the head coaching spot is assistant coach Dean Evason, who will do so on an interim basis. Per TSN's Darren Dreger, a permanent replacement is expected to be named in the offseason.
Which brings us to the ultimate reaction: Why now?
The Wild were playing decent hockey as of late, going 4-1-1 in their past six games. The team itself had actually played decent hockey for a majority of the season, but they had been done in by abysmal goaltending. Goaltending that is among the worst in the National Hockey League.
https://twitter.com/ChartingHockey/status/1225133599302791169
Boudreau's future was always up in the air this year with Guerin at the helm, after Paul Fenton reportedly tried to fire the bench boss numerous times last year. There had been no musings about whether Boudreau was going to stick around past this year, but ultimately the decision was made Friday morning that Bruce was not going to be Guerin's permanent solution to head coach.
But again, why now?
If you keep asking yourself this, you are not alone. What possible purpose does it serve to fire Boudreau – the franchise's all-time leader in points percentage by a head coach – who guided its most talented team to an all-time high in points in his first year on the job and clearly was keeping this team relevant both last year and this year?
5 Coaches Table
Regular Season
Playoffs
Rk
Coach
From
To
Yrs
GP
W
L
T
OL
PTS
PTS%
▼
G
W
L
T
W-L%
1
Bruce Boudreau
2017
2020
4
303
158
110
35
351
.579
10
2
8
.200
2
John Torchetti
2016
2016
1
27
15
11
1
31
.574
6
2
4
.333
3
Mike Yeo
2012
2016
5
349
173
132
44
390
.559
28
11
17
.393
4
Jacques Lemaire
2001
2009
8
656
293
255
55
53
694
.529
29
11
18
0
.379
5
Todd Richards
2010
2011
2
164
77
71
16
170
.518
Has Guerin embraced a tank for the remainder of the year? That seems weird, considering the team caught fire in the last month and pulled themselves back in the Wild Card race. If Guerin wanted to full-on tank, he would have let Boudreau go long ago before this team was able to correct its mid-season tail spin.
Does Guerin have a guy in mind for the job already? There are some great coaching candidates out there – Gerard Gallant and Peter Laviolette sit atop the free agent coaching list – but as Dreger reported earlier Friday the Wild are keeping Evason on the bench until the season ends.
OK, so Evason is the guy for the rest of the season. Does that mean Guerin is trying to evaluate his prowess as a head coach in this league? That is certainly a possibility and was moreso last season under Fenton, whom Evason worked for as the head coach of the Milwaukee Admirals. Evason was brought in prior to 2018-19, and was thought of as the coach-in-waiting given Evason's success in Milwaukee.
[caption id=attachment_61099" align="alignnone" width="750]

via HockeyDB.com[/caption]
With just 10 days before the trade deadline, this move comes as nothing but curious for Guerin, who was praised earlier in the week for his trade of Jason Zucker for future assets. But now, Guerin has made a move that leaves one with far more questions then there are answers.
Questions that, presently, only he knows the answers to.
In time, the picture will become clearer (probably). But for now, firing Boudreau on the day of love currently brings one nothing but confusion.