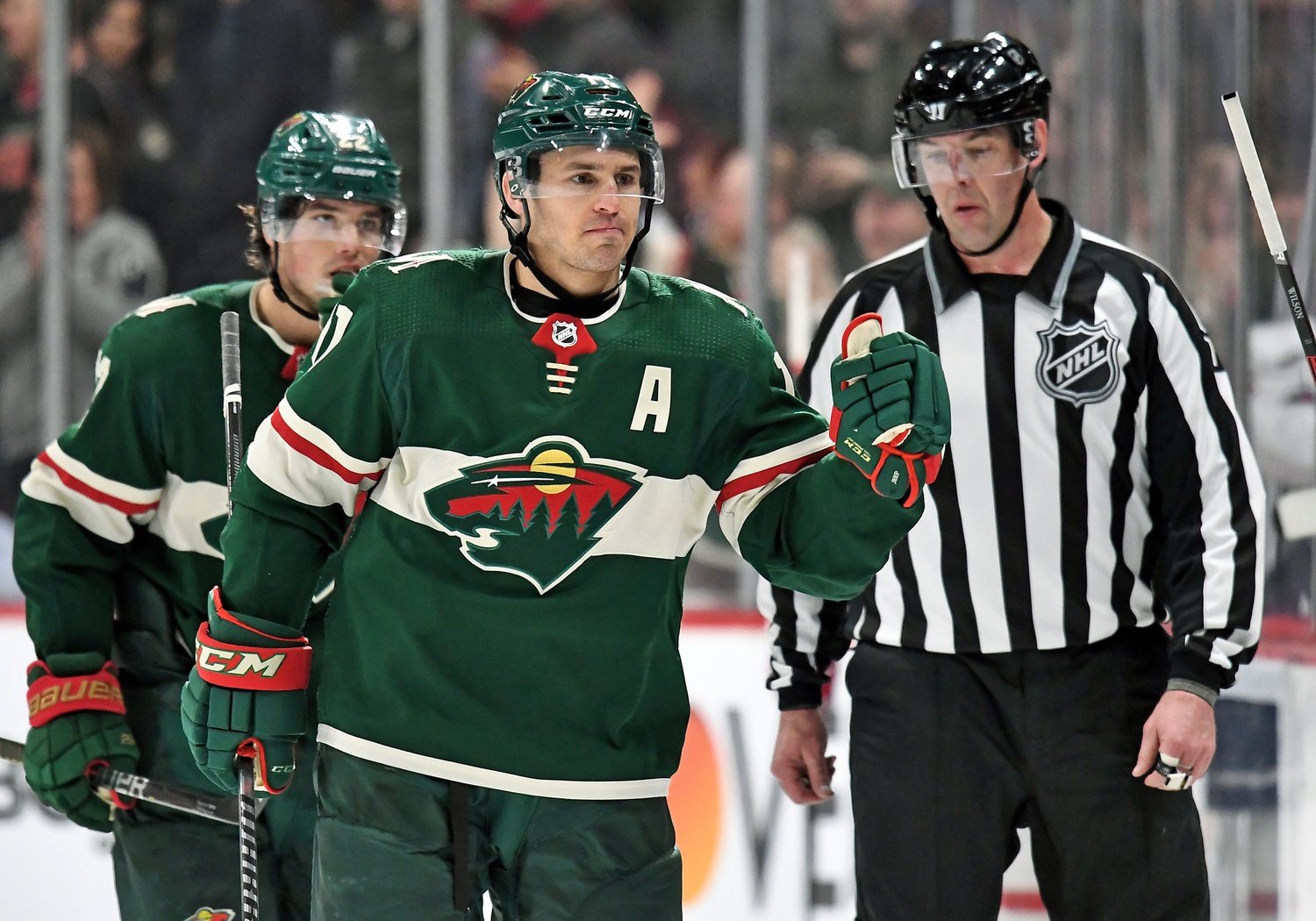 On Independence Day in 2012, the Minnesota Wild were nationally relevant for the first time in franchise history. Minnesota signed Zach Parise and Ryan Suter to the largest contracts ever given to a free agent, with each getting 13 years and $98 million.
While widely celebrated at the time, the contracts are divisive for fans in and out of the State of Hockey. Some point to their production over the years, as well as their seven postseason appearances in eight seasons. Others will point out that Minnesota has collected two postseason series wins in that time, and has never made so much as a Conference Final.
And, oh yeah, they've both got five seasons left on their deals as they approach their age-36 seasons.
Despite the playoff disappointments, it's easier to justify the Suter contract to the average fan than Parise's. Suter has been an iron man on the blue line, playing in 600 of a possible 609 games. He's averaged 48 points per 82 games since joining the Wild, while providing elite defense through most of that tenure.
Parise's contract is a tougher sell. Once a perennial 30-goal scorer, he has just one 30-goal season in eight years with the Wild. Injuries are the primary culprit, as he's played 513 of 609 games, missing time in six of eight seasons. He led the Wild with 25 goals this year, but the big story was his unhappiness with the Wild organization -- a deal to send Parise to the New York Islanders fell through in February.
In fairness to Parise, it has not been all bad. He's averaged 31 goals per 82 games with the Wild, nearly identical with his days in New Jersey. He's third in franchise history in both goals and points, behind Mikko Koivu and Marian Gaborik. Injuries aside, he's been very good, even well into his 30s.
But if you ask your average Wild fan, they'd probably tell you they are at least a bit disappointed in the results of these contracts. The injuries, decline and near-early exit might be ignored if Parise had taken the team on a playoff run. But that 2-7 postseason series record looms over everything.
A loss to Vancouver will be seen as another strike against the legacy of Parise (and Suter's) contract. But in reality, Parise probably carries the least blame for the Wild's playoff failures over the last eight seasons. Whether you like his contract or not, there's no denying that he's stepped up in the postseason.
Parise has played 36 playoff games with Minnesota. He has 14 goals and 31 points in that time, an 82-game pace of 32 goals and 71 points. When things get tougher in the playoffs, Parise is able to maintain and even elevate his game. That's no small feat in the NHL.
There are 183 forwards that have 30 or more playoff games since 2012. Parise's production has been elite among that group. He is tied for tenth in the league with 0.39 goals per game, alongside Patrick Kane, Patrice Bergeron and Joe Pavelski. His 0.86 points per game is tied with Phil Kessel for 16th.
And Parise has managed to put up this production despite the rest of his teammates falling silent in the playoffs. Of the six other Wild forwards with 30-plus playoff games in that time, only Jason Pominville (0.64 points per game) comes even kinda sorta close to Parise's production. The rest of the bunch -- Mikael Granlund (0.54), Koivu (0.50), Nino Niederreiter (0.46), Charlie Coyle (0.34) and Jason Zucker (0.26) had even less success.
It's tough to score in the playoffs. It's even tougher to score when you're on an island. Parise should get a great deal of credit for doing so. And Parise's scoring comes with solid play-driving. He's near the top of the Wild leader board in controlling play, getting 55.4% of the expected goals at 5-on-5.
It's hard to say whether Parise can keep up his blistering postseason production, having just turned 36 years old. But there are some good signs. Parise's scored 53 goals in 143 games over the past two seasons (a 30-goal pace), meaning he's slowed down a lot less than you might think. And if Kevin Fiala picks up where he left off in March, Parise won't have the sole burden of putting the puck in the net.
You can grouse about Parise's cap hit, the five years remaining on his deal or the lack of team success. But you have to admit that Minnesota paid Parise to step up for them in the postseason, and he has delivered on that. Minnesota may not have and may not be able to get the Stanley Cup they imagined when signing Parise, but Parise is about the only guy you can't blame for that. He's been worth every penny come playoff time. Let's hope he's got another strong playoff performance in him.
All stats from Hockey-Reference and Evolving Hockey.