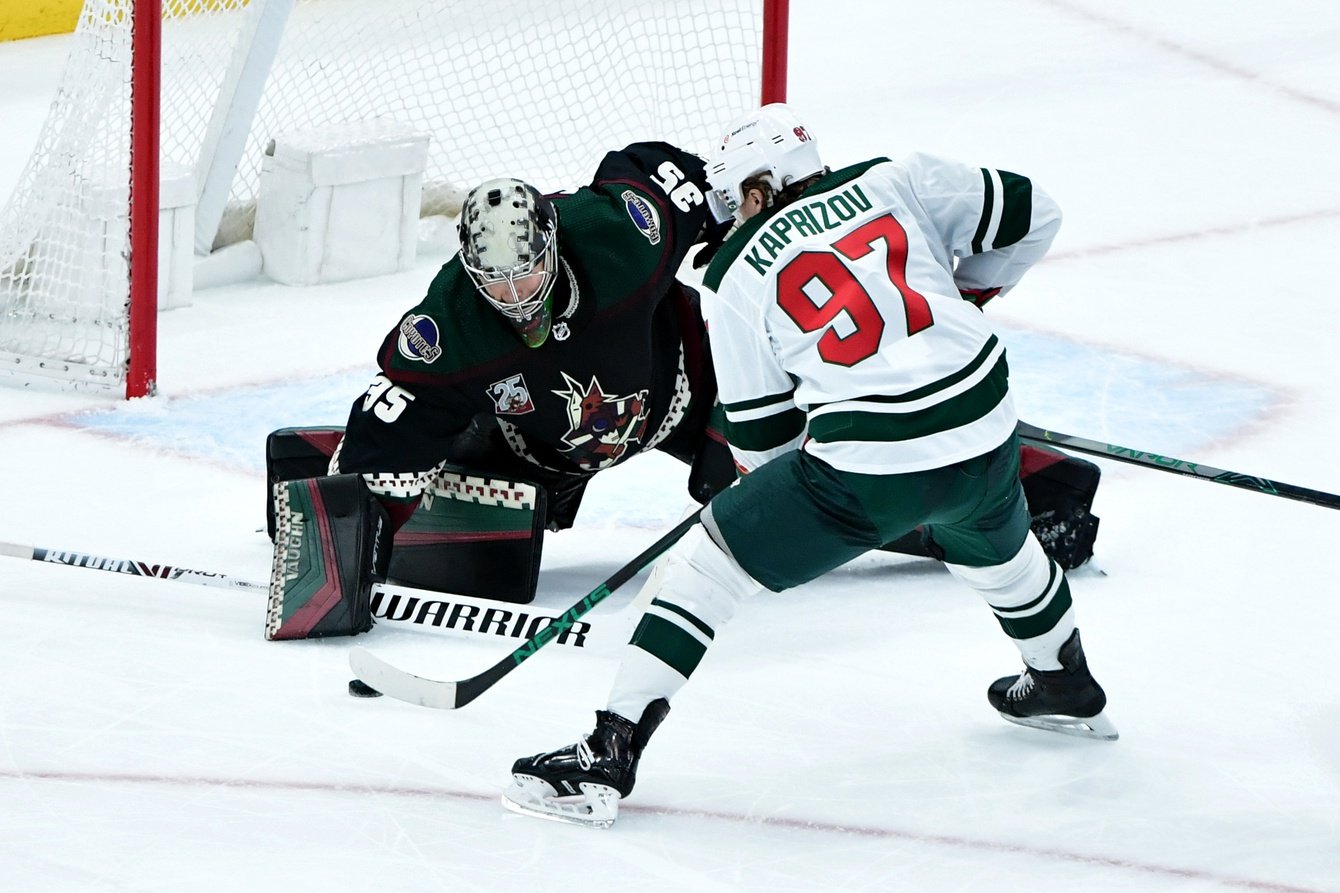 Expansion is coming up fast. It's been a long, drawn-out process from the announcement of Seattle's upcoming expansion in 2018 to today. Now it's right around the corner. The team has a name, logo, uniforms, a general manager, a coach, and even a player.
The Seattle Kraken are about to get a few more players in the Entry Draft. But help is coming more immediately via the Expansion Draft. Sure, the Kraken will take someone off the Minnesota Wild roster, but they will also swipe players from their Central Division rivals.
Let's take a look at what Minnesota's opponents may be losing heading into another newly aligned year.
did someone say central time zone?
Wild fans will likely be just as happy in 2021-22 as they were when Minnesota first switched into the Central Division after being in the Northwest Division since expansion. Rather than endure late nights against the Vancouver Canucks, Calgary Flames, and Edmonton Oilers for much of the year, the Wild were playing division games against the St. Louis Blues, Chicago Blackhawks, and Dallas Stars.
After a season-long foray in the West Division due to COVID-19 realignment in last year's shortened season, Minnesota is back to the Central with another new opponent — the Arizona Coyotes. Due to Seattle's addition out west, Arizona was the next-closest team geographically.
Let's take a look at each team (sorted alphabetically by location) and what they potentially might lose this season. Remember, each team will lose one player, except for Vegas, because they just joined the league.
Arizona Coyotes
Arizona may be hamstrung by their situation in goal. Darcy Kuemper, a familiar face to Minnesota fans, has found sustained success at the NHL level since arriving in the desert, and Arizona's front office will have a tough time not protecting the goalie. That means backup Adin Hill, who made 17 starts this season thanks to injuries to both Kuemper and Antti Raanta, might be the best bet for Seattle.
Hill made 19 appearances in 2021 and had a .913 save percentage and 2.74 goals against average with two shutouts.
Chicago Blackhawks
The Blackhawks have plenty of exempt players because they're rebuilding. However, there are still remnants of their dynasty that take up some space in the protected lists like Jonathan Toews and Duncan Keith.
Thankfully for those invested in the Chicago's long-term future, they aren't likely to lose an up-and-coming player. Seattle's best shot is probably Adam Gaudette, a 24-year-old who spent most of his career in Vancouver before being traded to Chicago late last season. He only had 11 points in 40 games last season, but he had 33 points in 59 games for the Canucks before the league shut down due to the pandemic.
Colorado Avalanche
Colorado could have some issues in the expansion draft because they're a dominant, deep, well-built team. In protecting their younger defensemen, the Avs risk allowing some of their mid-tier forwards to be exposed.
Longtime Chicago forward Brandon Saad could be vulnerable, but he had the worst statistical season of his career, scoring 15 goals and recording nine assists in 44 games. They could also lose Joonas Donskoi, who has been a consistent middle-six performer for much of his career. He had 17 goals and 14 assists in 51 games last year.
Dallas Stars
Did someone say familiar faces? Another former Wild goaltender is in the fold here, except Dallas is prepared to lose this one.
Anton Khudobin, one of the keys to Dallas' run to the Stanley Cup Finals in 2020, is expendable because Ben Bishop is healthy. The Stars seem content to stick with breakout goaltender and Minnesota-native Jake Oettinger as his backup or a 1b starter option.
Khudobin appeared in 32 games last year and significantly regressed, just like the Stars did as a whole. He had a .905 save percentage and a 2.54 goals against average with three shutouts in those 32 appearances.
Nashville Predators
This could be interesting. Nashville has largely underperformed in recent years, and the roster could continue to be in flux. According to a story in The Athletic in April from both Nashville and Seattle writers Adam Vingan and Ryan S. Clark, either Matt Duchene or Ryan Johansen could become available for the expansion draft.
Both are better players than they showed last season, and it could be an outflow of talent from a recently competitive team. Duchene had 13 points in 34 games last season and Johansen had 22 points in 48 games in 2021.
St. Louis Blues
While most Central teams are losing forwards and goalies, Seattle could pick up a valuable defenseman from St. Louis. It looks like familiar face Marco Scandella could be a tempting option for the Kraken.
Scandella played nearly 20 minutes per game this past season with nine points in 49 games. He could be a valuable, veteran defensive pickup for Seattle.
Winnipeg Jets
The Jets could lose a promising young player who made waves in an unexpected 2021 season. Forward Mason Appleton had a true breakout season in 2021, and Seattle could view him as a foundational piece to a young core for the future.
Appleton hadn't made too large an impression in his first two years in the NHL, but last season he notched 25 points in 56 games. Plus, he had three points in eight games in the playoffs.
How does this compare to Minnesota?
If Minnesota does lose Matt Dumba, it could be argued he would be the best player in the entire division to be exposed and taken by Seattle. With 21 points in 51 games last season, he was a force offensively from the blue line and complements a sound defensive structure with his unpredictable puck movement.
Also, right-shot defensemen are invaluable, with teams looking to find dominant ones every season. If the Wild can't find a way to keep Dumba or trade him, they could very well lose this quality piece to the Kraken for nothing. If that's the case, it could be the most talent vacating any team in the Central, leaving the Wild to cope with the loss and fill that void quickly.
Expansion Draft visualization courtesy of CapFriendly.com. All stats courtesy of HockeyReference.com.